View and compare office spaces in the Netherlands, Belgium, Germany, Austria, Switzerland, Spain, France and Poland
SKEPP has the most current offers in office spaces. Due to the wide range of office spaces internationally available, there is a suitable match to be found for every type of company.
Rent out office spaces
We rent out your office spaces and unburden you during this process
Officelisting
You can upload your offices for free, we will start looking for a suitable tenant right away
Officemanager
Allows you to simplify your contract and invoice management. This online management tool gives you a clear overview including all the relevant details.
With Officelisting you can rent out your vacant office spaces. Listing these office spaces is entirely free of charge and comes with complimentary photography and advertisement text. With Officemanager you can unburden yourself from all financial administrative work by letting SKEPP do it for you. Join over 900 other landlords and start using our service packages today!
Furnishing office space
Officeplanner is the one-stop-shop for the furnishing of your existing or new office.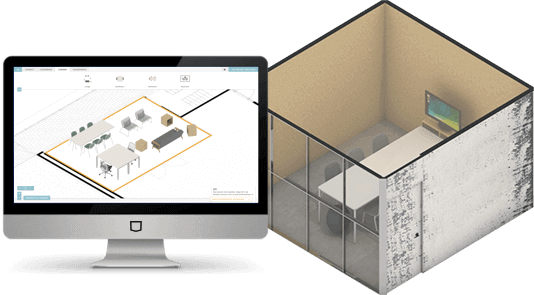 Get started with the virtual design of your office space, put together your office furniture and determine your preference in regarding the payment method. Then, like many other companies, take advantage of the flexibility of Officeplanner.
Tips, office trends and great discount offers
Take advantage of our informative blogs and benefit from discounts on office spaces
This is how you rent an office space!
The online database for office spaces
Satisfied tenants
These tenants have already found their ideal office space with SKEPP
Het huren van een kantoor makkelijk gemaakt! Ik was verrast over hoe simpel het werkt.

Fiona
Ik ben zeer tevreden met de service van SKEPP. Ik ben ongelooflijk snel geholpen met het vinden van een kantoor!

Be Wise
Top bedrijf! Zeer behulpzaam. Zeker een aanrader.

Jacks broodjes
Goed contact gehad met Skepp en een goede ruimte gevonden, precies wat de bedoeling was. Ook wordt er meegedacht over de invulling van de ruimte.

Marc Luijten
Ik was zeer onder de indruk van de professionele benadering. Mathios heeft veel vastgoed gerelateerde kennis en is daarbovenop ook nog eens erg vriendelijk!

ASP Hosting
Prima service binnen 2 weken een nieuw kantoor gevonden in de binnenstad van Amsterdam.

Hans Vriends
Zeer snel gehandeld. Kon op dezelfde dag nog bezoek brengen aan het kantoor. En zeer vriendelijke en deskundig te woord gestaan.

Forta4U
Goede ervaring met SKEPP. Uitstekende, vlotte service. Website ook erg gebruiksvriendelijk.

R. ter Steeg
TOP! Binnen een week een kantoor gevonden en begonnen! Top service, top bedrijf.

Isaak Sanchez Pranoto - CRIMEDIA
Vlot, snel en vriendelijk. Ze luisterden echt naar mijn wensen en dankzij de goede suggesties hebben we nu een heel fijn en mooi kantoor gevonden, binnen budget! Kim, ontzettend bedankt voor je snelle handelen en het prettige contact.

Process Communication Nederland
Het contact verliep snel en prettig, heb een aantal goede opties qua kantoorruimten gekregen en met succes!

Jouke Letteboer
Binnen no-time een mooi kantoor gevonden voor een keurige prijs. Contact met zowel SKEPP als de verhuurder van het pand verliep vlekkeloos.

Develeopards
Ik kreeg erg snel een antwoord op mijn vraag voor een kantoorpand! Er werden ook betere alternatieven geboden zodat er voldoende vergelijkingsmateriaal was.

Natasja
Zeer klantvriendelijk. Vragen goed naar waar je opzoek bent en kreeg zeer snel een selectie met voor mij passende locaties. Ook de verdere afhandeling steeds correct en snel.

Finzie Rotterdam Centrum
Wij zijn bijzonder tevreden over de klantgerichtheid en opvolging van onze vraagstelling.Op zeer korte termijn kregen wij een overzicht van kantoorruimte die paste bij onze vraagstelling.

Houtmarkt Deventer bv
Frequently asked questions
Do these options contain your questions about SKEPP or renting (out) an office space?
Kantoorruimte huren

Wat is het verschil tussen een kantoorkamer en een kantoorruimte?

Een kantoorkamer is een eigen afgesloten kantoorruimte en wordt ook vaak kantoorunit genoemd. Kantoorkamers worden in diverse formaten aangeboden, oplopend tot 100 m2.

Kantoorkamers worden zowel gemeubileerd als niet gemeubileerd opgeleverd.

Een kantoorruimte op maat is daarentegen een grote ruimte van >100 m2. Vaak betreft het een gehele kantoorvloer met open flexwerkplekken, kantoorkamers, een eigen vergaderkamer en een pantry.

Wat is het verschil tussen een werkplek en een flexwerkplek?

Een werkplek is iets anders dan een flexwerkplek. Het verschil zit in de beschikbaarheid en dus niet in de werkomgeving.

Bij een werkplek heb je een vaste, eigen plek in een open kantoorruimte. Je beschikt dus over een eigen bureau waar je jouw spullen ook kunt achterlaten.

Bij een flexwerkplek heb je geen vaste, eigen plek maar huur je een membership. Dit geeft je het recht om onbeperkt gebruik te mogen maken van plekken in de open kantoorruimte die beschikbaar zijn. Als alles bezet is, dan heb je simpelweg pech en heb je geen plek.

Een flexwerkplek is goedkoper dan een werkplek, omdat je geen zekerheid hebt dat je er gebruik van kunt maken.

Kan ik bij SKEPP ook vergaderruimten huren?

Nee, SKEPP helpt alleen bij het huren en verhuren van (flex)werkplekken, virtuele kantoren, kantoorkamers en kantoorruimten.

Hoe werkt SKEPP?

Wat is het verdienmodel van SKEPP?

SKEPP is volledig gratis voor ondernemers die een kantoorruimte of werkplek zoeken. Ook is het niet duurder om via SKEPP een kantoorruimte of werkplek te huren.

SKEPP verdient haar geld door een commissie te vragen over de huurprijs. Voor werkplekken bedraagt deze commissie 15% over de maandelijkse huur gedurende de gehele contractperiode. Voor kantoorkamers en kantoorruimten daarentegen bedraagt deze commissie 10% over de eerste jaar huur.

SKEPP heeft met verhuurders de afspraak dat de huurprijs nooit hoger mag zijn voor huurders die via SKEPP komen. De verhuurder is de klant van SKEPP, en ondernemers kunnen SKEPP gebruiken als betrouwbaar platform voor het vinden van de perfecte kantoorruimte of werkplek.

Met wie wordt uiteindelijk de huurovereenkomst gesloten?

De huurovereenkomst wordt uiteindelijk gesloten met de verhuurder van het kantoorpand. Via SKEPP word je in contact gebracht met de verhuurder van het kantoorpand door middel van een afspraak of een bezichtiging.

SKEPP service

Wat vinden bestaande huurders en verhuurders van onze service?

Voor een continue verbetering van onze dienstverlening vragen wij huurders en verhuurders regelmatig om feedback over onze werkwijze.

Dit doen wij in samenwerking met de Feedback Company. Wij worden beoordeeld met maar liefst een 9.2! Hier zijn we erg trots op. Lees het zelf op: feedbackcompany.com/nl-nl/reviews/skepp

Hoe en wanneer is SKEPP bereikbaar?

Onze vastgoedconsultants zijn van maandag tot en met vrijdag telefonisch bereikbaar van 09.00 tot 18.00 op het nummer 085-8770519. Ook is het mogelijk om een mailtje te sturen naar info@skepp.nl of een appje te sturen naar 0620867957.

Daarnaast zijn we nog bereikbaar op onze social media kanalen en via de chatbot die te vinden is op de homepage van SKEPP.
Office as a Service
Rent (out) or interior design an office space where SKEPP unburdens both tenant and landlord
Looking for an office space? You can find it with this free comparison website and with the help of our real estate consultants. Looking to rent out and office space? We upload your offices for free and find suitable tenants for you.
I'm glad to help without any obligations!

ThijsReal estate agent
Call
Without any obligation
Answers within 1 hour
Customer rating 9.2/10
Up-to-date availability
No win, no fee
SKEPP takes care of everything