Huur kantoorruimte en geef hem een tikkeltje extra!
By Lynn Mikolajczak
friday May 11th 2018
10
10
Sta je op het punt om een kantoorruimte of een coworking plek te huren? Saaie kantoorruimtes zijn verleden tijd. Hippe, trendy kantoorpanden zorgen voor een leuke sfeer en laten je genieten van de lange werkdagen die zo een beetje minder zwaar worden. Vaak is het zelfs niet moeilijk om van je kantoorruimte een gezelligere en aangenamere plaats te maken. In deze blog vind je 3 leuke tips om je kantoorruimte net dat tikkeltje meer te geven.
---
1 | Kantoor te huur in Antwerpen met een vleugje groen
Hou je van de natuur? Breng de natuur dan naar binnen in het bedrijvencentrum! Planten geven niet alleen je interieur een boost, ze kunnen ook ingezet worden om een gezondere werkomgeving te creëren. Het is bovendien goedkoper dan dure design meubels. Je moet alleen wat tijd en liefde steken in de verzorging.
Klinkt toch als een ideale dagelijkse pauze? Een mooi voorbeeld van een kantoorruimte waar work en green elkaar ontmoeten, is het kantoorpand in de Uitbreidingstraat 66 in Antwerpen (Berchem). Overal in het gebouw zijn kantoorplanten aanwezig. Ook het gebouw zelf is omhuld in het groen. Zo krijgt je bedrijf direct een ecofriendly uitstraling.
Kantoren te huur in Antwerpen aan de Uitbreidingstraat.
2 | Kantoorruimte met artistieke invloeden in Vilvoorde
Niet alleen groen fleurt je kantoorruimte of coworking plek helemaal op, ook kunst is een echte aanrader in het interieur van je kantoorpand. Wist je dat er vele voordelen zijn aan kunst op kantoor? Kunst zorgt voor een zekere sfeer en stemming. Een kale muur is minder aantrekkelijk in vergelijking met een muur waar een mooi beeld aan hangt. Ook kan kunst heel inspirerend werken, het stimuleert de creativiteit en het kan zelfs stress-verlagend werken.
Kunst is niet enkel een schilderijtje aan de muur. Je kunt het heel breed interpreteren. Mooie design meubelen, een kunstwerk van verschillende materialen, een graffiti- of krijtmuur. Je kunt ook iets speciaal laten maken voor je bedrijf. Zo verkrijg je niet alleen kunstzinnige ruimte maar bevordert het ook het samenhorigheidsgevoel.
Een goed voorbeeld van een kantoorruimte met een mix van moderne kunst vind je aan de Luchthavenlaan. In dit kantoor in Vilvoorde heb je een graffitimuur, een krijtmuur en nog veel andere leuke elementen. Natuurlijk kun je ook voor een less is more uitstraling gaan. De kantoorruimte op de Zuidzijde Haven in Bergen op Zoom gaat voor mooie schilderijen in de verschillende kantoorruimtes en eetplaatsen. Soms moet het gewoon niet meer zijn.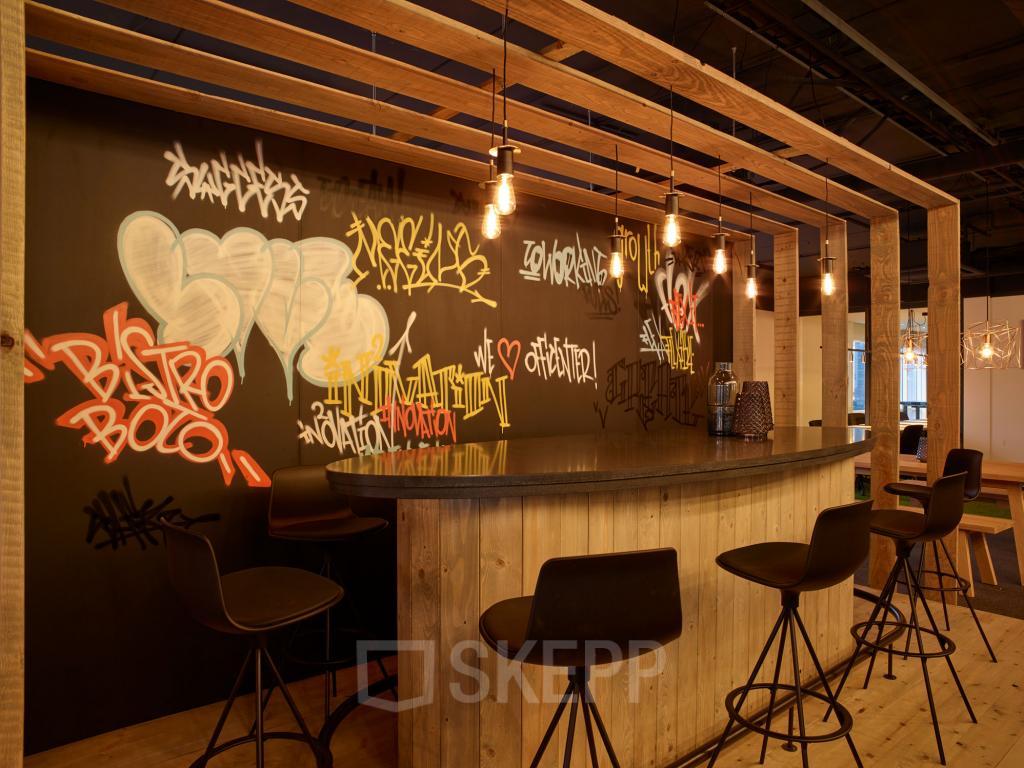 Deze graffitimuur is te bekijken in het kantoorpand aan de Luchthavenlaan 27 in Vilvoorde.
3 | Een kantoor te huur als tweede thuis in Brussel
Een kantoor moet voelen als een tweede thuis en niet als een business center. Je spendeert soms meer tijd op je kantoor dan thuis. Zorg dus voor een leuke, gezellige en prettige omgeving om je dagen door te brengen. Het kantoorpand in de Marnixlaan 13-17 in Brussel zorgt voor een huiselijke sfeer. Of je er nu een coworking plek huurt of een kantoorruimte, het voelt er als thuiskomen.
Het kantoor wordt er opgeleukt met leuke zetel en kussens die een huiselijke sfeer creëren. Zo krijg je het gevoel dat je vanuit je zetel thuis aan het werken bent. Ook andere faciliteiten bieden je een huiselijke gevoel. Een kreukje in je maatpak? Even laten stomen en je bent helemaal klaar voor je vergadering alsof je net van thuis zou vertrokken zijn. Wil je je nog meer thuis voelen? Je kunt dan nog kleine elementen toevoegen zoals een fotokader, leuke gordijntjes, een mooi tapijt, enz. om de huiselijke stijl compleet te maken.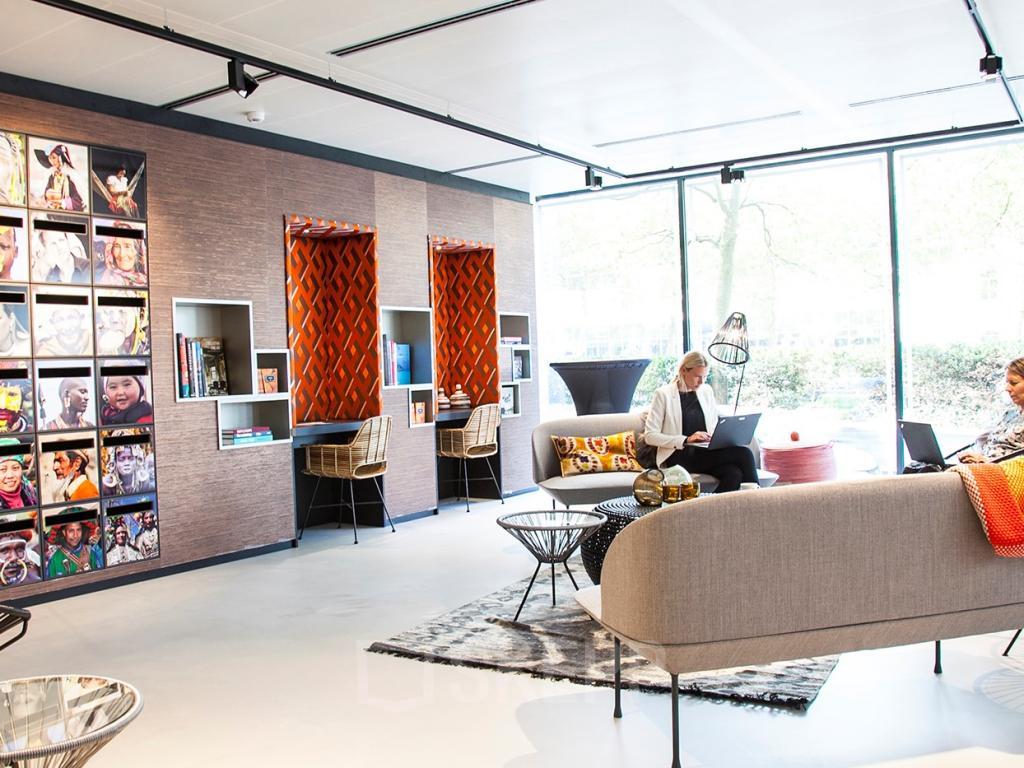 Dit huiselijke kantoor in Brussel  aan de Marnixlaan is een ware eyecatcher.
Ga nu zelf aan de slag!
Hopelijk heb je wat meer inspiratie gekregen om aan de slag te gaan met je kantoorinrichting. Spreken de bovenstaande panden je aan? Neem dan zeker een kijkje op onze website. Je kan altijd vrijblijvend informatie vragen en een rondleiding inplannen. Daarnaast kun jij jouw gehuurde kantoor ook nog eens laten inrichten met onze Officeplanner! Wil jij voor jouw bedrijf een kantoor te huur in Vlaanderen of Nederland? Dan huur je dit kantoor bij SKEPP!