Industrial office space
Wednesday February 13th 2019
Sinds 2014 zijn industriële kantoorruimten erg populair in Nederland. Een gietbetonnen vloer en verwijdering van systeemplafonds zorgen voor een industriële uitstraling. Vintage kantooritems completeren de industriële look van een kantoor.
---
Een industriële kantoorruimte gezocht? Goede keus! In de afgelopen jaren zijn industriële inrichtingen helemaal hot geworden. Op deze pagina geeft SKEPP je inspiratie, door middel van bestaande voorbeelden in de praktijk die ook voor jouw bedrijf eenvoudig toepasbaar zijn.
Een industriële basis als kantoor

Op deze afbeelding zie je geen industriële inrichting maar juist de basis van dit kantoorpand is industrieel. Kijk naar de vloer van gietbeton, zie de robuuste overheaddeur (ook lekker in de zomer trouwens) en merk op dat het systeemplafond is verwijderd. Door de leidingen weer in het zicht te brengen, krijgt het kantoor een industriële uitstraling.
Tip: vraag aan de verhuurder of je het systeemplafond mag verwijderen.
Meubels die je kantoor een industriële uitstraling geven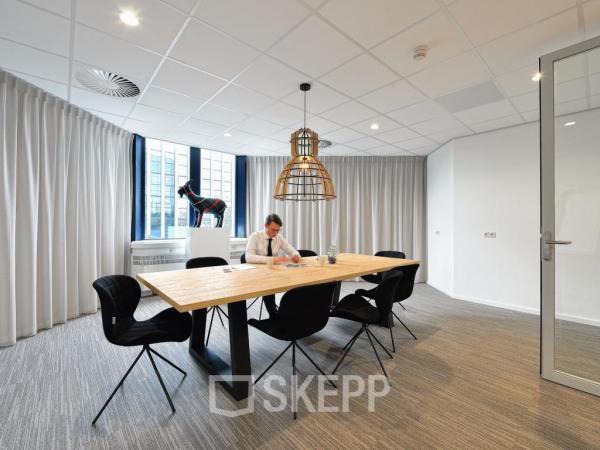 In tegenstelling tot de eerste afbeelding, zie je hier een vrij standaard kantoor. Een systeemplafond en witte muren, zoals in bijna elk kantoorpand. In tegenstelling tot de kantoorruimte in het eerste voorbeeld, zijn het hier juist de meubels die een industriële look geven aan deze ruimte. Let vooral op de lamp en de tafel die deze kantoorruimte een hippe en industriële uitstraling geven.
Een industriële inrichting in combinatie met een industriële basis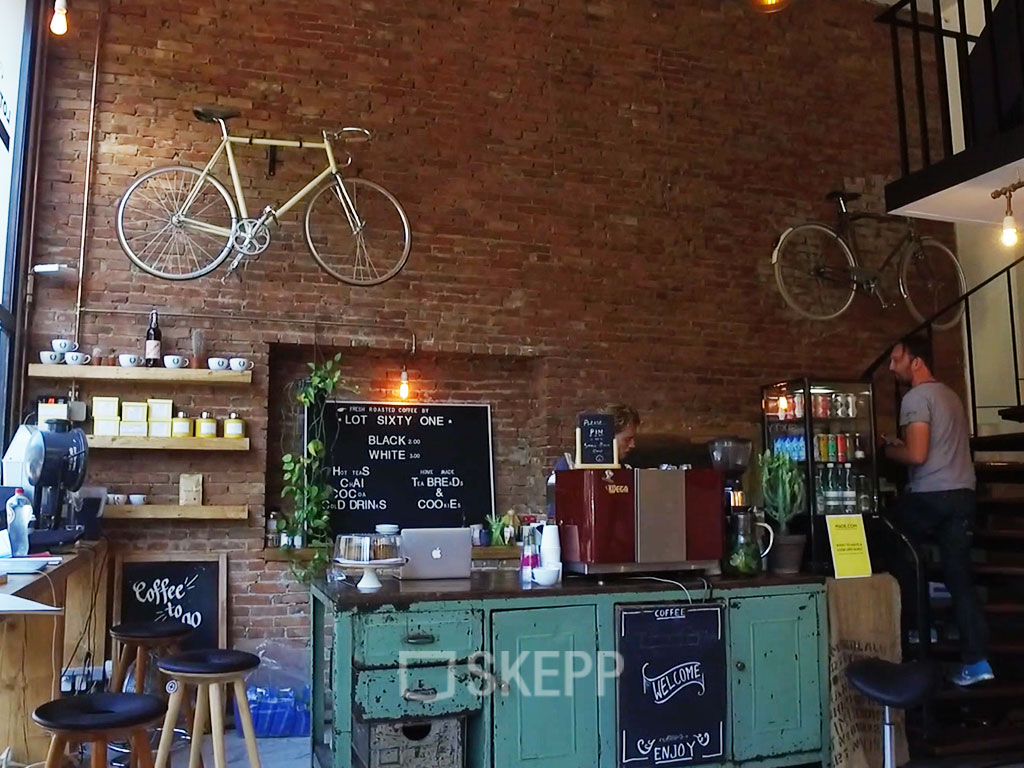 Voorgaande twee kantoorruimten bekeken? Dit kantoorpand in Amsterdam heeft zowel in de basis een industriële uitstraling alsmede een industriële inrichting met meubels. De inhouse-barista bedient je met een op ambachtelijke wijze gemaakte koffie en de haarbarbaar knipt je terwijl je aan het werk bent. In dit geval geen zichtbare leidingen maar wel een onbewerkte muur en veel staalgebruik in de trap en de bar van de barista.
Een kantoorpand met industrieel raamwerk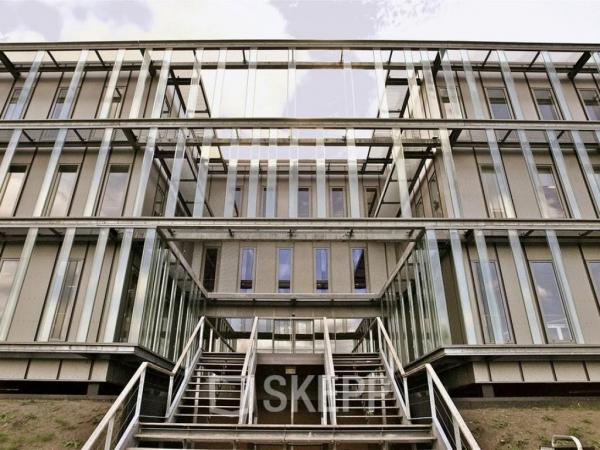 Tot slot een pand met kenmerkende industriële gevels. De buitenzijde van het kantoorcomplex bestaat uit veel glas, stalen balken en beton. Typische industriële materialen die het gebouw een robuust karakter meegeven. Het pand is gelegen op bedrijvenpark Utrecht Papendorp. Overigens is de binnenzijde van dit pand niet industrieel maar modern ingericht.
Ontvang een gratis industrieel ontwerp via SKEPP
Een industriële look of vintage uitstraling, voor veel bedrijven een wens en voor sommige bedrijven een must. Maar hoe creëer je een industriële uitstraling in jouw kantoor? Super lastig natuurlijk! Laat daarom geheel gratis en vrijblijvend een industrieel ontwerp maken voor jouw kantoor.
Gratis industrieel ontwerp
Neem telefonisch contact op met +32 78 48 10 91 en geef in het gesprek de code 'gratis industrieel ontwerp' aan. Je ontvangt dan een interieurplan op maat voor jouw kantoor.