Rent office space Almelo, Stationsstraat 11
Facilities
Desk
Internet
Coffee/tea
Meeting space
KVK-registration
Postal address
Kitchen
Parking
Accessibility
Bus stop Almelo, Centraal Station

1 min walk (57 m)

Railway station Almelo Railway Station

4 mins walk (0.3 km)

Park

9 mins walk (0.7 km)

Gym

8 mins walk (0.7 km)
Availability
Check below which office types are available at Stationsstraat 11
About this office
Een flexwerkplek, kantoorkamer of kantoorruimte op maat huren in Almelo
Dit kantoorpand ligt aan de Stationsstraat, pal naast het NS-station Almelo en op 10 minuten rijden van de snelweg A35. Een goed bereikbare locatie, waar u een moderne kantoorruimte huurt. Met faciliteiten als een bedrijfsrestaurant en een receptie is het serviceniveau binnen dit kantoorgebouw in Almelo hoog!
Een geschikte kantoorruimte, die past bij de omvang van uw bedrijf
Of u nu een starter bent en op zoek bent naar een flexwerkplek of dat u een multinational leidt en op zoek bent naar een kantoorruimte op maat (vanaf 100 m2), in dit kantoorgebouw vindt u dé geschikte kantoorruimte. Ook huurt u hier een kantoorkamer vanaf 20 m2 tot 100 m2. Wat past het best bij u en uw onderneming?
Een kantoorruimte huren voor slechts €125,- per m2 per jaar
Ongetwijfeld zal de hoogte van de huurprijs ook een (belangrijke) rol spelen in uw zoektocht naar een geschikte kantoorlocatie. In dit kantoorgebouw huurt u een kantoorruimte op maat vanaf maar €125,- per m2 per jaar. U huurt hier voor een lange huurperiode een kantoorruimte, een huurtermijn van minimaal 1 jaar is financieel het aantrekkelijkst. Flexibel huren? Huur een flexwerkplek in dit kantoorpand in Almelo!
Ontbijten en lunchen in het bedrijfsrestaurant van het kantoor
Een bijkomend voordeel van dit kantoorgebouw is het aanwezige bedrijfsrestaurant, waar u lekker kunt ontbijten en lunchen. Bovendien zijn er twee vergaderruimten, kunt u gemeubileerd huren en parkeert u uw auto op het parkeerterrein. Daarnaast zijn de receptionisten bereid om u te ondersteunen met secretariële werkzaamheden.
Een rondleiding plannen bij SKEPP? Dat kan gratis!
Bent u overtuigd van de mogelijkheden in dit kantoor, naast het NS-station in Almelo? Plan dan direct een gratis rondleiding bij SKEPP, zodat u uw nieuwe kantoorruimte alvast kunt bekijken. Dit doet u via het menu, rechts op deze pagina, of door contact op te nemen met de vastgoedspecialisten van SKEPP!
Rent at this location?
This is currently available at Stationsstraat 11 in Almelo
How many square meters of office space do I need?
Media
Get a good impression of this office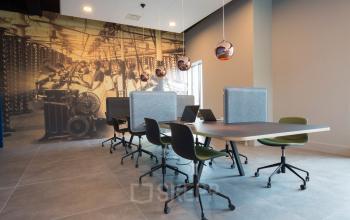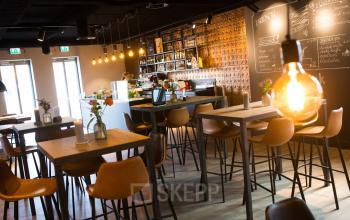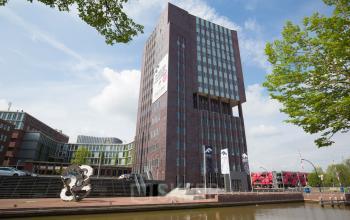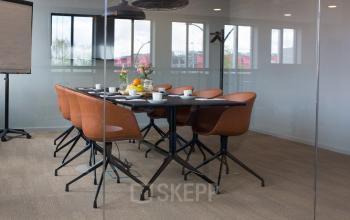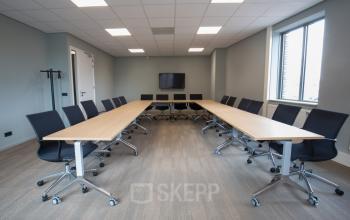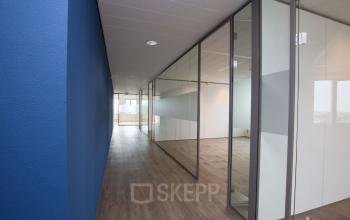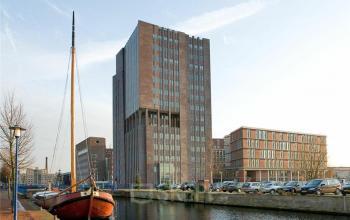 Reviews
Find out what other people said about this location
P
Peter de Ruiter
Prettige ligging, grote parkeerruimte naast het kantoor en het NS-station op loopafstand.
L
Ligtenberg Architecten
Moderne kantoorruimtes met een huiselijke sfeer.
Alle faciliteiten zijn aanwezig en uitstekend verzorgt. We zitten nu in drukke tijden waarbij er vaak overuren moeten worden gemaakt. De aanwezigheid van een restaurant in het pand is dan een fijne bijkomstigheid.
Thanks for your review!
We really appreciate that you have taken the time to share your opinion with us and other customers! That is why you get from us!
Office interior design with Officeplanner
Request a free customised interior design proposal for your office space at Stationsstraat 11
With Officeplanner you can rent, lease or buy a flexible interior design package based on your preferences and requirements for the interior of your office space. Your order will be delivered at your desired location within 1 week.
More about Officeplanner