Rent office space Amsterdam Oost, Wibautstraat 135
Facilities
Desk
Internet
Coffee/tea
Printer
Meeting space
KVK-registration
Postal address
Kitchen
Accessibility
Bus stop Amsterdam, Prins Bernhardplein

1 min walk (0.1 km)

Subway station Amsterdam, Amstelstation

5 mins walk (0.3 km)

Railway station Amsterdam Amstel

7 mins walk (0.5 km)

Subway station Amsterdam, Amstelstation

7 mins walk (0.5 km)

Park

5 mins walk (0.4 km)

Gym

8 mins walk (0.6 km)
Rent at this location?
This is currently available at Wibautstraat 135 in Amsterdam Oost
Available office rooms
Rental price:

€2,000 /mo.

Rental price:

€1,250 /mo.

Rental price:

€1,250 /mo.

Rental price:

€1,250 /mo.

Rental price:

€1,400 /mo.

Rental price:

€1,400 /mo.

Rental price:

€2,000 /mo.

Rental price:

€2,000 /mo.
How many square meters of office space do I need?
About this office
Huur nu een kantoorruimte op dit snel groeiende bedrijvenpark aan de Wibautstraat in Amsterdam
Op dit moment zijn er nog een aantal kantoorruimten te huur aan de Knowledge Mile in Amsterdam. Deze Knowledge mile is een initiatief van de gemeente om de slimste straat van Nederland te creëren. De bereikbaarheid is optimaal met Amstelstation, de A10 en A2 om de hoek. 
Wat kunt u precies huren op deze locatie?
Op deze locatie heeft u verschillende huurmogelijkheden voor uw bedrijf. Bent u zzp'er dan kunt u bijvoorbeeld een flexwerkplek huren aan de Wibautstraat in Amsterdam. Voor meer kantoorruimte kunt u een kantoorkamer huren van 20 m2 of 30 m2, met meerdere werkplekken. De kantoorkamers kunnen geheel gemeubileerd aan u worden verhuurd. 
25% korting op het huren aan de Knowlegde Mile?
Dit kan! In verband met een verbouwing van het pand aan de Wibautstraat in Amsterdam biedt SKEPP u nu de mogelijkheid om te huren met 25% korting op de huurprijs. Als u voor 1 november tekent dan profiteert u van deze unieke actie. De kosten van de flexwerkplekken en de verschillende kantoorkamers verschillen op basis van oppervlak en beschikbaarheid van elkaar. Zo zijn er een beperkt aantal flexwerkplekken beschikbaar en de rest van de verhuur bestaat uit kantoorruimten. Hieronder ziet u een overzicht van de verschillende huuropties met de prijzen per maand:
Flexwerkplek - €275,-
Kantoorkamer 20 m2 - €1200,-
Kantoorkamer 30 m2 - €1600,-
Deze prijzen zijn exclusief de eventuele korting. De minimale huurperiode wordt met u samen besproken en is flexibel.
Zorgeloos ondernemen dankzij de uitgebreide faciliteiten
Vanaf 1 november kunt u zorgeloos aan de slag in dit verbouwde pand met uitgebreide faciliteiten aan de Wibautstraat in Amsterdam. Uw kantoorruimte zal natuurlijk en kunstmatig goed verlicht zijn en u kunt het klimaat zelf beheersen. Op deze manier creëert u een prettige werkomgeving. Het snelle internet en de printservice zijn ook bij de prijs inbegrepen. De openbare ruimtes worden dagelijks en de kantoorruimtes wekelijks schoongemaakt, hierdoor kunt u iedere week weer fris aan de slag. Voor de de rustmomenten kunt u gebruik maken van de koffiecorner en de huiskamer.
Wacht niet langer en profiteer snel!
Als u snel een keer een kijkje wil nemen, dan helpt SKEPP u gratis en vrijblijvend met het inplannen van een rondleiding. Plan uw rondleiding dus snel in en profiteer nog van de korting op uw huurprijs. Bel of mail ons, maar u kunt ons ook een whatsappbericht sturen. Wij horen graag van u!
Media
Get a good impression of this office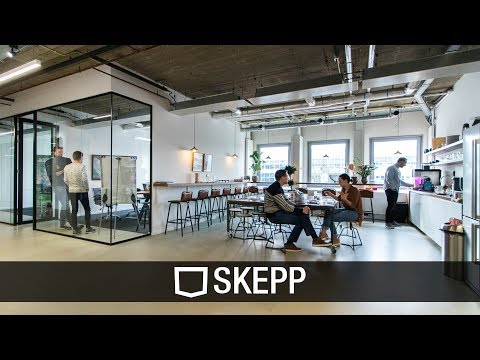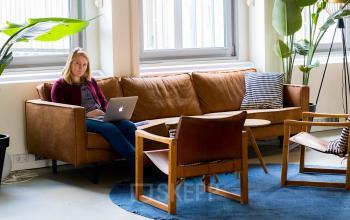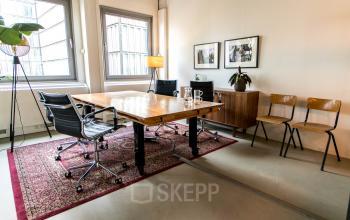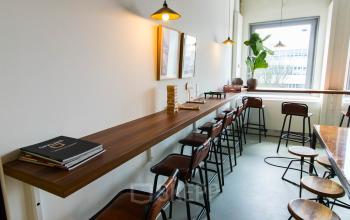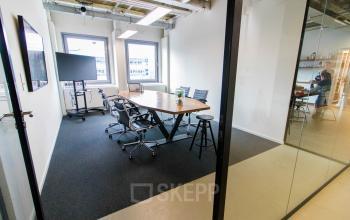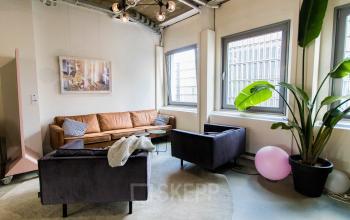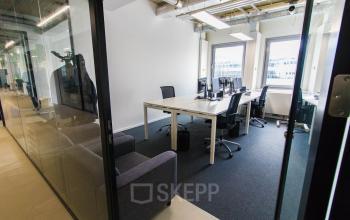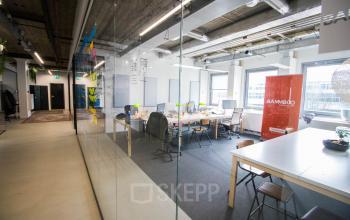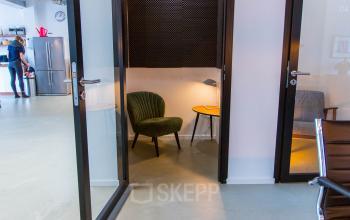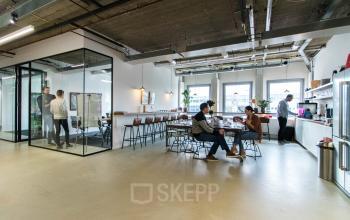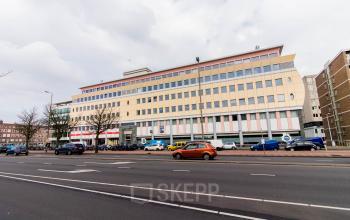 Reviews
Find out what other people said about this location
J
Josje
Kantoorruimtes waar een hele prettige sfeer hangt, super
K
Kersten
Leuk ingericht met planten en meubels van deze tijd!
Prettige werksfeer, fijne omgeving, alles prima geregeld in dit kantoorpand
Thanks for your review!
We really appreciate that you have taken the time to share your opinion with us and other customers! That is why you get from us!
Office interior design with Officeplanner
Request a free customised interior design proposal for your office space at Wibautstraat 135
With Officeplanner you can rent, lease or buy a flexible interior design package based on your preferences and requirements for the interior of your office space. Your order will be delivered at your desired location within 1 week.
More about Officeplanner