Rent office space Antwerp Sint-Andries, Dendermondestraat 44
Facilities
Desk
Internet
Coffee/tea
Meeting space
KVK-registration
Postal address
Kitchen
Parking
Accessibility
Bus stop Antwerpen Troonplaats

2 mins walk (0.1 km)

Subway station Antwerpen Broedermin

3 mins walk (0.2 km)

Railway station Antwerpen-Zuid

10 mins walk (0.8 km)

Park

7 mins walk (0.5 km)

Gym

3 mins walk (0.2 km)
Rent at this location?
This is currently available at Dendermondestraat 44 in Antwerp Sint-Andries
How many square meters of office space do I need?
About this office
Kantoor te huur aan de Dendermondestraat in Antwerpen
Ben jij op zoek naar een kantoor aan de Dendermondestraat in Antwerpen? Neem dan een kijkje in dit representatieve business center waar meerdere kantoren te huur staan. Je huurt hier een kantoor in een uniek bedrijvencentrum, dit is namelijk een voormalige verffabriek. Er zijn vele originele elementen van die tijd bewaard gebleven, waardoor er een gave industriële look wordt gecreëerd.
Huurprijzen
In het business center zijn meerdere kantoren te huur, de oppervlakten liggen tussen de 11 m2 en 30 m2. Daarnaast is het ook mogelijk om een kantoorkamer of een werkplek te huren. Je hoeft je op deze locatie niet meer druk te maken om het meubilair, dit zit namelijk bij de huurprijs in. Net zoals de snelle WiFi, wat voor snel en efficiënt werken zorgt en het gebruik maken van de vergaderfaciliteiten. Erg handig wanneer je een presentatie wilt geven of klanten wilt uitnodigen. Benieuwd naar welk kantoor het beste bij jou past? Vraag het onze vastgoedconsultants.
24/7 toegankelijk, een receptie en lunchfaciliteiten
Het huren van een kantoor aan de Dendermondestraat in Antwerpen brengt vele voordelen met zich mee, waaronder het gebruik maken van alle services en faciliteiten. Zo heb je de mogelijkheid om 24/7 toegang te hebben tot jou kantoor, erg handig wanneer je bijvoorbeeld in de avonduren of in het weekend de laatste werkzaamheden wilt afronden. In de centrale entree tref je een bemande receptie aan, zij kunnen meerdere werkzaamheden bij jou uit handen nemen. Denk bijvoorbeeld aan binnenkomende telefonie en het verwerken van de post. Houd je van lekker eten? Je hebt hier dagelijks de mogelijkheid om te genieten van een heerlijke lunch.
Locatie en bereikbaarheid
In het zuiden van de stad Antwerpen vind je dit business center, nabij de N113 en R10 richting Brussel. Het is niet alleen met de auto makkelijk bereikbaar, maar ook met het openbaar vervoer! Binnen een kwartier bereik je vanaf de Dendermondestraat de Grote Markt. Een gezellige plek waar je wat kunt drinken en een heerlijk hapje kunt eten.
Kantoor te huur aan de Dendermondestraat in Antwerpen
Zie jij het wel zitten om een kantoor te huren aan de Dendermondestraat in Antwerpen? Stop dan met zoeken en neem een kijkje in dit bedrijvencentrum. Heb je hier hulp bij nodig? SKEPP helpt je graag verder in deze zoektocht. Wat dit kost? Helemaal niets! SKEPP helpt jou gratis en geheel vrijblijvend.
Media
Get a good impression of this office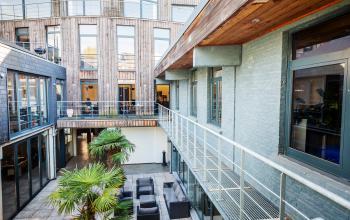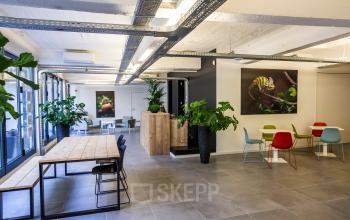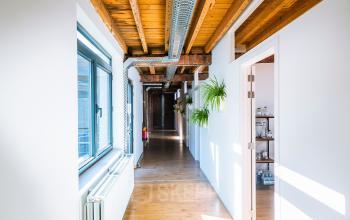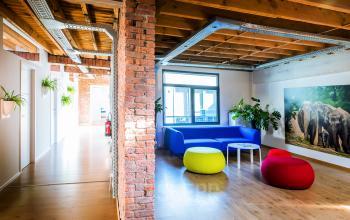 Reviews
Find out what other people said about this location
K
Katrien
Toffe inrichting!
Het terras is heel leuk tijdens de zomer.
D
Davy
Goede bereikbaarheid
D
Donald B.
De binnentuin is zalig
Thanks for your review!
We really appreciate that you have taken the time to share your opinion with us and other customers! That is why you get from us!
Office interior design with Officeplanner
Request a free customised interior design proposal for your office space at Dendermondestraat 44
With Officeplanner you can rent, lease or buy a flexible interior design package based on your preferences and requirements for the interior of your office space. Your order will be delivered at your desired location within 1 week.
More about Officeplanner