Rent office space Delft, Schieweg 93
Facilities
Desk
Internet
Meeting space
KVK-registration
Postal address
Kitchen
Parking
Accessibility
Bus stop Delft, Vrijenban

28 mins walk (2.3 km)

Railway station Delft Zuid

12 mins walk (1.0 km)

Gym

2 mins walk (0.1 km)
Rent at this location?
This is currently available at Schieweg 93 in Delft
Available office rooms
Rental price:

€406 €365 /mo.

Rental price:

€439 €395 /mo.

Rental price:

€678 €610 /mo.

Rental price:

€850 €765 /mo.
How many square meters of office space do I need?
About this office
Eigentijdse kantoorruimte te huur in populair kantoorpand te Delft
Het is één van de populairste kantoorlocaties van Delft, dit kantoorpand aan de Schieweg. 'Een passende kantoorruimte voor ieder bedrijf,' luidt het motto binnen dit kantoorgebouw. Er is hier plek voor zzp'ers en kleine ondernemingen maar ook voor bedrijven met 30 medewerkers. 
Beschikbaarheid? Kantoorruimte vanaf 18 m2 te huur in dit kantoor!
U huurt hier een kantoorkamer vanaf 18 m2 tot 100 m2, daarnaast is er kantoorruimte op maat tot 250 m2 beschikbaar. Alle kantoorruimten zijn volledig gerenoveerd, gemeubileerd en voorzien van een pantry. In principe huurt u hier een kantoorruimte voor de lange termijn, maar in overleg is een flexibele huurovereenkomst ook bespreekbaar.
Huurprijs vanaf €350,- per maand op deze goed bereikbare plek
Dit kantoorpand heeft een gunstige ligging, met de snelwegen A4 en A13 in de nabijheid. Bovendien ligt treinstation Delft-Zuid op loopafstand van de kantoorruimte. Op deze zakelijke locatie, met veel bedrijven in de omgeving, huurt u al een kantoorkamer vanaf €350,- per maand. 
Vergaderruimte, loungeruimte en parkeerruimte aanwezig in Delft
Als u besluit hier te huren, maakt u ook gebruik van de aanwezige voorzieningen en services. Er is een vergaderruimte, een Business Lounge en een parkeerplaats. Bovendien heeft u 24/7 toegang tot uw kantoorruimte, is er glasvezelinternet en zijn er receptionisten. 
Geheel vrijblijvend een kijkje nemen? Dat kan bij SKEPP!
Wilt u even het kantoorgebouw met eigen ogen bekijken? Plan dan gratis een rondleiding in bij SKEPP en bekijk de gerenoveerde kantoorruimten. Doe dit in het menu, dat u rechts op deze pagina ziet. 
Media
Get a good impression of this office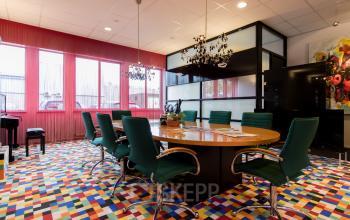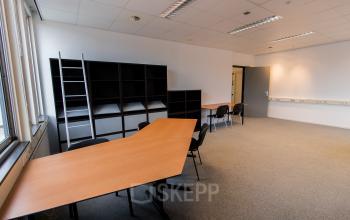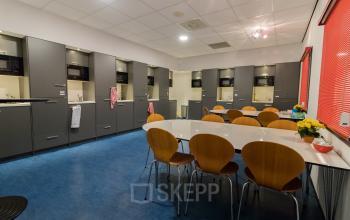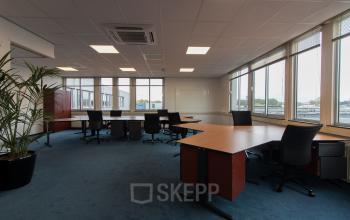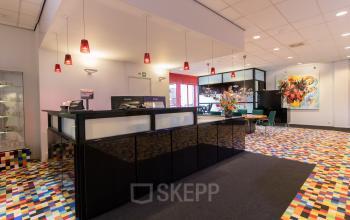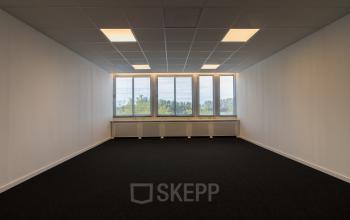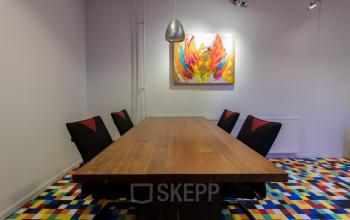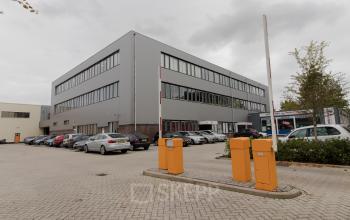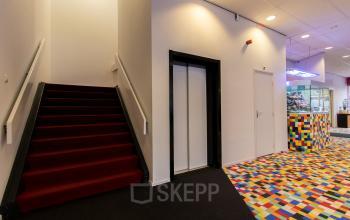 Reviews
Find out what other people said about this location
O
O Weerink
Mooie kantoorlocatie met een afgesloten parkeerterrein.
B
Bernt
Super locatie, goede bereikbaarheid voor het ontvangen van gasten.
Y
Yinke
Prettig kantoorgebouw met voldoende parkeergelegenheid.
T
Theo
Goed bereikbaar, ruim voldoende parkeerplaatsen en goede voorzieningen!
Niets op te merken aan dit kantoorpand.
R
Robert-Jan
Creatief concept!
Hier zul je vast veel creatieve ideeën opdoen!
Thanks for your review!
We really appreciate that you have taken the time to share your opinion with us and other customers! That is why you get from us!
Office interior design with Officeplanner
Request a free customised interior design proposal for your office space at Schieweg 93
With Officeplanner you can rent, lease or buy a flexible interior design package based on your preferences and requirements for the interior of your office space. Your order will be delivered at your desired location within 1 week.
More about Officeplanner