Rent office space Eindhoven Center, Paradijslaan 30-38
Facilities
Desk
Internet
Meeting space
KVK-registration
Postal address
Kitchen
Parking
Accessibility
Bus stop Eindhoven, Stadhuisplein

2 mins walk (0.2 km)

Railway station Eindhoven

16 mins walk (1.3 km)

Park

6 mins walk (0.5 km)

Gym

1 min walk (15 m)
Rent at this location?
This is currently available at Paradijslaan 30-38 in Eindhoven Center
Available (flex)desks
Space description:

5 days a week available
Available office spaces
Space description:

110 m2

Rental price:

€1,191 /mo.
How many square meters of office space do I need?
About this office
Kleine of middelgrote onderneming? Huur een werkplek of kantoorruimte in dit moderne kantoor te Eindhoven!
Bent u op zoek naar een kantoorruimte in het centrum van Eindhoven? In dit kantoorpand vindt u als kleine of middelgrote onderneming dé kantoorruimte die bij u past. Voorzieningen als 2 vergaderruimten en een loungeruimte zijn ook aanwezig in dit eigentijdse kantoorgebouw aan de Paradijslaan in Eindhoven!
Flexwerkplek, vaste werkplek, kantoorkamer of toch een kantoorruimte op maat? De keuze is aan u!
De flexwerkplekken in dit kantoorpand zijn plekken waar je een hele dag geconcentreerd kunt werken. U huurt hier ook een eigen vaste werkplek. Daarnaast zijn er kantoorkamers beschikbaar vanaf 20 m2 tot 86 m2. Behoefte aan een grotere vloer? Er zijn ook kantoorruimten op maat beschikbaar vanaf 102 m2. Het meest voordelig huren is een flexibele huurtermijn van 1 jaar.
Huurprijzen vanaf slechts €99,- per maand in Eindhoven
Een flexwerkplek huurt u al voor €99,- per maand, terwijl u een vaste werkplek huurt voor maar €149,- per maand. Een kantoorkamer van 20 m2 of 27 m2 is te huur voor slechts €315,- per maand en een kantoorruimte op maat vanaf 102 m2 huurt u voor €146,- per m2 per jaar.
Hoogwaardige voorzieningen zoals vergaderruimte aanwezig
Zoals al gezegd: er zijn 2 vergaderruimten aanwezig in dit kantoor en mocht u even willen ontspannen, dan kan dat in de loungeruimte. U heeft 24/7 toegang tot uw kantoor in Eindhoven, u kunt gebruik maken van de lunchservice en u kunt uw auto parkeren op het eigen terrein. Er zijn receptionisten, die bereid zijn om u te ondersteunen.
Een kijkje nemen? Plan een vrijblijvende rondleiding bij SKEPP!
Benieuwd naar hoe het kantoor er in het echt uit ziet en of de kantoorruimte voldoet aan uw wensen? Plan dan een rondleiding door dit kantoorpand in het centrum van Eindhoven bij SKEPP. Dit is geheel vrijblijvend en bovendien gratis. Waar wacht u nog op?
Media
Get a good impression of this office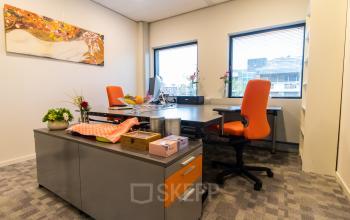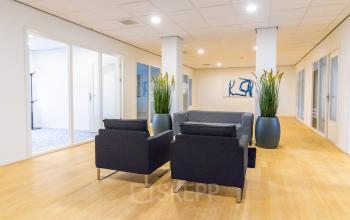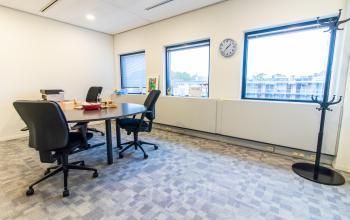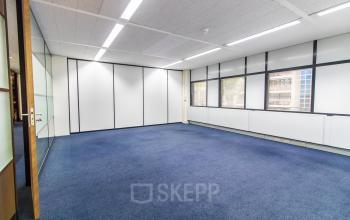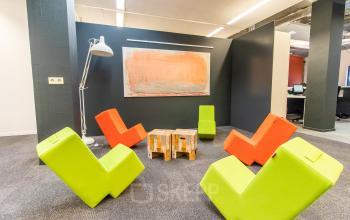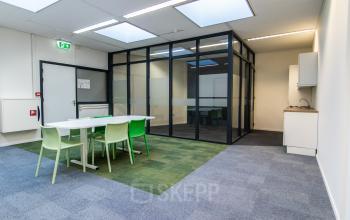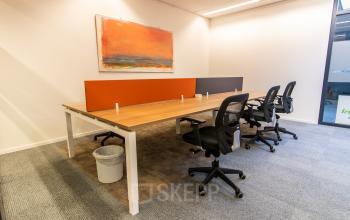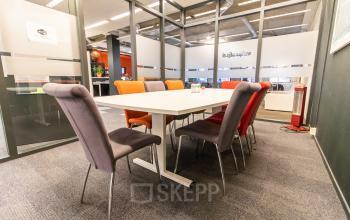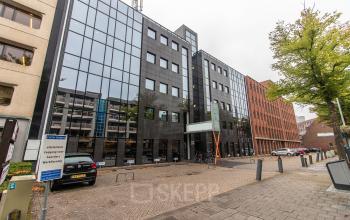 Reviews
Find out what other people said about this location
P
Pleun
goede locatie voor het aanbieden van flexplekken, mooie loungeruimte voor de nodige ontspanning tussendoor
L
Leo
Genoeg opties binnen dit kantoorgebouw, kantoorruimte op maat ook ideaal voor groeiende ondernemingen
B
Brinkman O.
Prachtige lichte kantoorruimten, mooi voorzien van glazen deuren.
Open uitstraling.
E
Elsemieke
Goede centrale ligging in Eindhoven.
Vlakbij het station en tevens goed bereikbaar met eigen vervoer. Leuke gezellige buurt waar men veel onderneemt
S
Sanne
Heerlijk flexen hier!
Thanks for your review!
We really appreciate that you have taken the time to share your opinion with us and other customers! That is why you get from us!
Office interior design with Officeplanner
Request a free customised interior design proposal for your office space at Paradijslaan 30-38
With Officeplanner you can rent, lease or buy a flexible interior design package based on your preferences and requirements for the interior of your office space. Your order will be delivered at your desired location within 1 week.
More about Officeplanner