Rent office space The Hague City Centre, Hoefkade 9
Facilities
Desk
Internet
Coffee/tea
Printer
Meeting space
Cabinet
KVK-registration
Postal address
Kitchen
Parking
Accessibility
Bus stop Den Haag HS

3 mins walk (0.2 km)

Subway station Den Haag, Station Hollands Spoor (perron A)

4 mins walk (0.3 km)

Railway station Den Haag HS

3 mins walk (0.2 km)

Park

5 mins walk (0.4 km)

Gym

6 mins walk (0.4 km)
Rent at this location?
This is currently available at Hoefkade 9 in The Hague City Centre
How many square meters of office space do I need?
About this office
Kantoorruimte huren aan de Hoefkade in Den Haag (Centrum)
Ben jij opzoek naar een kantoorruimte aan de Hoefkade in Denhaag (Centrum)? Dit kantoorgebouw met een moderne look maar toch warm aanvoelt heeft een totale gebruiksoppervlakte van 11150 m2. Het pand dat in 1978 is gebouwd heeft een unieke uitstraling en is bedrijfsverzamelgebouw waar onder andere een hotel, restaurant en dus ook werkplekken/kantoorruimten zijn gevestigd.
Huurprijzen
Het kantoorpand heeft buiten vele faciliteiten om ook vaste fulltime werkplekken en kantoorruimten in de verhuur. Voor een vaste fulltime werkplek betaal maar een maandelijks bedrag van €225,-. Huur je toch liever een grotere ruimte waar je alleen in luxe of juist met meerdere mensen tegerlijkertijd kunt werken? Er is een kantoorruimte van 28 m2 beschikbaar voor €960,- in de maand en er is een kantoorunit beschikbaar met een oppervlakte van 42 m2 voor €1350,- in de maand. Wanneer je nu een contract tekent, krijg je de eerste drie maanden van 2018 20% op de maandprijs, maak nu gebruik van deze ontzettend gunstige actie!
Een fitnessruimte en een goed restaurant
Het kantoorpand aan de Hoefkade in Den Haag heeft een ontzettend gave fitnessruimte in beheer. Deze ruimte beschikt over verschillende apparaten waardoor vele oefeningen uitvoerbaar zijn. De smoes om niet meer te sporten in verband met de drukte op je werk, is hier dus niet meer mogelijk! Een groot voordeel aan deze locatie is het restaurant. Er is veel keuze en het wordt met veel passie en liefde bereid. Verder heb je snelle WiFi verbinding, ruime parkeerplaatsen en luxe vergaderruimten voorzien van presentatiemateriaal tot je beschikking.
Locatie en bereikbaarheid
Wanneer je met de auto naar je kantoorruimte wilt reizen kost het je slechts een paar minuten om vanaf verschillende snelwegen er naar toe te rijden, de A12, A4 en A13 liggen op korte afstand. Ben je sportief en kom je op de fiets? Bij de binnenplaats van het gebouw is er een grote beveiligde fietsenstalling! Reis je toch liever met het openbaar vervoer? De Dichtstbijzijnde bushalte en het centraal station van Den Haag is maar 3 minuten lopen. Midden in het centrum zijn er ontzettend veel verschillende barretjes, cafés, restaurants en winkels te spotten. Je hoeft je hier nooit te vervelen.
Huur jij binnenkort ook een kantoorruimte aan de Hoefkade in Den Haag (Centrum)?
Ben jij enthousiast geraakt over het huren aan de Hoefkade in Den Haag? Kom dan snel met eigen ogen dit fantastisch afgewerkte pand met vele details bekijken. Onze vastgoedconsultants helpen je graag verder met al je vragen en plannen in rondleiding voor je in, dit alles is gratis en geheel vrijblijvend.
Media
Get a good impression of this office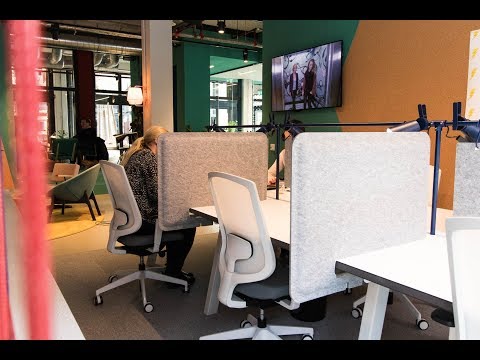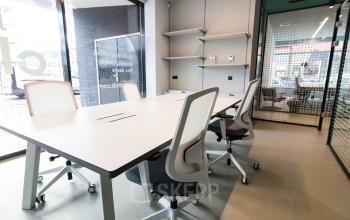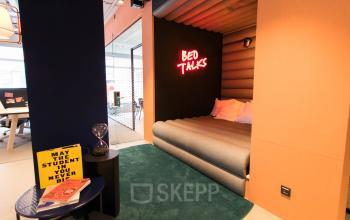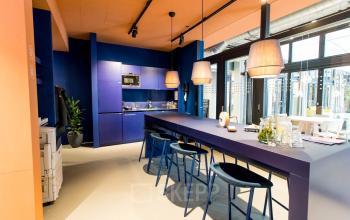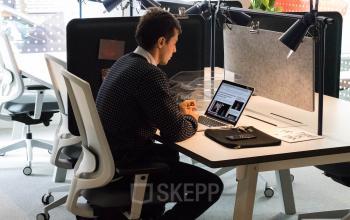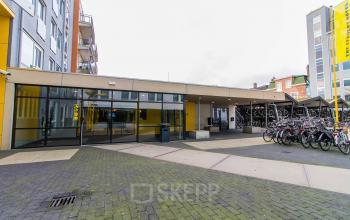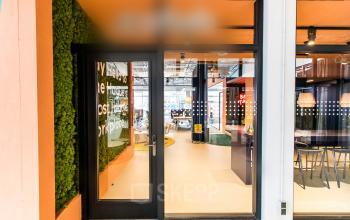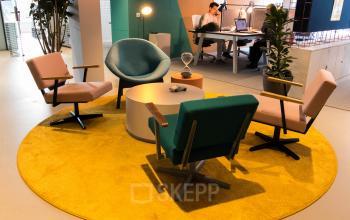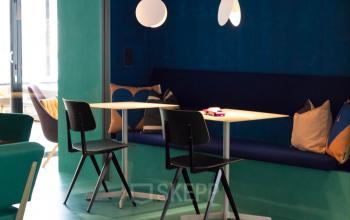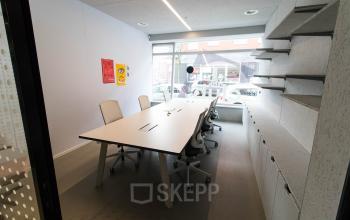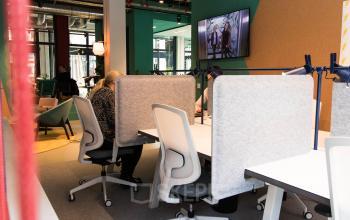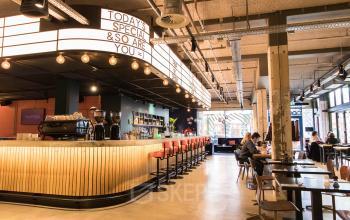 Reviews
Find out what other people said about this location
S
Stijn
Ontzettende creatieve werkplekken!
Heerlijk om in deze inspirerende werkomgeving te mogen werken.
L
Loretta
Je kunt hier een flexplek huren in een creatieve omgeving, bijvoorbeeld het bed voor 'bedtalks'.
Een ontzettend origineel en hip concept, erg enthousiast!
S
Suus
very nice atmosphere, nice people!
J
Jody Lange
Wauw gaaf en hip concept
Thanks for your review!
We really appreciate that you have taken the time to share your opinion with us and other customers! That is why you get from us!
Office interior design with Officeplanner
Request a free customised interior design proposal for your office space at Hoefkade 9
With Officeplanner you can rent, lease or buy a flexible interior design package based on your preferences and requirements for the interior of your office space. Your order will be delivered at your desired location within 1 week.
More about Officeplanner