Rent office space The Hague City Centre, Kalvermarkt 53
Facilities
Desk
Internet
Coffee/tea
Printer
Meeting space
Cabinet
KVK-registration
Postal address
Kitchen
Accessibility
Bus stop Den Haag, Centrum

1 min walk (0.1 km)

Subway station Den Haag, Kalvermarkt-Stadhuis

2 mins walk (0.1 km)

Railway station Den Haag Centraal

8 mins walk (0.7 km)

Subway station The Hague Central Station

9 mins walk (0.7 km)

Park

3 mins walk (0.3 km)

Gym

1 min walk (12 m)
Rent at this location?
This is currently available at Kalvermarkt 53 in The Hague City Centre
How many square meters of office space do I need?
About this office
Kantoorruimte te huur in het 'IJspaleis' van Den Haag!
Dit kantoorgebouw is één van de meest spraakmakende gebouwen van Den Haag. Het wordt ook wel het 'IJspaleis' van Den Haag genoemd, vanwege de witte kleur en het opvallende ontwerp. De locatie is ideaal: in het hart van Den Haag, tegenover het gemeentehuis. Het Centraal Station ligt om de hoek.
Werkplekken en kantoorruimte flexibel te huren
In dit kantoorpand te Den Haag zijn diverse kantoren beschikbaar. Er zijn flexplekken maar ook vaste werkplekken. Daarnaast huurt u hier eenvoudig bij SKEPP een kantoorkamer. Gaat uw voorkeur uit naar een kantoorruimte op maat? Ook dit is mogelijk! U kunt hier flexibel huren maar zeker ook voor langere termijn.
Prijzen vanaf slechts €150,- per maand bij dit kantoor in Den Haag
Een flexibele werkplek huurt u al vanaf €150,- per maand. Een fraaie en ruime kantoorkamer is te huur vanaf €1.300,- per maand. Goedkope prijzen voor een kantoorruimte op deze locatie!
Espressobar, café én restaurant gevestigd in dit kantoor
Het servicelevel is hoog in Den Haag. U kunt gebruik maken van de secretariële diensten van de receptie. Bovendien is er een schoonmaakservice en zijn er cateringmogelijkheden. De aanwezige voorzieningen zijn zeker noemenswaardig. Een espressobar, een café, een restaurant, print- en kopieerfaciliteiten; u vindt het allemaal in dit kantoor. Ook parkeerruimte aanwezig!
Bezoek deze locatie en drink een kop koffie om de 'sfeer te proeven'
Plan dan direct een rondleiding in bij SKEPP. Dit doet u via het menu aan de rechterkant van deze pagina. Zie met eigen ogen de mogelijkheden van uw nieuwe kantoorruimte op deze gunstige locatie!
Media
Get a good impression of this office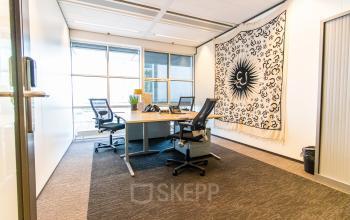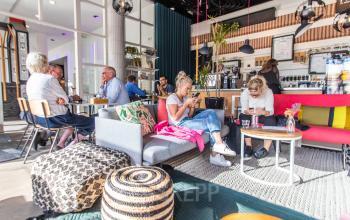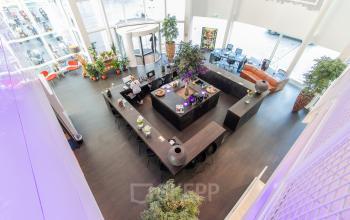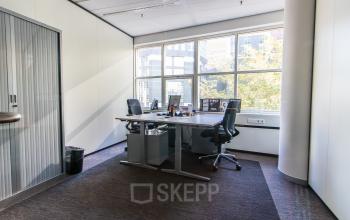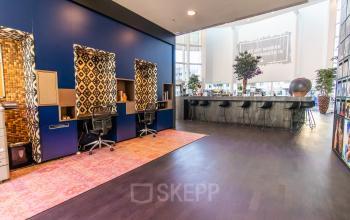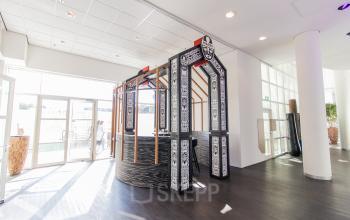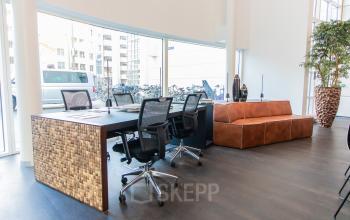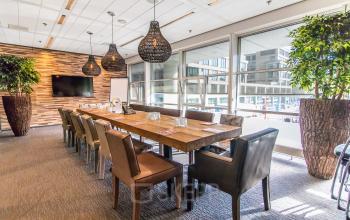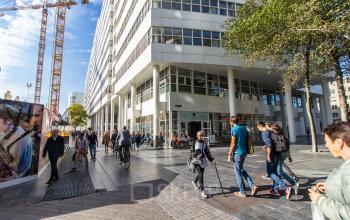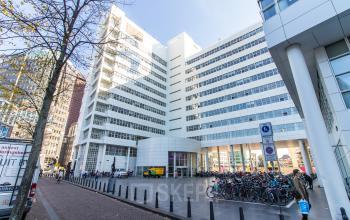 Reviews
Find out what other people said about this location
P
Pauline Langelaar
Prachtig hoe hier een andere betekenis aan kantoor wordt gegeven.
De kantoorruimtes hebben een moderne inrichting, een warme sfeer en het personeel is uiterst vriendelijk.
B
BHT Verzekeringen
Een keurig kantoor.
Het merendeel van ons personeel maakt gebruik van het openbaar vervoer, wat deze locatie een goede keuze maakt. De huurprijs is wat hoger, maar gekeken naar de uitstekende diensten en vriendelijke service die we er voor terug kijken, zal het de prijs absoluut waard zijn.
d
de Bleker
Een prachtig kantoor op een mooie locatie
S
Sam
Wat een tof gebouw, van alle gemakken voorzien.
Inclusief een mooie fitnessruimte voor na het werk.
C
Chantal
Een prachtig kantoorpand op een top locatie.
Het centraal station om de hoek dus goed bereikbaar met het OV.
Thanks for your review!
We really appreciate that you have taken the time to share your opinion with us and other customers! That is why you get from us!
Office interior design with Officeplanner
Request a free customised interior design proposal for your office space at Kalvermarkt 53
With Officeplanner you can rent, lease or buy a flexible interior design package based on your preferences and requirements for the interior of your office space. Your order will be delivered at your desired location within 1 week.
More about Officeplanner