Rent office space The Hague City Centre, Parkstraat 83
Facilities
Desk
Internet
Coffee/tea
Printer
Meeting space
Cabinet
KVK-registration
Postal address
Kitchen
Parking
Accessibility
Bus stop Den Haag, Kneuterdijk

3 mins walk (0.2 km)

Subway station Den Haag, Mauritskade

3 mins walk (0.2 km)

Railway station Den Haag Centraal

18 mins walk (1.4 km)

Park

3 mins walk (0.3 km)

Gym

2 mins walk (0.2 km)
Rent at this location?
This is currently available at Parkstraat 83 in The Hague City Centre
Available (flex)desks
Rent immediately

Have you made your choice and do you want to rent this [(flex)workplace / office room / office space]? Prevent another party being ahead of you, do not hesitate and rent it online immediately. Click on the button to rent!

Space description:

Own workspace

Rental price:

€233 198 € /mo.
Available office rooms
Rental price:

1.600 € /mo.

Rental price:

3.000 € /mo.
How many square meters of office space do I need?
About this office
Kantoorruimte huren in modern kantoorgebouw in centrum Den Haag
Kantoorruimte huren in het centrum van Den Haag op loopafstand van de Lange Voorhout? Op deze absolute centrumlocatie aan de Parkstraat in Den Haag biedt dit kantoorbelevingsconcept kantoorruimte te huur aan. Een werkplek huren, een kantoorkamer (vanaf 10 m2) huren of een kantoorruimte op maat (vanaf 100 m2) huren? Flexibel of voor de lange termijn, beide is mogelijk!
24 uur per dag toegang tot uw eigen kantoor in Den Haag
Een werkplek huren kan hier al voor maar €229,- per maand. Een kantoorkamer huurt u al vanaf €450,- per maand! U kunt 24/7 terecht in uw eigen volledig gemeubileerde kantoor. Daarnaast is er een business lounge aanwezig waar u ontspannen kunt werken of een informele meeting belegt.
Een centrale receptie waar uw gasten professioneel worden ontvangen
Het serviceteam van de receptie ontvangt uw gasten vriendelijk en helpt u met de postverwerking en telefoonbeantwoording. Vergaderen kunt in één van de vergaderruimten op deze locatie maar ook op 60 andere kantoorlocaties in Nederland en 2000 locaties wereldwijd, allen aangesloten bij dit business concept.
Advocaten, Juristen en andere bedrijven in de zakelijke dienstverlening zijn hier gevestigd
Deze vestiging in het centrum van Den Haag kent een hoog servicelevel en is gelegen te midden van vele overheids- en Europese instellingen, advocatenkantoren en andere professionele dienstverleners. Dus bent u op zoek naar een werkplek, kantoorkamer (vanaf 10 m2) of kantoorruimte op maat (vanaf 100 m2) zoek dan niet verder en vraag geheel vrijblijvend een bezichtiging aan bij SKEPP!
Media
Get a good impression of this office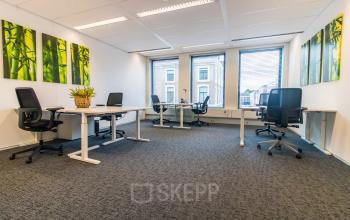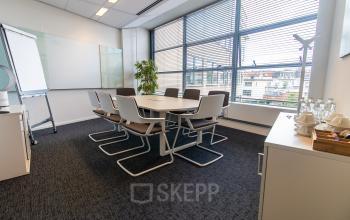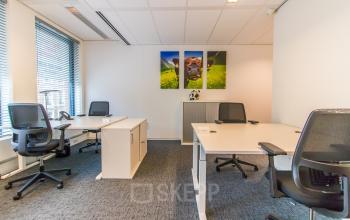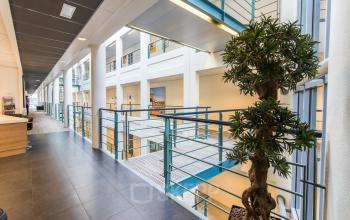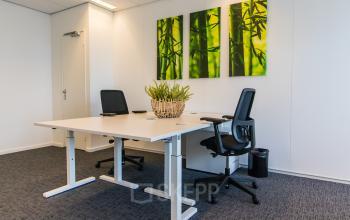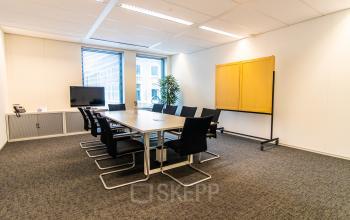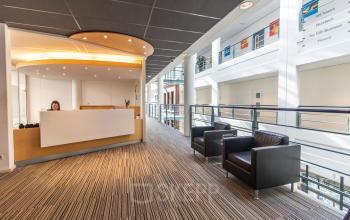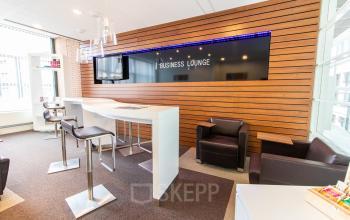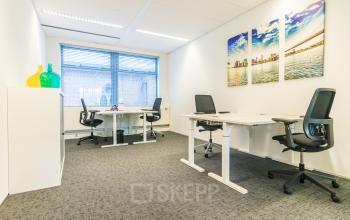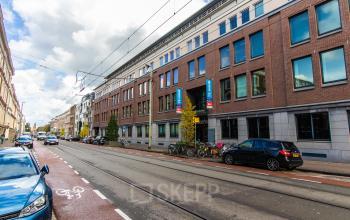 Reviews
Find out what other people said about this location
F
Frederickx Mondzorg
Prima en mooi ruim pand!
De ligging en bereikbaarheid voor klanten (per OV) zijn goed voor mijn praktijk. Ik vind het een prima optie die het overwegen waard is!
J
Jolijn Bergsma
De mensen van de receptie zijn erg vriendelijk en zijn bereid om met van alles te helpen.
Complimenten.
R
Renske
gebouw met leuke uitstraling
J
Jennifer
Looks great!
Perfectly located
S
Sanne
Prettige receptiediensten worden beschikbaar gesteld
Thanks for your review!
We really appreciate that you have taken the time to share your opinion with us and other customers! That is why you get from us!
Office interior design with Officeplanner
Request a free customised interior design proposal for your office space at Parkstraat 83
With Officeplanner you can rent, lease or buy a flexible interior design package based on your preferences and requirements for the interior of your office space. Your order will be delivered at your desired location within 1 week.
More about Officeplanner