Rent office space Veenendaal, Landjuweel 10
Facilities
Desk
Internet
Coffee/tea
Printer
Meeting space
KVK-registration
Postal address
Kitchen
Parking
Accessibility
Bus stop Veenendaal, Landjuweel

2 mins walk (0.2 km)

Railway station Veenendaal-De Klomp

30 mins walk (2.4 km)

Park

8 mins walk (0.6 km)

Gym

2 mins walk (0.2 km)
Rent at this location?
This is currently available at Landjuweel 10 in Veenendaal
Unfortunately, nothing is currently available in this office building. View other offices on the SKEPP website or contact our real estate agents for free advice
Check out the other office spaces for rent in Veenendaal!
About this office
Huur een kantoorruimte voor een all-inprijs in Veenendaal!
Werken in Veenendaal? Hier huurt u een kantoorruimte tegen zeer gunstige voorwaarden. Voor een all-inprijs maakt u, naast het gemak van een eigen kantoorruimte, ook gebruik van bijvoorbeeld een gedeelde receptie en parkeerruimte. Bovendien bent u binnen enkele autominuten op de snelweg A12. Waar wacht u nog op?
Kantoorkamers te huur vanaf 1 tot circa 25 personen in dit kantoor te Veenendaal
In dit kantoor huurt u een all-inclusive kantoorkamer. Of u nu alleen werkt of dat uw onderneming uit 25 mensen bestaat, hier vindt u de geschikte kantoorruimte. Huurt u graag flexibel? U huurt hier al vanaf 3 maanden. Behoefte aan meer zekerheid? Langere huurtermijnen worden zeker aangeraden. In Veenendaal heeft u de kans om door te groeien met uw bedrijf!
Parkeren? Gratis! Koffie of thee? Gratis! Schoonmaakservice? Gratis!
Wanneer u hier besluit te huren, dan maakt u ook gebruik van de aanwezige services en voorzieningen. Komt u met de auto? Parkeer uw auto gratis bij het kantoorpand. En ook voor koffie of thee hoeft u hier niet te betalen. Een hekel aan schoonmaken? Geen probleem, dat wordt hier gratis (!) voor u gedaan. Kortom, veel luxe naast het hebben van een eigen kantoorruimte!
In dit kantoorpand is een kantoorkamer te huur vanaf slechts €299,- all-in per maand
Binnen dit kantoorpand, met deze luxe, verwacht u ongetwijfeld een hoge huurprijs. Dit is echter niet het geval. U huurt hier namelijk al vanaf €299,- all-in per maand een kantoorruimte die bij u past!
Ga gauw een kijkje nemen; plan een gratis rondleiding in bij SKEPP!
Bent u overtuigd om een kantoorruimte te huren in dit kantoor in Veenendaal? Plan dan geheel vrijblijvend een bezichtiging in bij SKEPP. Dit doet u via het menu, dat u rechts op deze pagina ziet. Liever eerst bespreken wat de mogelijkheden zijn? Neem contact op met SKEPP!
Media
Get a good impression of this office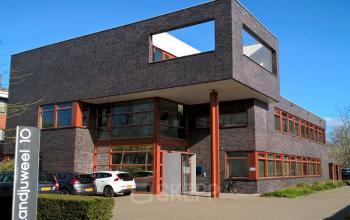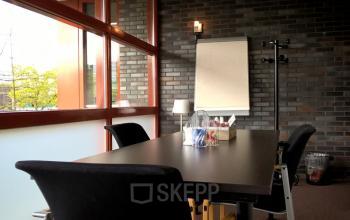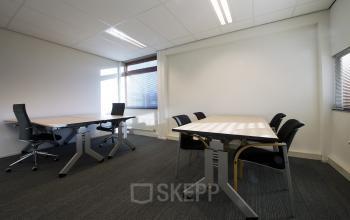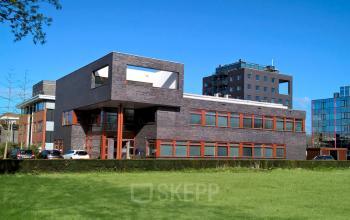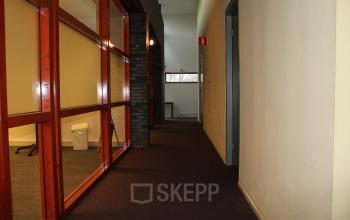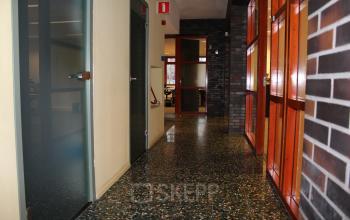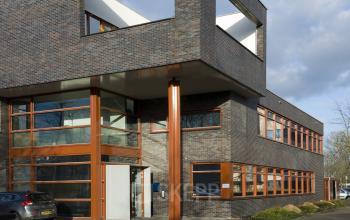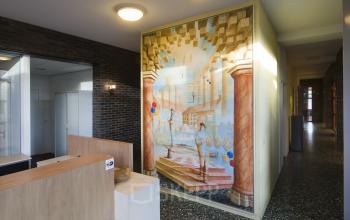 Reviews
Find out what other people said about this location
V
Valerie
Alles zit er bij in, pluspunt!
Thanks for your review!
We really appreciate that you have taken the time to share your opinion with us and other customers! That is why you get from us!
Office interior design with Officeplanner
Request a free customised interior design proposal for your office space at Landjuweel 10
With Officeplanner you can rent, lease or buy a flexible interior design package based on your preferences and requirements for the interior of your office space. Your order will be delivered at your desired location within 1 week.
More about Officeplanner