Rent office space Zwolle Oosterenk-Wipstrik, Dokter Klinkertweg 1-7
Facilities
Internet
Coffee/tea
Meeting space
KVK-registration
Postal address
Kitchen
Parking
Accessibility
Bus stop Zwolle, Dokter Hengeveldweg

5 mins walk (0.4 km)

Railway station Zwolle

40 mins walk (3.2 km)

Park

2 mins walk (0.1 km)

Gym

2 mins walk (0.2 km)
Availability
Check below which office types are available at Dokter Klinkertweg 1-7
About this office
Kantoorruimte huren aan de Dokter Klinkertweg in Zwolle (Oosterenk/Wipstrik)
Zie jij het wel zitten om een kantoorruimte te huren aan de Dokter Klinkertweg in Zwolle Oosterenk/Wipstrik? Neem dan een kijkje in dit hoogwaardig opgeleverde kantoorgebouw. Het kantoorpand is gebouwd in 1999 en heeft een erg gunstige ligging aan de ringweg. Het kantoorpand is gevestigd op het kantorenpark Oosterenk, je huurt hier een kantoorruimte in het zakelijke gedeelte van Zwolle.
Huurprijzen
Op dit moment is er in totaal 2136 m2 beschikbaar aan kantoorruimte. Het is mogelijk om een kantoorruimte te huren vanaf 358 m2, voor een maandelijks bedrag van €2983,-. Deze kantoorruimte is gelegen op de 3e verdieping,erg makkelijk bereikbaar door de aanwezige liftinstallatie. Huur je liever een kantoorunit op de begane grond? Dat kan! Er is hier een kantoorruimte beschikbaar met een oppervlakte van maar liefst 913 m2, voor €9890,- in de maand.
Een pantry, representatieve entree en parkeergelegenheid
Naast het huren van een kantoorkamer, maak je ook gebruik in dit kantoorpand aan de Dokter Klinkertweg in Zwolle Oosterenk/Wipstrik ook gebruik van vele services en voorzieningen. Zo is er bij elke kantoorruimte een pantry gerealiseerd, een handige plek om een lekkere kop koffie/thee te zetten voor jou en je collega's. Bij binnenkomst kom je in een representatieve entree, een geschikte plek dus om ook zakenrelaties uit te nodigen. En reis je met de auto naar je werkplek? Dan heb je geluk. Het kantoorgebouw heeft een eigen parkeerplaats, voor €20,- in de maand ben jij elke ochtend verzekerd van een plekje voor de deur.
Locatie en bereikbaarheid
Het kantoorpand heeft een goede bereikbaarheid, het ligt namelijk aan de rand van Zwolle. Hier is de N35 te vinden, welke aansluit op de A28. Niet alleen met de auto is het makkelijk reizen naar je werkplek, de bushalte die slechts op 5 minuten loopafstand ligt geeft ook de mogelijkheid om makkelijk met het openbaar vervoer naar je werkplek te reizen. Deze buslijn is direct aangesloten op het centraal station van Zwolle.
Huur jij binnenkort ook een kantoorruimte aan de Dokter Klinkertweg in Zwolle Oosterenk/Wipstrik?
Ben jij enthousiast en wil je een kantoorruimte huren aan de Dokter Klinkertweg in Zwolle Oosterenk/Wipstrik? Neem dan nu contact op met één van onze vastgoedconsultants. We zullen een rondleiding voor je in plannen, zo kun je het kantoorpand met eigen ogen bekijken en beleven. Wij helpen je graag gratis en geheel vrijblijvend verder in de zoektocht naar een kantoorruimte aan de Dokter Klinkertweg.
Rent at this location?
This is currently available at Dokter Klinkertweg 1-7 in Zwolle Oosterenk-Wipstrik
How many square meters of office space do I need?
Media
Get a good impression of this office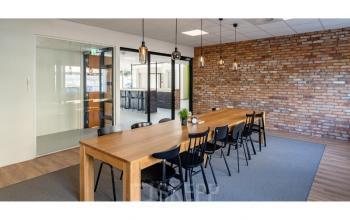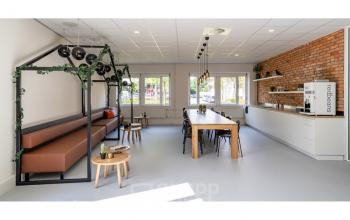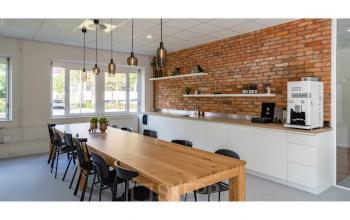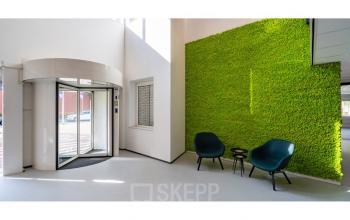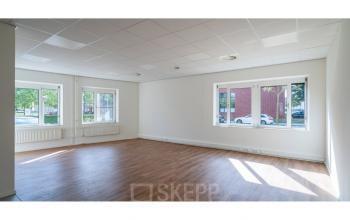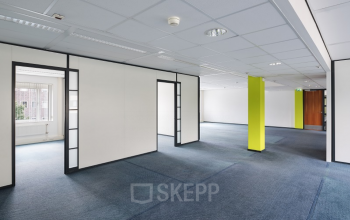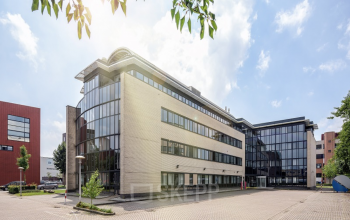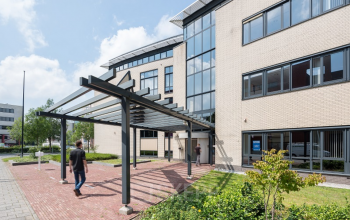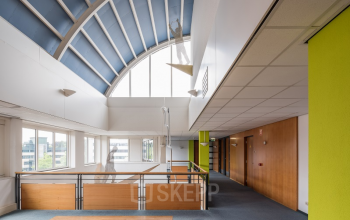 Reviews
Find out what other people said about this location
H
Hetty
Perfect gelegen, namelijk aan de ringweg.
Ook de auto's zijn makkelijk te parkeren op de aanwezige parkeerplaats.
Thanks for your review!
We really appreciate that you have taken the time to share your opinion with us and other customers! That is why you get from us!
Office interior design with Officeplanner
Request a free customised interior design proposal for your office space at Dokter Klinkertweg 1-7
With Officeplanner you can rent, lease or buy a flexible interior design package based on your preferences and requirements for the interior of your office space. Your order will be delivered at your desired location within 1 week.
More about Officeplanner