View and compare office spaces in the Netherlands, Belgium, Germany, Austria, Switzerland, Spain and France
SKEPP has the most current offers in office spaces. Because of the large amount of spaces available there is a suitable office space for every type of company located anywhere.
View our office spaces
Rent out office spaces
We rent out your office spaces and unburden you during this process
Officelisting
You can upload your offices for free, we will start looking for a suitable tenant right away
Officemanager
We unburden your contract and invoice management, you can see a clear overview with all the details using our online administration tool
With Officelisting you can rent out your vacant office spaces. Placing these offers. including photography is totally free and we work on a no cure, no pay system. With Officemanager we unburden you of all financially administrative work. Upload your offers, just like 800 other landlords on SKEPP!
More about Officelisting and Officemanager
Design your office space interior
With Officeplanner you rent the furniture for your office design and it's completely flexible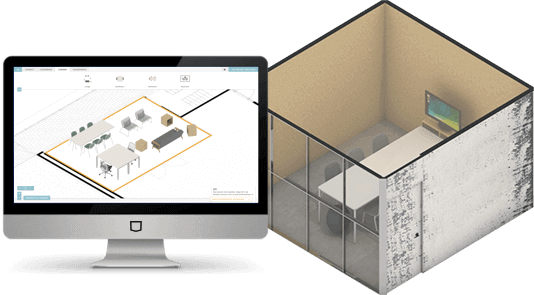 Rent flexible office furniture with Officeplanner. An ergonomic, durable and hip interior design concept. SKEPP transports and assembles so you have your office design ready to go at your location within 1 week.
More about Officeplanner
Tips, office trends and unique discount offers
Take advantage of our informative blogs and benefit of discounts on office spaces
This is how you rent an office space!
The online database for office spaces
Satisfied tenants
These tenants found their ideal office space with SKEPP
We found a nice office space for a good price in no time. Contact with both SKEPP and the landlord of the property went very smoothly.

Develeopards
I got an answer to my question regarding an office building really quickly! They also offered me some better alternatives so that there were plenty of relevant offices available for a comparison!

Natasja
Very customer friendly. They really try to find out what you are looking for and we quickly received a selection of suitable offices. Any further aftercare was also always in order and fast.

Finzie Rotterdam Centrum
We are very satisfied with the customer-oriented focus and follow-up on our questions. We were able to receive an overview of office spaces that suited our requirements on very short notice

Houtmarkt Deventer bv
Great, Mathios contacted me regularly to see how we were doing and gave me advice according to my needs.

Adtraction
Correct, fast response, made two enquiries and found two fitting office spaces. Works conveniently at a distance.

4People
Nice people, are quick to help you out and try to find a solution. I found an office within a few days.

Jimmy
They really helped me out. They quickly went to work and I was able to start at my new workplace within two weeks!

OperatorDesign
After contacting SKEPP, the team responded quickly and accurately. The office space I desired was realised within two weeks. I had a guided tour and the contract was set up according to my wishes. Pleasant and friendly approach.

SPI International B.V.
Within a day, I was helped to a perfect office. The team works extremely fast. Within half an hour after sending a message, 3 tours had already been planned. Hence, I was able to quickly make a decision.

Kubilay Altintas Photography
The communication was quick and clear. I wanted to know which designs were possible in the office building that I have rented. I only needed to provide a floor map of the rooms and within a few days I already had the design, with Officeplanner, in my mailbox. Super fast service!

Anne
Unfortunately it did not come to an agreement, but the contact was very good. The employees are very professional and understand their profession well. If another situation occurs where I look for an office space, then SKEPP will be the first.

Don Varekamp
Frequently asked questions
Do these options contain your questions about SKEPP or renting (out) an office space?
Renting office space

What is the difference between an office room and an office space?

An office room is a personalised, closed room and is often called an office unit. Office rooms occur in different sizes, up to 100 m2. Office rooms can be delivered fully furnished as well as unfurnished.


On the other hand, an office space is a big space from over 100 m2. This is often an entire office floor with open flexible workstations, office rooms, an own meeting room and a pantry.

What is the difference between a regular workplace and a flexible workplace?

A regular workplace is different from a flexible workplace. The difference is the availability and not the working environment. If you rent a workplace, you have your own, dedicated desk. Therefore you don't have to clean up your desk each time you leave, you can just leave your personal belongings on your own, private desk.


On the other hand, if you rent a flexible workplace you do not have your own, dedicated desk. Instead, you paying for a membership. This membership gives you the right to make unlimited use of the workplaces in the open office spaces. Are all the workplaces taken? Then please try again in a few hours. A flexible workplace is cheaper than a regular workplace, simply because you don't know for sure if there is a workplace available at your desired working time.

Can I rent meeting rooms at SKEPP?

No, SKEPP can only help you by renting (flexible) working spaces, virtual offices, office rooms and customized office spaces.

How does SKEPP work?

How does SKEPP earn money?

People who are looking for office space or a workplace can use our service for free. Also, we do not ask for high rental prices. SKEPP earns money by charging the landlord a commission based on the monthly amount collected. For workplaces, this commission is 15% during the rental period and for office rooms and office spaces, SKEPP charges 10% of the rental income over the first year.


SKEPP has an arrangement with all landlords that the rental prices cannot be higher for people finding a workplace or office room via SKEPP. Everyone looking for a workplace can use SKEPP as a reliable platform which is specially designed to help you find your dream office.

With whom is the contract eventually concluded?

The contract is eventually concluded with the landlord of the office building. SKEPP will make an appointment or schedule a tour to make sure you get in touch with the landlord of the office building.

SKEPP service

What do our current renters and landlords think about our service?

To keep improving our service, we regularly ask our renters and landlords to give feedback about the way we work.

We do this with help of the Feedback Company. Our current rating? A 9.2! And that's something we're very proud of. See for yourself at: feedbackcompany.com/nl-nl/reviews/skepp

How and when can I reach SKEPP?

You can reach our real estate agents Monday through Friday between 9:00 AM and 6:00 PM at +31 85 8882339. It's also possible to mail us at info@skepp.com or to Whatsapp us at +31620867957.

You could reach us through our social media channels as well!
Office as a Service
Rent (out) or interior design an office space where SKEPP unburdens both tenant and landlord
Looking for an office space? You can find it with this free comparison website and with the help of our real estate consultants. Looking to rent out and office space? We upload your offices for free and find suitable tenants for you.
Contact us
I'm glad to help without any obligation!

ThijsReal estate agent
Call
Without any obligation
Answers within 1 hour
Customer rating 9.2/10
Up-to-date availability
No cure, no pay
SKEPP takes care of everything