Rent office space Brussels Airport, Culliganlaan 1B
Facilities
Desk
Internet
Coffee/tea
Printer
Meeting space
Cabinet
Postal address
Kitchen
Parking
Accessibility
Bus stop Diegem Kouterveld

4 mins walk (0.3 km)

Railway station Diegem

13 mins walk (1.0 km)

Gym

9 mins walk (0.8 km)
About this office
Rent office space at the Culliganlaan in Brussels (Zaventem)
Do you want to rent office space at the Culliganlaan nearby Brussels and the airport of Zaventem? This office building has the solution for you. Find your new office or coworking place right here. Read about the possibilities on this page.
Rental prices
You just have to determine how many day per week you want to use your new office space or work space. A place in the coworking area is available from 2 days per week and a monthly price of €195,-. If you need a spot for 5 days per week, then you will pay a monthly fee of €295,-. Private offices are available from 10 m2 to 100 m2 and the prices start at €450,- per month. We make sure you get a good office for a fair price.
Registered office, parking and a restaurant on this location
As a starting company you can get a registration at the Culliganlaan in Brussels. You will be helped by starting up your company and it is not an every day location. The big underground parking is there to make sure that you and your partners park their cars safely. It must be soothing that you don't have to look for a parking space for half an hour every day. You have to worry about working, parking and even eating in this office building. The restaurant can provide a perfectly fresh lunch everyday, just for you to enjoy.
Location and accessibility
This location can not be described other than ideal. Just outside the busy city of Brussels, close to the airport of Zaventem and on a junction of two major highways (E19 & E40). A better location is yet to be found. You can take the bus to work if you don't want to take the car for a change. The bus stops practically in front of the building and it will take you there on time every day. You can visit Diegem for a business dinner, because there are a lot of restaurant to be discovered by you.
Are you renting office space at the Culliganlaan soon?
It is an easy and quick task to rent your office space or work space at the Culliganlaan in Brussels. If you have any unanswered questions, you can contact our real estate agents. They will answer them for you and they can also schedule a free tour for you. You won't have any obligations either, but its nice to receive a delicious cup of coffee while enjoying your free tour right?
Media
Get a good impression of this office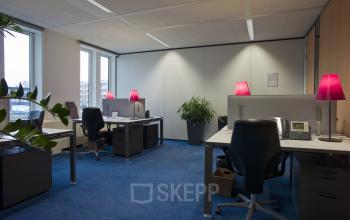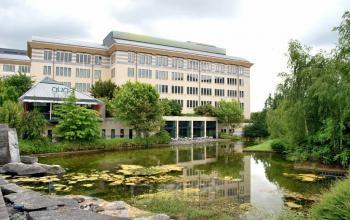 Reviews
Find out what other people said about this location
D
Danielle W.
Mooi gelegen pand met vriendelijke mensen.
R
Ronald vd S.
Jammer dat er niets meer te huur is.
We hadden hier graag gehuurd!
Thanks for your review!
We really appreciate that you have taken the time to share your opinion with us and other customers! That is why you get from us!
Office interior design with Officeplanner
Request a free customised interior design proposal for your office space at Culliganlaan 1B
With Officeplanner you can rent, lease or buy a flexible interior design package based on your preferences and requirements for the interior of your office space. Your order will be delivered at your desired location within 1 week.
More about Officeplanner