Rent office space Brussels Elsene, Louizalaan / Avenue Louise 149/24
Facilities
Desk
Internet
Coffee/tea
Printer
Meeting space
Cabinet
Postal address
Kitchen
Parking
Accessibility
Bus stop Defacqz

1 min walk (4 m)

Subway station Defacqz

1 min walk (1 m)

Railway station gare du congres

15 mins walk (1.2 km)

Park

4 mins walk (0.4 km)

Gym

3 mins walk (0.3 km)
Rent at this location?
This is currently available at Louizalaan / Avenue Louise 149/24 in Brussels Elsene
How many square meters of office space do I need?
About this office
Kantoorruimte huren in Brussel aan de Louizalaan / Avenue Louise (Elsene)
Als je kantoorruimte wilt huren, dan is het geen geheim dat je aan de Louizalaan / Avenue Louise in Brussel op de juiste locatie bent. Het wordt niet voor niets de meest prestigieuze laan van de Belgische hoofdstad genoemd genoemd. Neem een kijkje in deze toren die dienst doet als kantoorgebouw en wellicht kom je er achter dat dit voor jouw bedrijf een goede oplossing is.
Huurprijzen
Het huren van een kantoorruimte op deze locatie is mogelijk vanaf 20 m2 tot een maximale grootte van 100 m2. De kantoren zijn te huur voor prijzen vanaf €450,- per maand. Het verschilt natuurlijk met hoeveel personen je het kantoor betrekt en wat de precieze oppervlakte is. Als je meer wilt weten over de prijzen van de kantoren dan raden we aan om even contact op te nemen, we gaan het dan direct voor je uitzoeken. Als je liever een plek in de coworking wilt huren dan is dat mogelijk voor bijvoorbeeld 2 dagen per week. Deze werkplek kost je dan €195,- per maand. Wanneer je graag 5 dagen per week een werkplek wilt huren, dan kan dit voor een maandelijkse bijdrage van €295,-.
24/7 toegang, gemeubileerde kantoren en gebruik van meerdere locaties
Aan de Louizalaan / Avenue Louise in Brussel geniet je van een uitgebreid aanbod aan services. Zo is het gehuurde kantoor of de gehuurde plek in de coworking voor jou 24/7 toegankelijk. Je bepaalt dus zelf de tijden waarop je gaat werken en als je wat langer door wilt werken dan is dat ook geen enkel probleem. De kantoren zijn volledig gemeubileerd en je hoeft er dus geen extra geld in te steken. Het beste is misschien wel het feit dat je op meerdere locaties in België kunt werken als je hier huurt. Wil je een keer werken aan de Meeûssquare, in Diegem of zelfs in Antwerpen? Dan is dat mogelijk als je besluit om van deze locatie jouw thuisbasis te maken.
Locatie en bereikbaarheid
Uitgestrekt over 1, bijna rechte, weg ligt de Louizalaan en deze loopt van het centrum van Brussel tot aan het Ter Kamerenbos. Er zijn veel stops van zowel metro als bus en je reist ook gemakkelijk naar een van de stations in de hoofdstad. Zo ben je voor bezoek en medewerkers makkelijk bereikbaar en bevind je je op een zeer unieke locatie. Het is ook mogelijk om via de E411 of de E40 de stad in te rijden en binnen 20 minuten op kantoor te zijn, dit uiteraard wel afhankelijk van de verkeersdrukte. Je kunt de auto parkeren in de parkeergarage. Er zijn veel restaurants in de buurt waar je heerlijk kunt gaan lunchen. Wij hebben ze nog niet allemaal geprobeerd, maar wellicht kun jij ons vertellen welke nu echt de allerbeste is?
Huur jij binnenkort kantoorruimte aan de Louizalaan / Avenue Louise?
Lijkt het jou een goed idee om eens te gaan kijken aan de Louizalaan / Avenue Louise in Brussel? Wil je graag zien of deze locatie past bij jouw bedrijf? Neem dan contact op met onze vastgoedconsultants en we plannen gratis en geheel vrijblijvend een rondleiding voor je in. Dan proef je niet alleen de goede sfeer, maar ook nog eens de heerlijke koffie. Spreken we je snel?
Media
Get a good impression of this office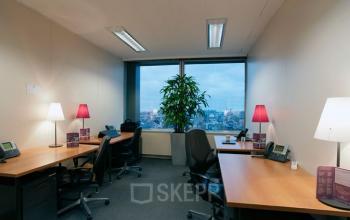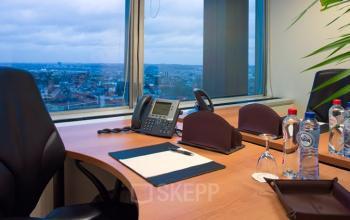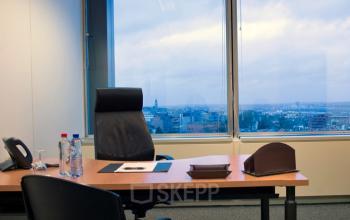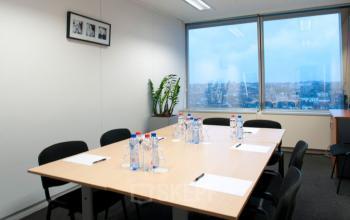 Reviews
Find out what other people said about this location
L
L.
Strak en functioneel kantoorpand.
Thanks for your review!
We really appreciate that you have taken the time to share your opinion with us and other customers! That is why you get from us!
Office interior design with Officeplanner
Request a free customised interior design proposal for your office space at Louizalaan / Avenue Louise 149/24
With Officeplanner you can rent, lease or buy a flexible interior design package based on your preferences and requirements for the interior of your office space. Your order will be delivered at your desired location within 1 week.
More about Officeplanner