Rent office space Eindhoven De Hurk, Noord Brabantlaan 265
Facilities
Desk
Internet
Coffee/tea
Printer
Meeting space
KVK-registration
Postal address
Kitchen
Parking
Accessibility
Bus stop Eindhoven, Hurksestraat

4 mins walk (0.3 km)

Railway station Eindhoven Strijp-S

36 mins walk (2.9 km)

Gym

7 mins walk (0.6 km)
Rent at this location?
This is currently available at Noord Brabantlaan 265 in Eindhoven De Hurk
Available office rooms
Rent immediately

Have you made your choice and do you want to rent this [(flex)workplace / office room / office space]? Prevent another party being ahead of you, do not hesitate and rent it online immediately. Click on the button to rent!

Rental price:

€ 1.270 /mo.

Rental price:

€ 1.270 /mo.

Rental price:

€ 1.270 /mo.

Rental price:

€ 1.270 /mo.

Rental price:

€ 1.205 /mo.

Rental price:

€ 1.855 /mo.

Rental price:

€ 1.855 /mo.

Rental price:

€ 1.855 /mo.

Rental price:

€ 1.855 /mo.
Available office spaces
Space description:

102 m2

Rental price:

€ 3.415 /mo.

Space description:

115 m2

Rental price:

€ 3.415 /mo.
How many square meters of office space do I need?
About this office
Kantoorruimte huren in een kantoorpand dat goed zichtbaar is vanaf de A2 in Eindhoven
Zoekt u een kantoor met een zichtlocatie in Eindhoven? Dan bent u in dit kantoorpand aan de Noord Brabantlaan aan het juiste adres. Dit kantoorgebouw kenmerkt zich door de groene omgeving, het terras mét lounge aan het water en de het moderne karakter. Het kantoor in Eindhoven is recent nieuw gebouwd, vlakbij de snelweg A2!
Kantoorkamer vanaf 26 m2 te huur in dit kantoor te Eindhoven
Op dit moment zijn er 4 kantoorruimten beschikbaar voor verhuur in dit eigentijdse kantoorpand in Eindhoven. Het betreffen kantoorkamers van 26 m2, 32 m2, 64 m2 en 83 m2. Daarnaast zijn er spreekkamers en vergaderruimten. De spreekkamers op de andere locaties van dit kantoorconcept (in Eindhoven, Nuenen, Helmond en Valkenswaard) zijn ook voor u toegankelijk, wanneer u besluit om kantoorruimte te huren in dit kantoor te Eindhoven.
Huren in Eindhoven? Dat kan al vanaf €475,- per maand!
De kantoorkamer, ook wel kantoorunit genoemd, van 26 m2 is te huur voor €475,- per maand. Een kantoorkamer van 32 m2 huurt u voor €550,- per maand. Let op: wanneer u besluit om bij SKEPP een kantoorruimte te huren op deze locatie vanaf minimaal 1 jaar, dan krijgt u een korting van 20% á 30% op de huurprijs!
Receptiediensten, terras met lounge en 24/7 toegang tot uw kantoor
De receptionisten binnen dit kantoor in Eindhoven zijn bereid om u te ondersteunen, bijvoorbeeld door de telefoon te beantwoorden of de post te verwerken. Een groot pluspunt van dit kantoor is het terras, voorzien van een loungeset, direct aan het water. Mocht u graag buiten de traditionele kantooruren werken, dan is het prettig om te weten dat u 24/7 toegang tot uw kantoorruimte heeft.
Gratis een kijkje nemen op deze locatie? Dat kan bij SKEPP!
Benieuwd hoe dit kantoor er in het echt uit ziet? Wilt u weten of het echt een modern kantoor is en of het terras aan het water echt sfeervol is? Plan dan direct een gratis en geheel vrijblijvende rondleiding door dit kantoor bij SKEPP. Dit kunt u zelf doen via het menu op deze pagina of door contact op te nemen met de vastgoedconsultants van SKEPP. Succes in uw zoektocht naar kantoorruimte!
Media
Get a good impression of this office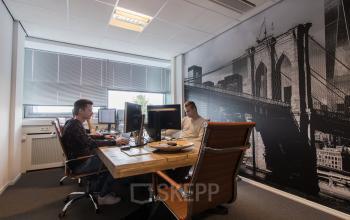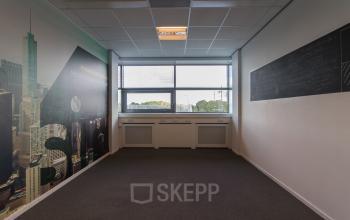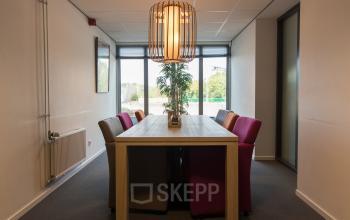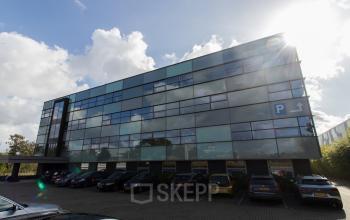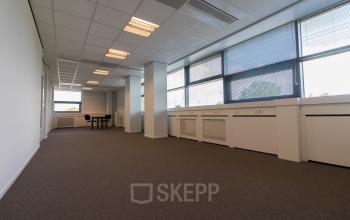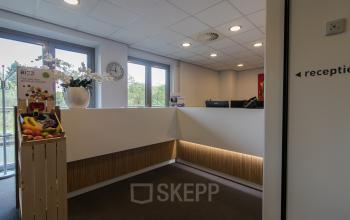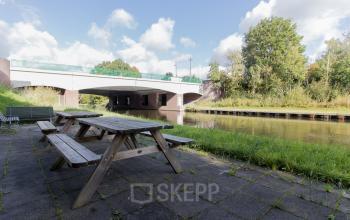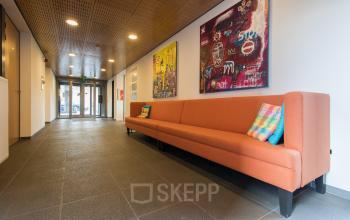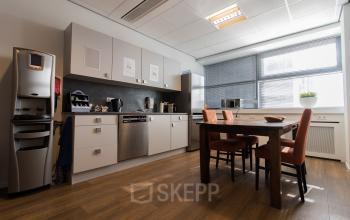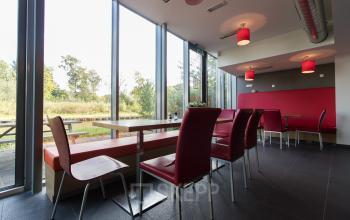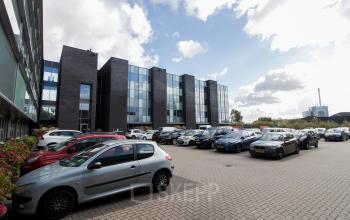 Reviews
Find out what other people said about this location
S
Sander Duiven
Vaak daar geweest om te flexen, lekker rustig en prettige service!
J
Jorden
Prima plekje zo aan het water ;)
S
Simon
Veel verschillende ruimtes, altijd wel een plekje te vinden om rustig te kunnen werken.
H
Hilke
Prachtig vormgegeven kantoorgebouw + een heerlijke buitenruimte om lekker van het zonnetje te genieten tijdens de lunch.
K
Keith
Hele fijne werkomgeving!
Rustig maar toch vlakbij Eindhoven Centrum.
K
Keith
Hele fijne werkomgeving!
Rustig maar toch vlakbij Eindhoven Centrum.
S
Sem
Mooie kantoren!!
Goede voorzieningen en lekker veel lichtinval in de kantoorruimtes
T
Tren
Vet kantoorpand met dat glas!
Prima services ook
Thanks for your review!
We really appreciate that you have taken the time to share your opinion with us and other customers! That is why you get from us!
Office interior design with Officeplanner
Request a free customised interior design proposal for your office space at Noord Brabantlaan 265
With Officeplanner you can rent, lease or buy a flexible interior design package based on your preferences and requirements for the interior of your office space. Your order will be delivered at your desired location within 1 week.
More about Officeplanner