Rent office space The Hague Binckhorst, Saturnusstraat 60
Facilities
Desk
Internet
Meeting space
KVK-registration
Postal address
Kitchen
Parking
Accessibility
Bus stop Den Haag, Melkwegstraat

1 min walk (34 m)

Railway station Voorburg

16 mins walk (1.2 km)

Gym

1 min walk (0.1 km)
Rent at this location?
This is currently available at Saturnusstraat 60 in The Hague Binckhorst
About this office
Kantoorruimte te huur: Saturnusstraat 60 – Den Haag
Binnen dit fraaie karakteristieke kantoorpand zijn kantoorunits, kantoren op maat, flexwerkplekken en vergaderruimtes te huur. Het kantoorpand is uitermate geschikt voor workshops en evenementen maar ook voor vergaderingen en als inspirerende werkomgeving. Elke verdieping en zaal heeft haar eigen stijl met bijbehorend thema. Er zijn ruimtes die zijn ingericht als een lounge, als huiskamer, zakelijk, als café of in de oosterse stijl. Ook is er binnen dit kantoor een multimediaruimte die voorziet in onbegrensde mogelijkheden op technisch gebied. Het dakterras van dit kantorenpand kan gebruikt worden om gezellig te borrelen of om een frisse neus te halen.
Kantoorruimte huren in Den Haag
Heb jij een bedrijf in de sectoren architectuur & stedenbouw, design & communicatie, fotografie & video, games, internet & ict, tekst of andere aanverwante sectoren. Dan ben je zeer welkom om onderdeel te gaan uitmaken van onze community en bij ons een kantoor te huren. De huurprijzen liggen tussen de €90,- en €130,- per m2 per jaar.
Historie kantoorgebouw in Den Haag
Dit kantorengebouw is in twee fases ontwikkeld. In Juni 2006 is het eerste deel van de fabriek geopend en de 2e fase is in 2009 opgeleverd. Ruim 100 bedrijven zijn gevestigd binnen het kantoorgebouw, allen werkzaam in de creatieve en innovatieve sector. Het ontwerp van de fabriek is afkomstig van GROUP A architecten uit Rotterdam. Binnen de Laurenszaal die maar liefst 400m2 beslaat, zijn er regelmatig evenementen, workshops en presentaties.
Media
Get a good impression of this office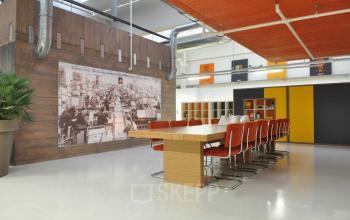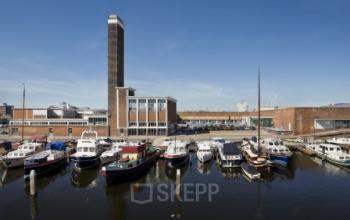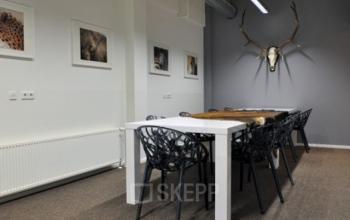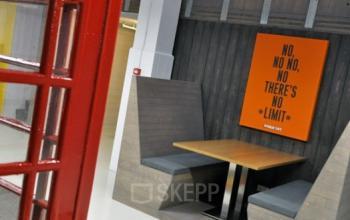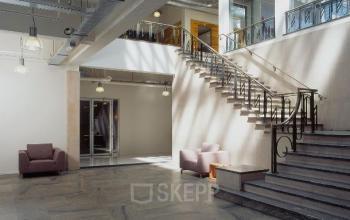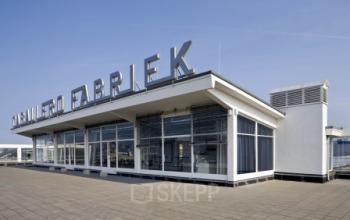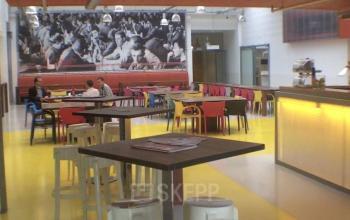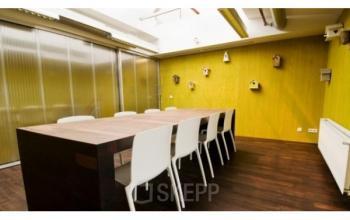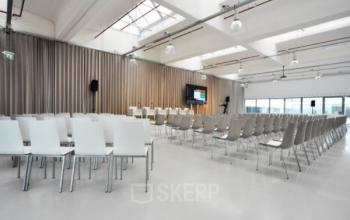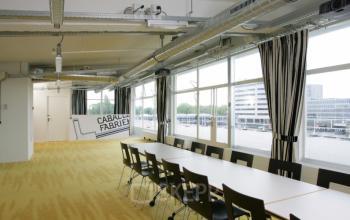 Reviews
Find out what other people said about this location
C
Chris Bartels
In een woord top!!
Inspirerende werkomgeving met mooie moderne inrichting.
S
Suzanne
Super locatie in Den Haag.
Fijne vergaderruimtes en mediaruimte. Van alle gemakken voorzien
Thanks for your review!
We really appreciate that you have taken the time to share your opinion with us and other customers! That is why you get from us!
Office interior design with Officeplanner
Request a free customised interior design proposal for your office space at Saturnusstraat 60
With Officeplanner you can rent, lease or buy a flexible interior design package based on your preferences and requirements for the interior of your office space. Your order will be delivered at your desired location within 1 week.
More about Officeplanner