Rent office space Utrecht Lage Weide, Savannahweg 17
Facilities
Desk
Internet
Meeting space
KVK-registration
Postal address
Kitchen
Parking
Accessibility
Bus stop Utrecht, Meijewetering

43 mins walk (3.5 km)

Railway station Utrecht Terwijde

40 mins walk (3.3 km)

Gym

4 mins walk (0.4 km)
Rent at this location?
This is currently available at Savannahweg 17 in Utrecht Lage Weide
How many square meters of office space do I need?
About this office
Kantoorruimte in Utrecht te huur met aanvullende services en voorzieningen, zoals vergaderruimten en catering
In het centrum van Utrecht aan de Savannahweg ligt dit moderne en eigentijds ingerichte kantoorpand. De uitstekende bereikbaarheid en vele voorzieningen, zoals telefoonbeantwoording en schoonmaak, kenmerken dit kantoorpand aan de Savannahweg in Utrecht. De snelweg A2 is snel toegankelijk en het bus- en metrostation liggen op loopafstand! Dit zorgt er voor dat wanneer u hier een kantoorruimte huurt, u zich volledig op uw onderneming kunt richten.
Een kantoorruimte huren naast bedrijven als Ziggo en Douwe Egberts
Dit kantoorpand aan de Savannahweg in Utrecht bestaat uit 7 kantoorruimten. Het gaat hierbij om kantoorruimten vanaf 27 t/m 97 m2. Daarnaast biedt dit kantoorgebouw ook kantoorruimten op maat te huur aan, vanaf 150 tot 500 m2. Op deze locatie zijn diverse grote bedrijven gevestigd als HEMA, Ziggo, Danone, Douwe Egberts en Kühne Nagel. Wordt u straks de nieuwe buur van Douwe Egberts?
Huur een eigen kantoorruimte vanaf €420 p.m. all-in in hartje Utrecht
In dit kantoorpand huurt u een kantoorruimte op maat, met een prachtig uitzicht op het centrum van Utrecht, voor een aantrekkelijke huurprijs van €120 per m2 per jaar. Hieronder ziet u de huurprijzen van beschikbare oppervlakten in dit kantoorgebouw aan de Savannahweg in Utrecht. Het betreft all-in prijzen per maand!
27 m2 - €420,-
43 m2 - €645,-
48 m2 - €720,-
59 m2 - €860,-
75 m2 - €1.125,-
76 m2 - €1.140,-
97 m2 - €1.455,-
Vergaderruimten, parkeerruimte en catering
Wanneer u een kantoorruimte huurt in dit kantoorpand kunt u gebruik maken van vele voorzieningen en services, zoals administratieve ondersteuning, parkeerruimte, high-speed internet, catering en de pantry. Deze services en voorzieningen maken het werken voor u in dit kantoorgebouw zo aangenaam mogelijk.
Dit kantoorpand in Utrecht is een kijkje waard!
Bent u op zoek naar een kantoorruimte in het centrum van Utrecht met een uitgebreid servicepakket? Dan bent u hier aan het goede adres. SKEPP plant gratis (!) en vrijblijvend een rondleiding voor u in. Waar wacht u nog op?
Media
Get a good impression of this office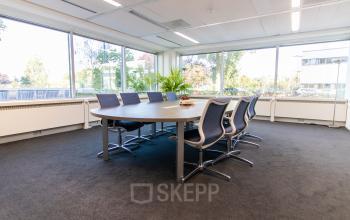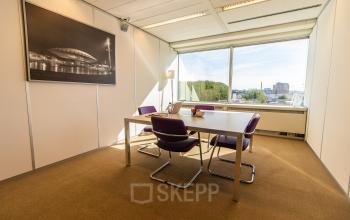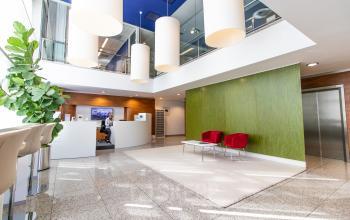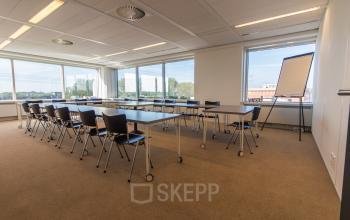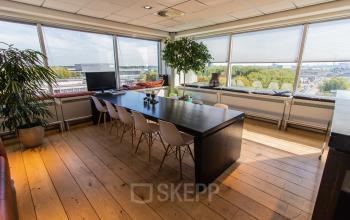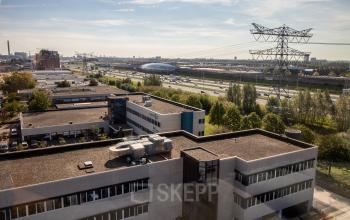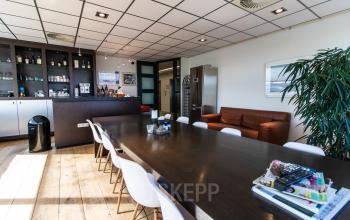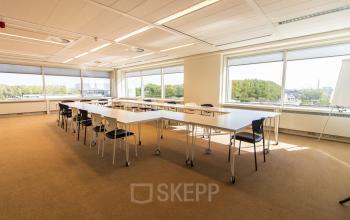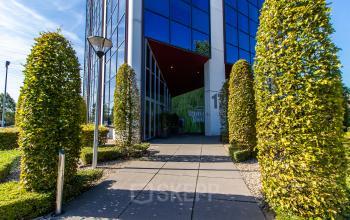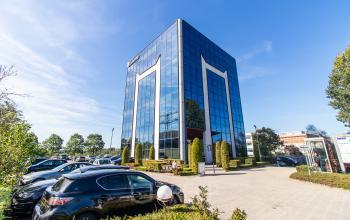 Reviews
Find out what other people said about this location
F
Femke
Modern pand, met mooie ruimten en goede ontvangstruimte
T
Tim l
Grote kantoorruimtes en er zijn voldoende parkeerplekken, erg belangrijk!
Thanks for your review!
We really appreciate that you have taken the time to share your opinion with us and other customers! That is why you get from us!
Office interior design with Officeplanner
Request a free customised interior design proposal for your office space at Savannahweg 17
With Officeplanner you can rent, lease or buy a flexible interior design package based on your preferences and requirements for the interior of your office space. Your order will be delivered at your desired location within 1 week.
More about Officeplanner