Rent office space Amsterdam Noord, Meeuwenlaan 98-100
Accessibility
Bus stop Amsterdam, Hamerstraat

2 mins walk (0.1 km)

Railway station Amsterdam Centraal railway station

26 mins walk (2.2 km)

Subway station Amsterdam, Noorderpark

9 mins walk (0.7 km)

Park

3 mins walk (0.2 km)

Gym

1 min walk (0.1 km)
Rent at this location?
This is currently available at Meeuwenlaan 98-100 in Amsterdam Noord
How many square meters of office space do I need?
About this office
Kantoorruimte huren aan de Meeuwenlaan in Amsterdam (Noord)
Zie jij het wel zitten om een kantoorruimte te huren aan de Meewenlaan in Amsterdam? Dan is dit pand wat is gebouwd in 1917 misschien wel iets voor jou. Het kantoorgebouw is gevestigd in Amsterdam Noord en heeft een perfecte aansluiting op verschillende opritten van snelwegen en het openbaar vervoer. Het goed uitziende kantoorpand heeft 2 ruime parkeerplaatsen in haar bezit, 1 zit aan de achterzijde van het gebouw en er is een ondergrondse parkeergarage.
Huurprijzen
Op dit moment is er 1 unit beschikbaar met een oppervlakte van 65 m2. Voor een maandelijks bedrag van €1469,- huur je deze kantoorkamer. In mei 2018 zullen hier nog meerdere kantoorruimten bij komen met een verschillende oppervlakten. Zo komen er dan ruimten vrij van 33 m2, 41 m2 en 46 m2. De kantoorkamers zijn voorzien van vele ramen en hebben daardoor genoeg lichtinval, dit zorgt voor een rustig en overzichtelijke unit.
Een receptie, restaurant en filmzaal
In het kantoorpand aan de Meeuwenlaan in Amsterdam is een receptie aanwezig. De receptionisten zorgen voor een gastvrij ontvangst voor jouw eventuele bezoekers en kunnen taken zoals binnenkomende telefonie, reserveringen en postverwerking op zich nemen. Ook is er een restaurant aanwezig waar je heerlijke koffie kunt krijgen en elke dag kunt genieten van een verse lunch. De hele dag door het restaurant geopend. Buiten de kantoorunits om heb je ook de mogelijkheid om bijvoorbeeld een filmzaal te huren. Dit is een zaal met maar liefst 30 stoelen en een breed scherm, handig voor bijvoorbeeld een evenement of een presentatie.
Locatie en bereikbaarheid
Wanneer je met de bus naar je werkplek wilt reizen kost het je slechts 1 minuut looptijd vanaf de dichtstbijzijnde bushalte. Deze bushalte is ook aangesloten op een treinstation, binnen 10 minuten reizen sta je namelijk al op Amsterdam centraal. Ook verschillende snelwegen zijn binnen enkele minuten te bereiken. De opritten A10 en A8 zijn op minder dan 10 minuten rijafstand.
Huur jij binnenkort ook een kantoorruimte aan de Meeuwenlaan in Amsterdam?
Zie jij het wel zitten om in dit toffe pand aan de Meeuwenlaan in Amsterdam een kantoorruimte te huren? Neem dan contact op met één van onze vastgoedconsultants, wij helpen je graag verder in de zoektocht naar de juiste werkplek. Voor al je vragen en een rondleiding helpen wij je graag gratis en geheel vrijblijvend verder.
Media
Get a good impression of this office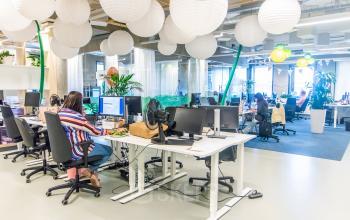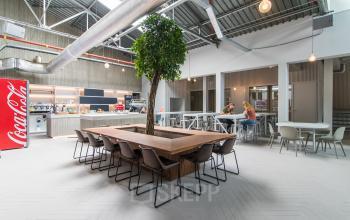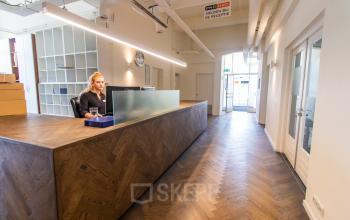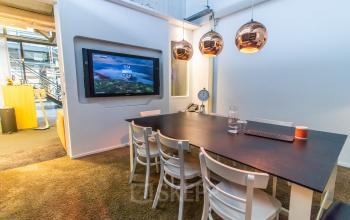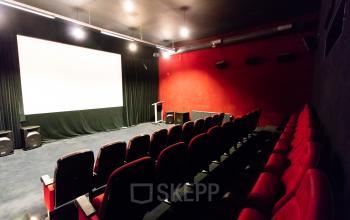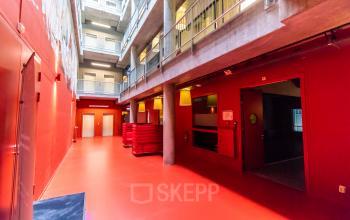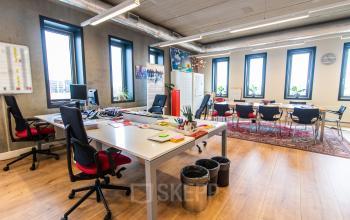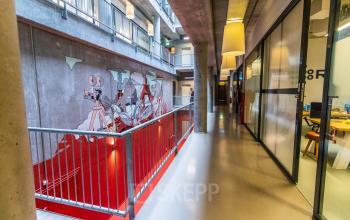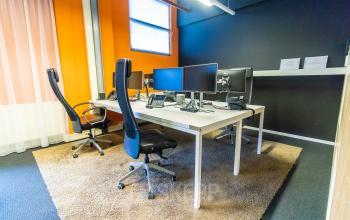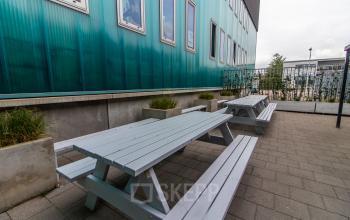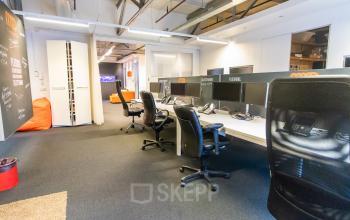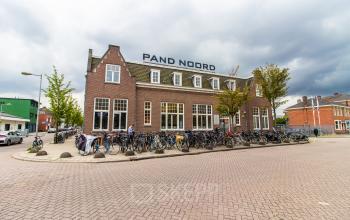 Reviews
Find out what other people said about this location
H
Han
Erg fijn om gebruik te maken van de services van de receptionisten, deze en vele andere services zorgen voor een perfecte locatie voor mij en mijn collega's
B
Bram T.
Door de services en grote kantoorruimtes zit ik hier op mijn plek
R
Rita S.
Amsterdam noord is echt een top locatie.In de ring van amsterdam en met openbaar vervoer ben je er zo.
dan is dit pand ook nog is echt heel modern en kun je hier super goed werken
Thanks for your review!
We really appreciate that you have taken the time to share your opinion with us and other customers! That is why you get from us!
Office interior design with Officeplanner
Request a free customised interior design proposal for your office space at Meeuwenlaan 98-100
With Officeplanner you can rent, lease or buy a flexible interior design package based on your preferences and requirements for the interior of your office space. Your order will be delivered at your desired location within 1 week.
More about Officeplanner