These companies preceded you
Everything you need for an office in one convenient place
With our wide choice of products, you can furnish your office even more flexibly!
Flexible office furnishing is easily arranged
Do you want to order office furniture directly from the webshop? Or are you first going to create the desired office layout with our tool?
Order furniture directly in the shop
Everything you need for an office in one convenient place
Flexible payment methods: rent, rent-purchase or purchase

Order directly
To the webshop
Furnish your dream office space virtually
Upload your own floormap or
Choose between more than 300 sample furnishings

Furnish easily yourself
Start with furnishing
Let our experts make a tailor-made plan
Our experts take your wishes into account
Adjustments are possible

Custom furnishing plan
Request a quote
You are your own housing advisor
Who knows better how your company should look like then you do? Hiring an expensive housing consultant is unnecessary. SKEPP offers you the tools to be your own housing advisor. Thanks to Officeplanner, you can get started with designing your own office space and you can make a professional furnishing design yourself. This is not only time- and cost-saving, but you can also easily translate your DNA into the desired end result. Add the floor map of your office space to Officeplanner and you can start making your own furnishing design. Choose the desired payment method, simply scale up or down the amount of office furniture that you need and receive the order on the chosen delivery date. Do you prefer to buy it directly in the webshop? No problem! You are in control.
Furnishing

Order directly or furnish the office space first

Payment

Pay immediately (purchase) or receive a quote (rent)

Delivery

As soon as possible or at a chosen time

Get to work

Enjoy your new flexible office furnishings quickly
Would you like more information about Officeplanner?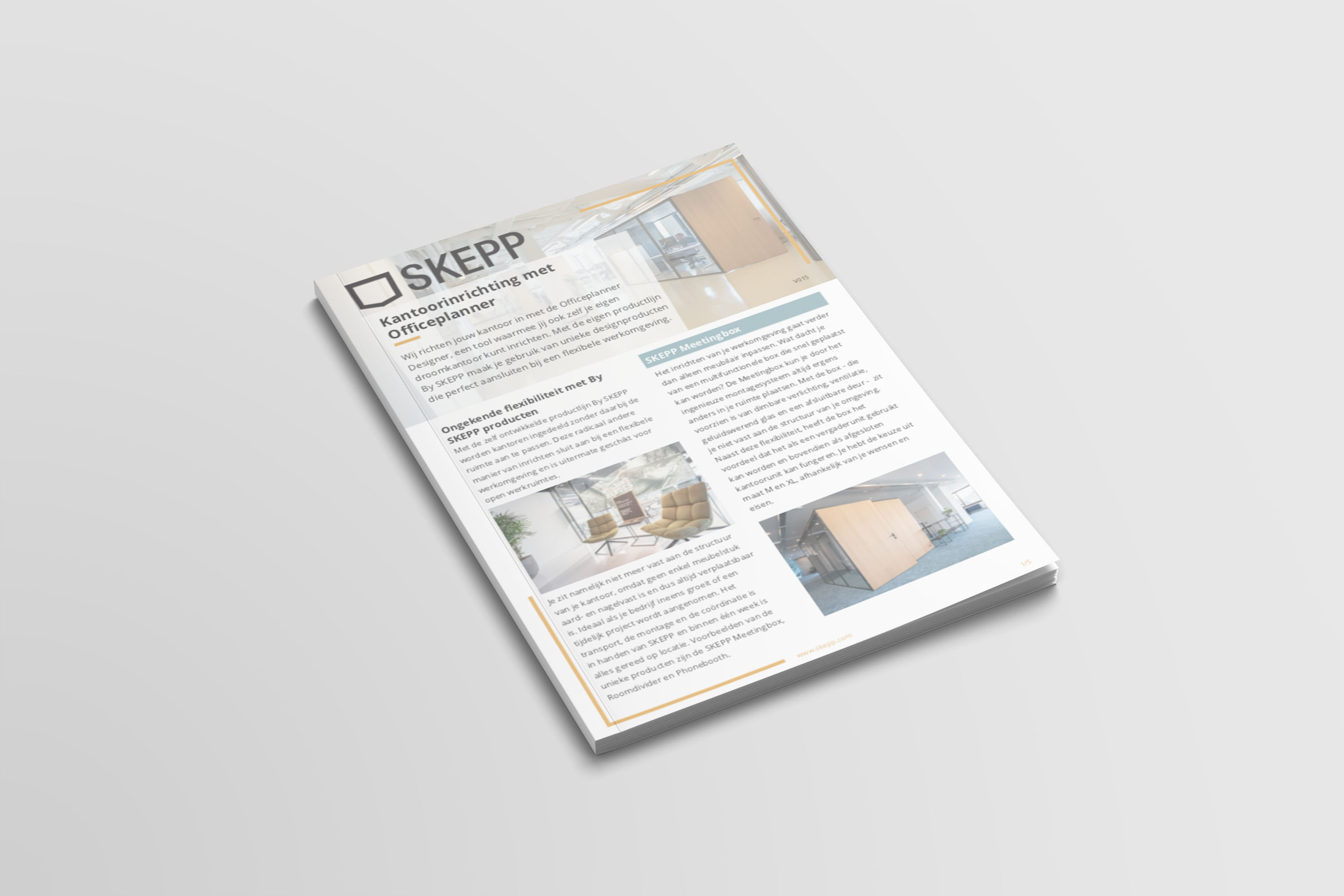 Download brochure
From the different designs and styling packages to the products and benefits of Activity Based working; in the brochure you will find all the ins and outs about Officeplanner. If you need more information, download this brochure and get answers to all your questions!
Download the brochure
These parties are already benefiting from Officeplanner
Softline Group
In SKEPP, we have found a partner that is able to support us continuously in the optimization of our office space. Due to the flexible services, this support is not only once but continuous. The employees of SKEPP always make time to creatively think with you and they remain involved during the entire process. The delivered products are of good quality and particularly appreciated by its users.
Rabobank Almelo
SKEPP has shown that you can visualize and develop a strong idea with Officeplanner, especially when it comes to the flexible deployment of office buildings. Moreover, Officeplanner offers a solution when you are stuck, uninspired or are having doubts about the lay-out of an office space. Officeplanner makes the possibilities within an office space visible and tangible for all involved.
Holland Startup
SKEPP's Officeplanner tool was the perfect solution for the interior design of our office. Furthermore, the designer helped us to furnish the floor plan which made the important difference for us. If you want to realize an office space with furniture and you need safety in terms of delivery time and suitability to new ways of working you have to choose SKEPP.
City Hub
We were looking for a partner who thinks proactively and delivers exactly what we need. I see that SKEPP grows, ventures and, just like CityHub, equips a conservative market with new solutions through an own up-to-date and determined vision. In the middle of our ever-changing society those initiatives make the difference. I really enjoy experiencing this.
The Webmen B.V.
We chose SKEPP, because of their progressiveness and because they dare to do things differently. These are characteristics that suit us. The concept attracted us and their drive to make progress surprised us. They have more than met their promises and thrive to make progress day after day. Feedback is taken into account to make their services better as well. Next to all of the things I've mentioned, they are a bunch of nice guys as well! We have not experienced one moment of regret about our choice.
Frequently asked questions
Do these options contain your question about Officeplanner?
Purchase forms & ordering

Can I also purchase office furniture without having found office space through SKEPP?

Good news! Purchasing office furniture from SKEPP is possible in any situation.

Can the office furnishings also be purchased by operators/landlords?

Yes, SKEPP would like to get in touch with operators and landlords in order to provide them with a custom-made furnishing!

What are the methods of payment?

At SKEPP, office furniture can be purchased in three ways: in the form of rent (no property, can be cancelled monthly), rent-to-own (property after an agreed period, possible from a rental period of 12 months or longer) or purchase (direct ownership). It is also possible to make use of several methods of payment at the same time.

Can I switch from a rental agreement to simply purchasing the items?

It is possible to switch from a rental agreement to simply purchasing the items. This can be done as a whole but also partially. Contact us to ask about the possibilities via +31 85 8882339 or info@skepp.com.

What is the minimum rental period?

The minimum rental period is 1 month. Perfect for example for a temporary project!

Warranty & delivery

What should I do if the furniture is damaged?

Contact SKEPP by calling +31 85 8882339 or by emailing info@skepp.com. We can be reached from 08.00 to 21.00 hrs on Monday through Thursday and on Friday we can be reached from 08.00 to 18.00 hrs.

When will the furniture be delivered?

Because we value being able to deliver in a timely manner, SKEPP strives to deliver your order within 1 week! The actual delivery takes place on a date that is decided together with the customer. Items that are not in stock might take slightly longer and have a maximum delivery time of only 8 weeks.

Will the items be placed/unpacked/installed by the deliverers or will they only be delivered on location (as stated in the furnishing proposal)?

SKEPP will take care of and is responsible for the delivery and the setup of the furniture at location, as stated in the furnishing proposal, unless otherwise agreed upon.

Can I also check out the furniture before purchasing it?

That is definitely possible! Come and have a look at one of the Officeplanner locations and see our products in real life. To do so, please contact SKEPP via +31 85 8882339 or info@skepp.com.

General

How do I set up a virtual office space with Officeplanner?

Select a unit, click on 'Furnish', drag and drop furniture into your floor plan and choose the price type that suits you the best. Satisfied with your proposal? Click on 'In shopping basket' to place the products in your shopping basket, after which you can easily order them.

How can I order via the SKEPP webshop?

Ordering office equipment can be done conveniently and fast through SKEPP's webshop. Select the desired products, choose your delivery time and fill in the necessary details. SKEPP take care of the rest!

To what extent are the products sustainable?

SKEPP offers high-quality furniture at competitive prices. SKEPP cooperates with sustainable design brands and offers products that have been developed for long-term use. The aim of the products is to get a second life as a recycled product. The products developed by SKEPP include recycled acoustic PET felt and recycled car tyres. All furniture, such as the SKEPP Meetingbox, is reusable and can easily be relocated without creating additional waste.

What is meant by styling costs?

SKEPP offers 3 styling packages for the 'finishing touch' of your office interior: Cosy, Vintage and Botanic. The Botanic package includes, for example, beautiful plants that will be placed in your office! In the brochure 'SKEPP Botanic' you can find more information about the possibilities. Please contact SKEPP via +31 85 8882339 or info@skepp.com to receive the digital SKEPP Botanic brochure by email.