Rent office space Utrecht Papendorp, Papendorpseweg 95
Facilities
Desk
Internet
Coffee/tea
Printer
Meeting space
KVK-registration
Postal address
Kitchen
Parking
Accessibility
Bus stop Utrecht, Papendorp Zuid

6 mins walk (0.4 km)

Railway station Utrecht Vaartsche Rijn

51 mins walk (4.0 km)

Gym

6 mins walk (0.5 km)
Rent at this location?
This is currently available at Papendorpseweg 95 in Utrecht Papendorp
How many square meters of office space do I need?
About this office
Kantoorruimte huren in groene en duurzame omgeving te Utrecht!
Dit kantoorpand ligt in de Secoya Campus in Papendorp, te Utrecht. De campus heeft een groene en duurzame omgeving. Het is één van de meest internationale locaties in Nederland.
Diverse kantoorruimten te huur aan de Papendorpseweg
Werkplek huren? U huurt hier bij SKEPP eenvoudig een flexplek of een vaste werkplek. Een eigen kantoor? Een kantoorkamer is uiteraard ook te huur. Liever een groter metrage? Huur dan een kantoorruimte op maat vanaf 100 m2. U kunt flexibel huren maar wanneer uw voorkeur uit gaat naar zekerheid dan huurt u ook voor de lange termijn.
Goedkope huurprijzen binnen dit pand in Utrecht!
U huurt hier een kantoorkamer vanaf slechts €400,- per maand. Wanneer u een vergadering heeft, kunt u ook vergaderruimte huren. Een voordelige prijs voor een kantoorruimte op deze gunstige locatie in Utrecht!
Schoonmaak, catering, espressobar en snel internet
Maak gebruik van de secretariële diensten van de receptie, naast services als high-speed internet, schoonmaak en catering. Heeft u zin aan een kop koffie? Bezoek de espressobar! Heeft u trek? Ga een hapje eten in het bedrijfsrestaurant! Even lekker sporten na of tussen het werken door? Werk u in het zweet in de fitnessruimte! Komt u met de auto? Parkeer uw auto op eigen terrein of nabij de kantoorruimte!
Kom kijken voor een goede indruk, plan een gratis rondleiding!
Dus zoekt u een geschikte kantoorruimte die aan uw wensen voldoet? Ga gauw een kijkje nemen in dit kantoorgebouw in Utrecht. Plan bij SKEPP een gratis rondleiding in!
Media
Get a good impression of this office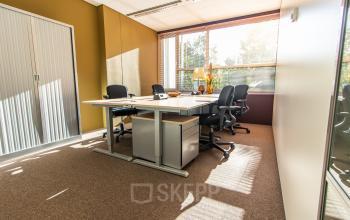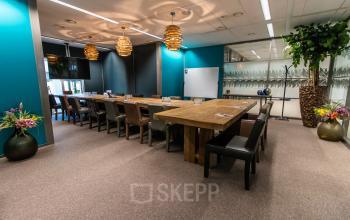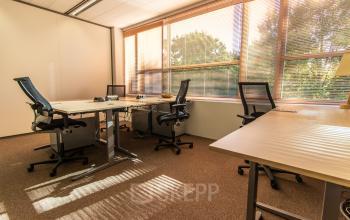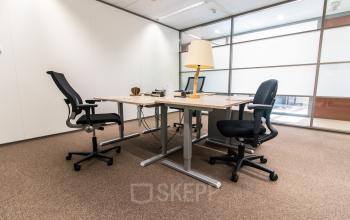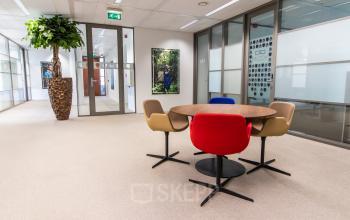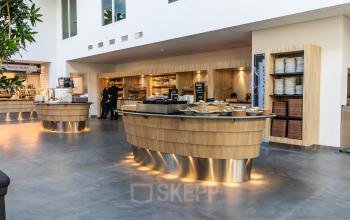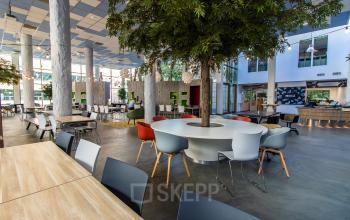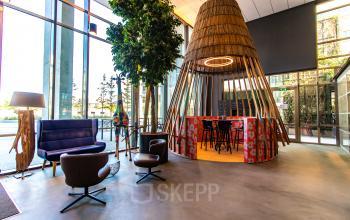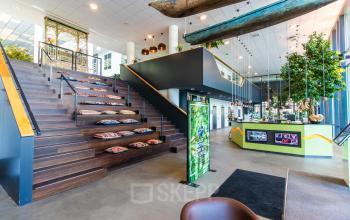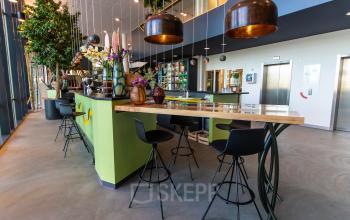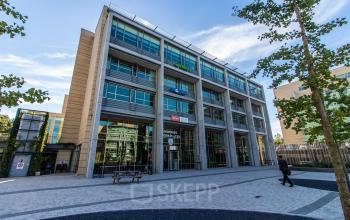 Reviews
Find out what other people said about this location
D
DKV Solutions
This is a great way to work.
The entire office is based on an interesting concept which makes work a lot more fun. The location close to the highway A12 is really good. The price is not the lowest in the market, but the quality definitely makes up for it.
J
Julia
Wauw, ziet er erg gaaf uit!!
v
van der Velde
Heel erg sfeervol ingericht.
Toffe espressobar en vele mogelijkheden om na het werk lekker te relaxen...
G
Greet
Précies wat ik zoek!!
Jammer dat de prijzen best wel hoog liggen...
G
Groeneman, B.
Wat sfeervol ziet dit eruit!
Het lijkt echt niet alsof je een kantoorgebouw binnenloopt , zo gaaf gedaan. Complimenten.
B
Benard R.
Nice place for go-working
Thanks for your review!
We really appreciate that you have taken the time to share your opinion with us and other customers! That is why you get from us!
Office interior design with Officeplanner
Request a free customised interior design proposal for your office space at Papendorpseweg 95
With Officeplanner you can rent, lease or buy a flexible interior design package based on your preferences and requirements for the interior of your office space. Your order will be delivered at your desired location within 1 week.
More about Officeplanner