Rent office space Utrecht Papendorp, Papendorpseweg 100
Facilities
Desk
Internet
Coffee/tea
Printer
Meeting space
KVK-registration
Postal address
Kitchen
Parking
Accessibility
Bus stop Utrecht, Papendorpseweg

5 mins walk (0.4 km)

Railway station Utrecht Vaartsche Rijn

49 mins walk (3.8 km)

Gym

6 mins walk (0.5 km)
Rent at this location?
This is currently available at Papendorpseweg 100 in Utrecht Papendorp
Available office rooms
Rental price:

€905 769 € /mo.

Rental price:

€1,481 1.259 € /mo.

Rental price:

€2,364 2.009 € /mo.

Rental price:

€2,364 2.009 € /mo.

Rental price:

€2,364 2.009 € /mo.

Rental price:

€2,905 2.469 € /mo.
How many square meters of office space do I need?
About this office
Kantoorruimte huren in zakelijk kantoorpand te Utrecht
WTC Papendorp Utrecht is een modern pand aan de welke gelegen is aan de Papendorpseweg. U huurt hier in Utrecht Papendorp een werkplek, ingerichte kantoorkamer of kantoorruimte op maat vanaf 100 m2. Een kantoorkamer huurt u al vanaf 5 m2. Een vaste werkplek is te huur vanaf €319,- per maand, een kantoorkamer is te huur vanaf circa €640,- per maand.
Het World Trade Center, een indrukwekkend kantoorpand
Zoals de naam WTC al doet vermoeden: het is een indrukwekkend pand met vele verdiepingen. De hoofdingang is ondergronds, wat een bijzondere ervaring met zich meebrengt. Er zijn goede services, want de receptie is bijvoorbeeld bereid uw telefoon te beantwoorden. U heeft 24 uur per dag toegang tot uw kantoor en u kunt gebruik maken van printfaciliteiten. Ook is er vergaderruimte en parkeerruimte.
Goed bereikbaar per auto vanaf de A12 en bus
De kantoorruimte is goed te bereiken met zowel openbaar vervoer als eigen vervoer. Een bushalte ligt op loopafstand en de snelweg A12 is met de auto binnen ongeveer tien minuten te bereiken. Werkplek, kantoorkamer of kantoorruimte op maat in Utrecht huren? Plan direct uw rondleiding in bij SKEPP. Dit is geheel vrijblijvend!
Media
Get a good impression of this office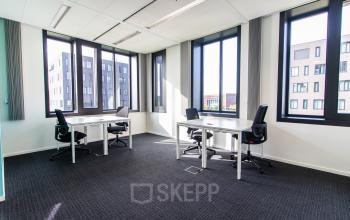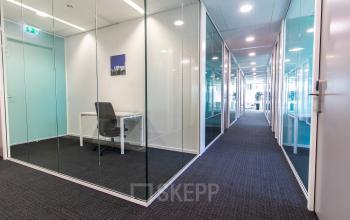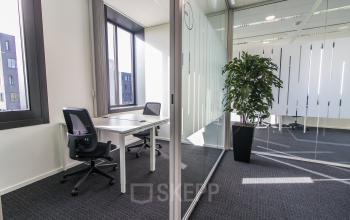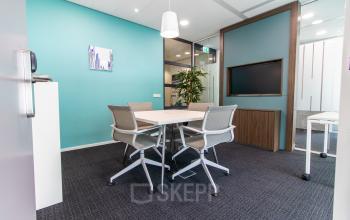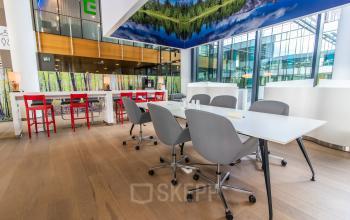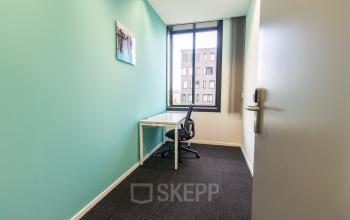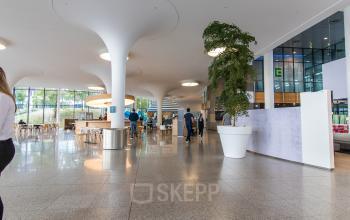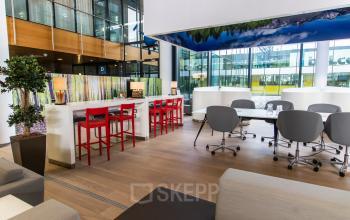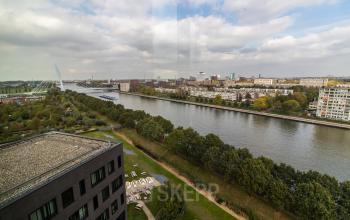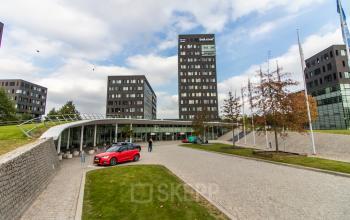 Reviews
Find out what other people said about this location
F
Firma Rekers en Veldschoten
Prachtige plek aan het water.
Het gebouw heeft een eigentijdse uitstraling, echt een aanwinst voor Utrecht.
G
Guus van den Broek
Mogelijkheid om gebruik te maken van vele ruimtes in dit pand, van fijne individuele werkplekken tot grote vergaderzalen.
Ook spreken mij de services vanuit de receptie erg aan en is het prettig gebruik te kunnen maken van print- en telefoniefaciliteiten.
M
Marie
goede locatie en de vele services zijn echt top!
ik zit goed
Thanks for your review!
We really appreciate that you have taken the time to share your opinion with us and other customers! That is why you get from us!
Office interior design with Officeplanner
Request a free customised interior design proposal for your office space at Papendorpseweg 100
With Officeplanner you can rent, lease or buy a flexible interior design package based on your preferences and requirements for the interior of your office space. Your order will be delivered at your desired location within 1 week.
More about Officeplanner