Rent office space Amsterdam Sloterdijk, Basisweg 61
Facilities
Accessibility
Bus stop Amsterdam, Kapoeasweg

4 mins walk (0.3 km)

Railway station Amsterdam Sloterdijk

13 mins walk (1.0 km)
Rent at this location?
This is currently available at Basisweg 61 in Amsterdam Sloterdijk
How many square meters of office space do I need?
About this office
Kantoorruimte huren aan de Basisweg in Amsterdam (Sloterdijk)
Ben jij op zoek naar een geschikte kantoorruimte aan de Basisweg in Amsterdam Sloterdijk? Neem dan een kijkje in dit representatieve kantoorgebouw. Het kantoorpand is gebouwd in 1965 en heeft een totale gebruiksoppervlakte van 10.541 m2. Je werkt hier in een rustige wijk op een goed gunstige locatie, die je makkelijk bereikt met zowel de auto als het openbaar vervoer. Nieuwsgierig? Plan dan snel een rondleiding!
Huurprijzen
Op dit moment zijn er nog meerdere kantoorunits beschikbaar voor de verhuur, waaronder een kantoorkamer met een oppervlakte van 25 m2. Je betaald voor deze kantoorunit een maandelijks bedrag van €400,- Behoefte aan meer ruimte? Neem een kijkje in de kantoorruimte van 50 m2, te huur voor €750,- in de maand. De grootste beschikbare ruimte is momenteel 78 m2, te huur voor een maandelijks bedrag van €1100,-. Benieuwd naar alle mogelijkheden? Vraag het onze vastgoedconsultants.
Een luxe pantry, parkeerruimte en 24/7 toegankelijk
Tijdens het huren van een kantoorruimte aan de Basisweg in Amsterdam Sloterdijk, maak je ook gebruik van alle aanwezige services en faciliteiten, waaronder de luxe pantry. Je kunt hier een lekker kopje koffie/thee zetten en ook een lunch kan er worden voorbereid. Reis je met de auto naar je werkplek? Aan de voorzijde van het kantoorgebouw is een parkeerplaats, makkelijk en snel dus! Wil je na werktijd of in het weekend nog wat werkzaamheden afronden? Door de 24/7 toegankelijkheid heb je hier de mogelijkheid er voor.
Locatie en bereikbaarheid
Het kantoorpand is gevestigd in een rustige wijk van Amsterdam Sloterdijk, die goed bereikbaar is met zowel de auto als het openbaar vervoer. De op- en afritten van verschillende snelwegen zoals de A10, A5 en A4 zijn binnen enkele minuten te bereiken. Reis je liever met het openbaar vervoer? Vanaf je werkplek is het slechts 3 minuten lopen naar de dichtstbijzijnde bushalte, Amsterdam Kapoeasweg.
Huur jij binnenkort een kantoorruimte aan de Basisweg in Amsterdam Sloterdijk?
Ben jij enthousiast over het huren van een kantoorruimte aan de Basisweg in Amsterdam Sloterdijk en wil je graag meer informatie? Neem dan contact op met één van onze vastgoedconsultants. Wij helpen je graag verder bij al je vragen en plannen een rondleiding in op een door jou gekozen datum en tijdstip. Wat dit kost? Helemaal niets! SKEPP helpt jou gratis en geheel vrijblijvend in de zoektocht naar kantoorruimte aan de Basisweg.
Media
Get a good impression of this office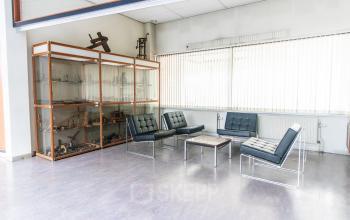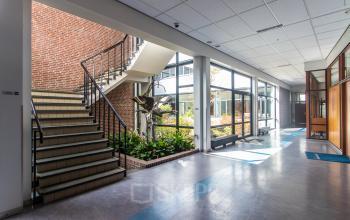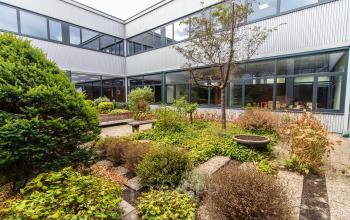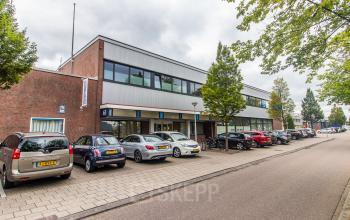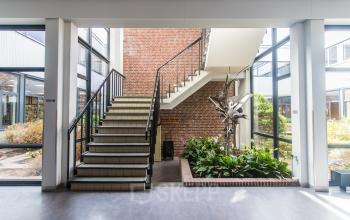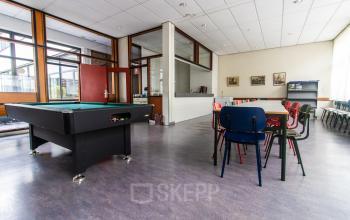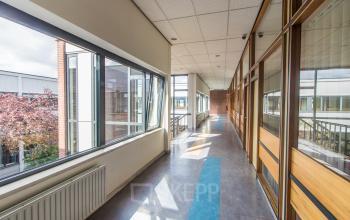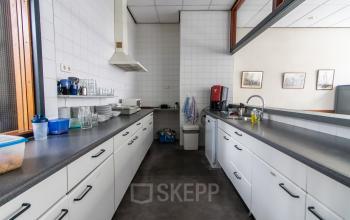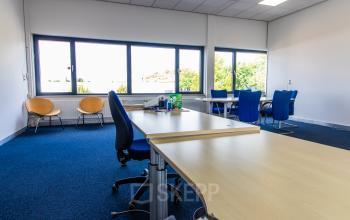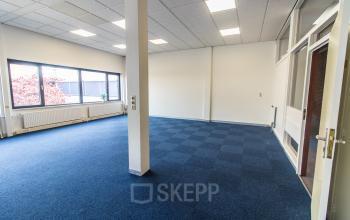 Reviews
Find out what other people said about this location
M
Mark
Heerlijke binnentuin en ruime kantoren!
Thanks for your review!
We really appreciate that you have taken the time to share your opinion with us and other customers! That is why you get from us!
Office interior design with Officeplanner
Request a free customised interior design proposal for your office space at Basisweg 61
With Officeplanner you can rent, lease or buy a flexible interior design package based on your preferences and requirements for the interior of your office space. Your order will be delivered at your desired location within 1 week.
More about Officeplanner