Rent office space Amsterdam Sloterdijk, Kabelweg 43
Facilities
Desk
Internet
Coffee/tea
Printer
Meeting space
Cabinet
KVK-registration
Postal address
Kitchen
Parking
Accessibility
Bus stop Amsterdam, Kabelweg

1 min walk (0.1 km)

Railway station Amsterdam Sloterdijk

13 mins walk (1.1 km)

Subway station Isolatorweg

7 mins walk (0.6 km)
Availability
Check below which office types are available at Kabelweg 43
About this office
Office space for rent at the Kabelweg (Westpoort)
At the Kabelweg in Amsterdam is an office building which is built in 1971. The Kabelweg is located in the business area Sloterdijk. The total surface of this building is 11.362 m2. The main tenants of this office building are startups. Closeby are different opportunities to eat, there are a bistro and a Burger King within walking distance. The office building also has its own restaurant.
Prices
When you decide to rent in this large and modern office building, you can choose out of a working space or an office space. A working space is rentable for only €260,- all-in, which means there are no unexpected costs at the end of the month. The office space of 30 m2 is rentable for €1500,- per month. This consists out of an office space with 6 working spaces. This is suitable for start-ups or a little enterprise. To make sure there will be no unexpected costs, the internet, cleaning, post service and lunch are included.
Lunch bar, meeting rooms and changing rooms
This office building located at the Kabelweg in Amsterdam has not only a wide range of workspaces, it also offers various services and facilities. For example, the property has a 7-meter long bar, which is used for the lunches and the Friday afternoon drinks. Secondly, there are meeting rooms, parking areas, and there is high-speed internet in the whole building. The meeting rooms can be used for free. Do you use a race bike? Then you can shower and change your clothes in the changing rooms before the day starts. A nice addition when you rent at this location is the lunch. This is included in the price, so every day there will be a free lunch. For the health needs, a bowl of fruit is always ready. During office hours there is a manned reception that sends all the guests to the right place.
Location and reachability
The office building on the Kabelweg in Amsterdam is close to the Kabelweg bus stop. Here you can take the bus to the train station Amsterdam Sloterdijk, which is a couple of minutes away. Business area Sloterdijk is strategically located next to the A10 and A5 highways, making it easy to reach the office building at the Kabelweg by car. Starting the morning as good as possible? Nearby is a Starbucks where you can get a delicious cup of coffee. In the evening, you can dine at restaurant Wappaz. For a fee, you can rent a fixed parking space, so you and your visitors can always park for free!
Will you soon be renting an office space at the Kabelweg?
Do you search for a working space in a modern office building close to Amsterdam Sloterdijk? Feel free to come by! You can easily plan a tour via our website. This is totally free and with no obligation.
Rent at this location?
This is currently available at Kabelweg 43 in Amsterdam Sloterdijk
How many square meters of office space do I need?
Media
Get a good impression of this office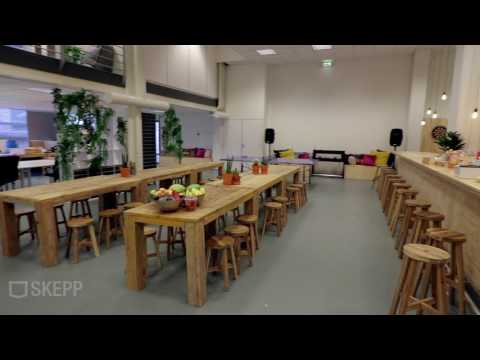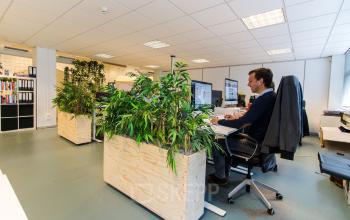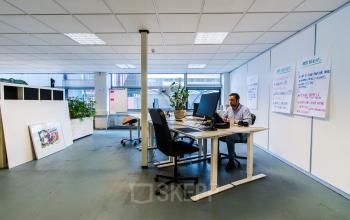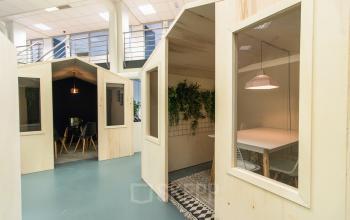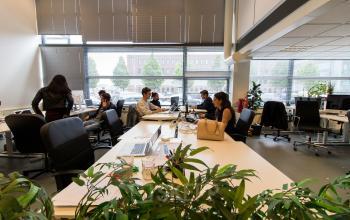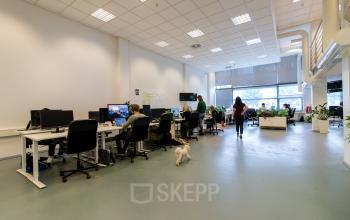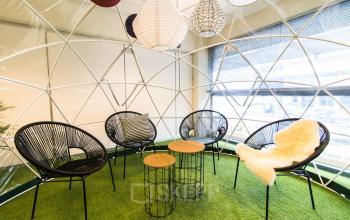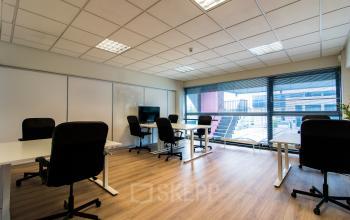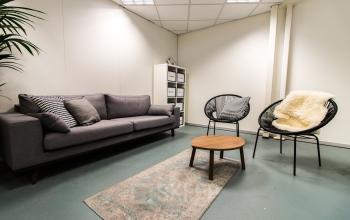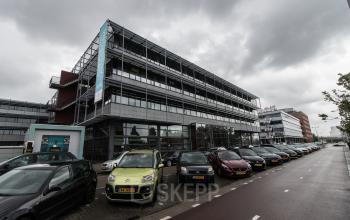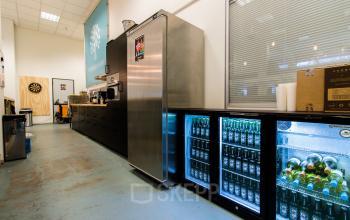 Reviews
Find out what other people said about this location
I
Ilse
Leuk kantoor met comfortabele werkplekken.
C
Claudia
Wauw prachtig!
Gemoedelijke sfeer heerst er in dit kantoorpand :)
W
Willemijn
Hele leuke ruimte, tof dat alles is inbegrepen en ideaal dat er iedere dag een verse lunch klaarstaat.
P
Patrick
Veel gezellige medehuurders in dit pand!
Thanks for your review!
We really appreciate that you have taken the time to share your opinion with us and other customers! That is why you get from us!
Office interior design with Officeplanner
Request a free customised interior design proposal for your office space at Kabelweg 43
With Officeplanner you can rent, lease or buy a flexible interior design package based on your preferences and requirements for the interior of your office space. Your order will be delivered at your desired location within 1 week.
More about Officeplanner