Rent office space Berlin Charlottenburg (Kurfürstendamm), Kurfürstendamm 21
Facilities
Desk
Internet
Coffee/tea
Printer
Meeting space
KVK-registration
Postal address
Kitchen
Accessibility
Availability
Check below which office types are available at Kurfürstendamm 21
About this office
Rent office space at the Kurfürstendamm in Berlin (Charlottenburg)
Would you like to rent an office space at the Kurfürstendamm in Berlin Charlottenburg? Then this modern business centre might just be the right choice for you. This exclusive office is located on the 7th floor of the office building and has got spectacular architecture. From your office, you will have a breathtaking view of the Kurfürstendamm, one of the absolute hot spots of the German capital and probably the most famous street in Germany. An office space at this business address will positively affect the reputation and success of your company and will leave a long-lasting impression on customers and business partners.
Rental costs
This office space in the Business Centre in Berlin Charlottenburg has got first-class furnishing. All offices are equipped with high-quality ergonomic furniture and the office has got an excellent IT infrastructure. Hence, you will not have to worry about anything after you have moved in and you will be able to fully focus on your work straight away. You will receive support on all matters from the service staff, which among other things, welcomes your guests to their own reception and, on request, offers you telephone and postal services. At this location, an office for 5 people can be rented for € 1530 per month. An office space for 8 people will cost you around € 2448 per month.
Shared kitchen, lounge area and 24/7 access
Renting an office space at the Kurfürstendamm in Berlin Charlottenburg comes with many advantages. A monthly all-in price ensures transparent costs and includes attractive services. The fully equipped communal kitchen and lounge area can be used by you and your staff for free. Both areas will make it easier to get in touch with other tenants and valuable contacts. Your office space will be cleaned regularly and you will have 24/7 access to the building. This way, you can come and go at any time that suits you best.
Location and accessibility
There is not a better office location in Berlin Charlottenburg then in this business centre. If you decide to rent in this business centre, your office will be located at one of the most exclusive locations in Germany. In addition, countless culinary and shopping opportunities await you in the immediate surrounding. In the building, there is a fitness centre, in which you can get some additional movement in before or after a demanding day of work. Many hotels are located in this neighbourhood, such as the Lindner, a few meters away, which offers the best accommodation for your guests. The Zoologischer Garten train station and many other subway stations in the area offer an excellent connection to public transport.
Want to rent an office at the Kurfürstendamm in Berlin Charlottenburg?
Can you not wait to rent your new office space at this amazing address at the Kurfürstendamm in Berlin Charlottenburg? Then contact us today and plan a viewing together with one of our real estate consultants. Are you left with questions? Then contact us at info@skepp.com or call us at +31 85 8882339. Our services are free of charge and do not come with any obligations. With SKEPP you can rent your new office space at the Kurfurstendamm in Berlin within a couple of business days.
Rent at this location?
This is currently available at Kurfürstendamm 21 in Berlin Charlottenburg (Kurfürstendamm)
How many square meters of office space do I need?
Media
Get a good impression of this office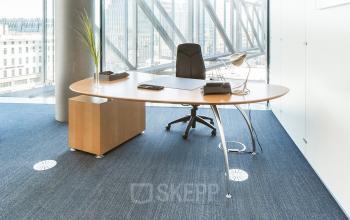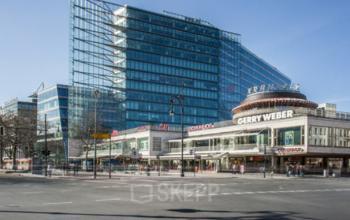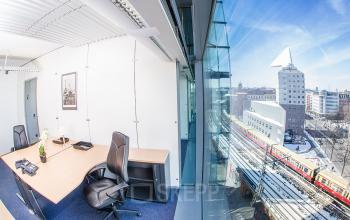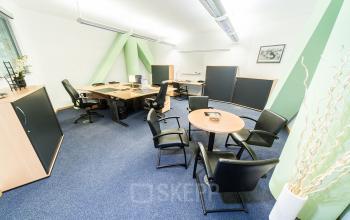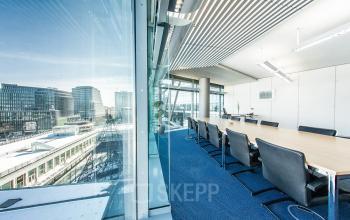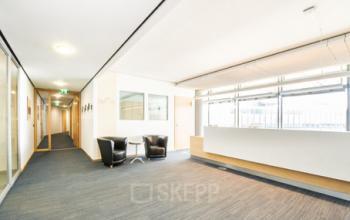 Reviews
Find out what other people said about this location
L
Lena Goldschmidt
Ein sehr schönes Büro mitten in Berlin - beeindruckend!
F
Frank Meister
Enorm modernes Bürogebäude mit einer super Ausstattung!
M
Mario S.
Wunschlos glücklich - ein Modernes Büro mit einem fantastischen Ausblick!
Thanks for your review!
We really appreciate that you have taken the time to share your opinion with us and other customers! That is why you get from us!
Office interior design with Officeplanner
Request a free customised interior design proposal for your office space at Kurfürstendamm 21
With Officeplanner you can rent, lease or buy a flexible interior design package based on your preferences and requirements for the interior of your office space. Your order will be delivered at your desired location within 1 week.
More about Officeplanner