Rent office space Antwerp Centre, De Keyserlei 58-60
Facilities
Desk
Internet
Coffee/tea
Printer
Meeting space
Cabinet
Postal address
Kitchen
Parking
Accessibility
Bus stop Antwerpen Centraal Station perron 11

2 mins walk (0.1 km)

Subway station Antwerpen Diamant Metro

2 mins walk (0.2 km)

Railway station Station Antwerpen-Centraal

1 min walk (0.1 km)

Park

1 min walk (3 m)

Gym

8 mins walk (0.6 km)
Rent at this location?
This is currently available at De Keyserlei 58-60 in Antwerp Centre
How many square meters of office space do I need?
About this office
Office space for rent at De Keyserlei in Antwerp (Diamant)
Rent your new office space at De Keyserlei in Antwerp en discover functional, modern and technological supportive solutions. Your new work space is situated close to Antwerp Central Station, lies in an inspiring environment and you will rent among like minded people. Read more about the opportunities on this page.
Rental prices
Are you looking for a place to work other than home? Or do you need a private office space? You will find what you are looking for in this office building. You can rent a place in the coworking area for 2 days per week from €195,- per month. If you need a place for 5 days per week, you can rent one for a price from €295,- per month. The private offices are available in sizes from 10 m2 to 100 m2 and the prices start at €450,- per month. Contact our real estate agents for more information about the prices.
Airconditioning, help for start-ups and furnished offices
Did you just start a company and do need need support? This office building at De Keyserlei in Antwerp offers the right services for this matter. It is possible to register your office and company to this location. That sounds good, doesn't it? You can use the airconditioning during hot summer days to make sure you keep it cool. And finally we can't forget to mention that the offices are fully furnished and you only need to bring your laptop to start working.
Location and accessibility
Rent your office space in the centre of Antwerp! That is where this office building is situated and you can make use of all the different services. It is possible to park your car in the parking lot under the building and this makes the location easy to travel to by car. The highways A12, E19 and E34 are close to the building and make your trips to business partners even easier. Antwerp Central Station lies close and this means that your coworkers can also come to work by public transport. Isn't it just great to be an accessible company? The neighborhood is also packed with restaurants like Pizza Hut, The Duke of Antwerp and La Fontanella. There is a lot more than just these places, but we invite you to experience this for yourself!
Will you rent an office space at De Keyserlei soon?
What about renting an office space at De Keyserlei in Antwerp? Are you hyped and do you want to take a look? Quickly contact our real estate agents for further information. It is also possible to schedule a free tour without any obligations, whenever it suits you. We hope to speak to you soon.
Media
Get a good impression of this office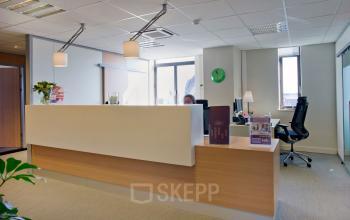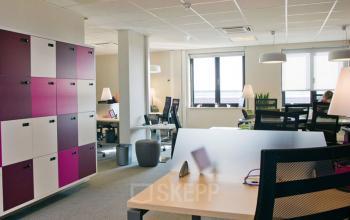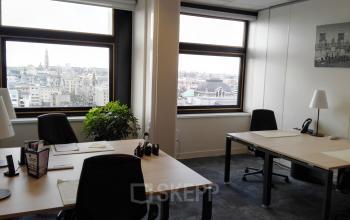 Reviews
Find out what other people said about this location
J
Jolien
Leuke inrichting en veel lichtinval.
I
Ideale locatie! Echt in hartje Antwerpen
W.
P
P. De Schepper
Een goede prijs voor een kantoor op dergelijke locatie
Thanks for your review!
We really appreciate that you have taken the time to share your opinion with us and other customers! That is why you get from us!
Office interior design with Officeplanner
Request a free customised interior design proposal for your office space at De Keyserlei 58-60
With Officeplanner you can rent, lease or buy a flexible interior design package based on your preferences and requirements for the interior of your office space. Your order will be delivered at your desired location within 1 week.
More about Officeplanner