Rent office space The Hague Haagse Hout, Jan Pietersz. Coenstraat 7
Facilities
Desk
Internet
Coffee/tea
Printer
Meeting space
Cabinet
KVK-registration
Postal address
Kitchen
Parking
Accessibility
Bus stop Den Haag, Prinses Marijkestraat

2 mins walk (0.1 km)

Subway station Den Haag, Beatrixkwartier

1 min walk (0.1 km)

Railway station Den Haag Laan v NOI

11 mins walk (0.9 km)

Park

4 mins walk (0.3 km)

Gym

1 min walk (3 m)
Rent at this location?
This is currently available at Jan Pietersz. Coenstraat 7 in The Hague Haagse Hout
Available (flex)desks
Rent immediately

Have you made your choice and do you want to rent this [(flex)workplace / office room / office space]? Prevent another party being ahead of you, do not hesitate and rent it online immediately. Click on the button to rent!

Space description:

Own workspace
Available office rooms
Rental price:

1.400 € /mo.

Rental price:

2.350 € /mo.
How many square meters of office space do I need?
About this office
Kantoorruimte te huur op centrale ligging in Den Haag
Heeft u een werkplek, kantoorkamer of kantoorruimte nodig in het Beatrixkwartier in Den Haag? Deze kantoorformule biedt u die mogelijkheid aan binnen dit fantastische business center! Een werkplek huren doet u hier al voor maar €150,- p.m. (all-in). Een kantoorkamer huren kan hier al vanaf €350,- per maand! Flexibel huren is mogelijk, tenminste 1 jaar huren betekent een lagere huurprijs per maand!
Ontdek de voordelen die een business center uw bedrijf biedt!
Binnen het business center zijn tal van voorzieningen aanwezig, dat bekent méér dan kantoorruimte huren. Er is een gemeenschappelijke receptie met receptionisten die u en uw gasten hartelijk ontvangen. Ook wordt vanuit hier de post verwerkt en neemt men namens uw bedrijf de telefoon op, uiteraard met uw bedrijfsnaam.
Vergaderruimte binnen uw eigen kantoor in Den Haag
Vergaderen kan in één van de vergaderruimten op deze locatie. Er is een business lounge waar u ontspannen kunt werken of in informele setting een meeting organiseert. Informeer ook naar de World Card waarmee u gebruik maakt van 2000 kantoorlocaties wereldwijd!
Gerenommeerde bedrijven vestigen zich in het Beatrixkwartier
Het Beatrixkwartier in Den Haag is gunstig gelegen t.o.v. meerdere NS-stations. Rondom het kantoorpand zijn (inter)nationale bedrijven gevestigd in de IT, Telecom, Logistiek, Olie of Energie. Het kantoor is zowel met openbaar vervoer- alsmede per auto goed bereikbaar.
Een bezoek aan dit kantoor is zeker de moeite waard!
Bezoek deze locatie om met eigen ogen te zien waarom vele huurders u voorgingen. Plan een vrijblijvende rondleiding bij SKEPP of neem contact op voor meer informatie.
Media
Get a good impression of this office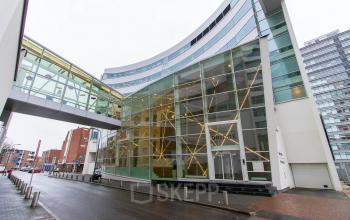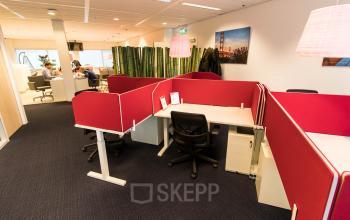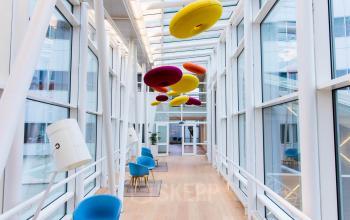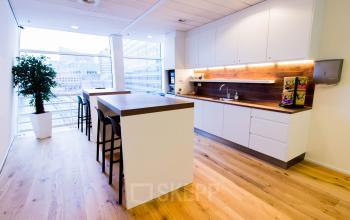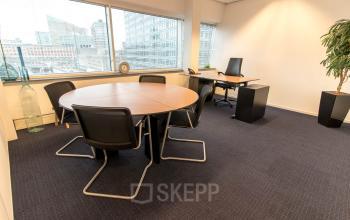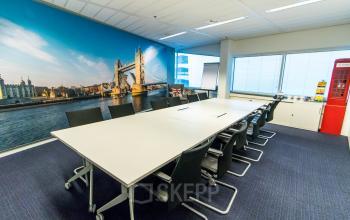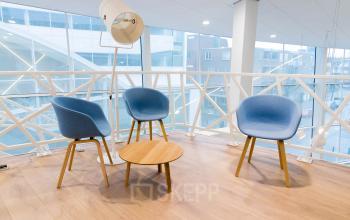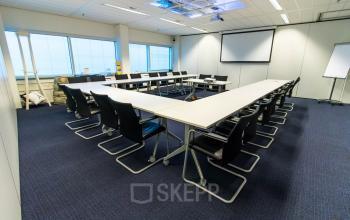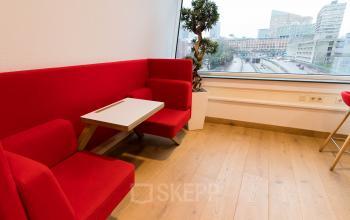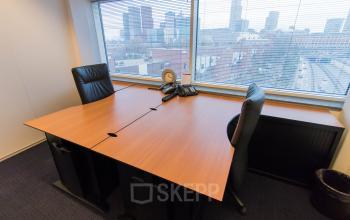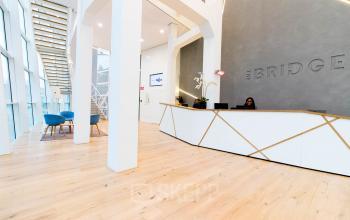 Reviews
Find out what other people said about this location
T
Ten Thije
Mooi groot kantoorgebouw met uitstraling.
Het personeel is vriendelijk waardoor een goede werksfeer ontstaat. Al met al een prima pand dus!
R
Rob Kranenberg
Zowel van binnen als van buiten aansprekend.
H
Harmke
vooral de plek van het pand in het beatrixkwartier vind ik een groot voordeel
P
Peter
Perfect in alle opzichten!!
M
Monic
Van prachtige grote gezamenlijke ruimten tot kleine individuele werkplekken - alles is mogelijk in dit gebouw!
Echt super
G
Gerbenzon, K.
Alles is goed geregeld binnen dit kantoorpand.
Top voorzieningen, meer dan standaard. Belhokken bijvoorbeeld, erg handig.
T
Tingo
Modern en zakelijk kantoorpand met goede kantoren!
P
P. Van Poorten
Leuk om te zien hoe ze hier in de sociale ruimten met kleur wekren, terwijl de kantoren erg zakelijk zijn opgesteld.
Deze combinatie spreekt ons erg aan.
Thanks for your review!
We really appreciate that you have taken the time to share your opinion with us and other customers! That is why you get from us!
Office interior design with Officeplanner
Request a free customised interior design proposal for your office space at Jan Pietersz. Coenstraat 7
With Officeplanner you can rent, lease or buy a flexible interior design package based on your preferences and requirements for the interior of your office space. Your order will be delivered at your desired location within 1 week.
More about Officeplanner