Rent office space Amsterdam Centre, Nieuwezijds Voorburgwal 104-108
Facilities
Desk
Internet
Coffee/tea
Printer
Meeting space
KVK-registration
Postal address
Kitchen
Parking
Accessibility
Bus stop Amsterdam, Nieuwezijds Kolk

4 mins walk (0.3 km)

Subway station Amsterdam, Nieuwezijds Kolk

4 mins walk (0.3 km)

Railway station Amsterdam Centraal

9 mins walk (0.7 km)

Subway station Centraal Station

9 mins walk (0.7 km)

Park

5 mins walk (0.4 km)

Gym

1 min walk (41 m)
Availability
Check below which office types are available at Nieuwezijds Voorburgwal 104-108
About this office
Office space for rent at the Nieuwezijds Voorburgwal (centre)
This office building, located in the heart of Amsterdam, is the perfect location if you are looking for a place to work in a historical building. This office building was built in 1932 and served as a police station. The monumental building was completely rebuilt into a Amsterdam design office. The well known Rijksmuseum was a big inspiration for the style the building carries out.
Prices, office Nieuwzijds Voorburgwal, Amsterdam
The office building has a total floorspace of 1286 m2. You are offered different office spaces and work spots in this building. The renting terms are flexible and can vary from 1 month up untill 60 months. In this monumental building you will rent an office space against good prices.
Nieuwezijds Voorburgwal: turnkey completion
The office spaces on a turnkey basis always have a flexible contract. This means that the office or work spot is fitted out with mordern funiture. You can just practice your core business from day one. Furthermore there is a reception where the service team will welcome your guests. Finally there is a big style room present where you can hold your meetings.
Location and reachability, Nieuwezijds Voorburgwal, Amsterdam
Situated in the heart of Amsterdam, close to the Dam. A vibrant office location where the direct environment never dulls. Within a diameter of 500 meters you will find several restaurants and bars. You can reach the building either by car or by public transport. Your car can be parked in the underground parking lot named 'Nieuwendijk'. This garage is situated across the building, which is unique in the centre of Amsterdam. Finally, Central Station is within walking distance of your office and the tram stops in front of the building. A real top location!
Will you be renting office space at the Nieuwzijds Voorburgwal soon?
Would you like to work in this awesome and renovated office at the Nieuwezijds Voorburgwal? Take a look and schedule a tour by filling out the form or contact our real estate agents. Come and see if this building has the office for you!
Rent at this location?
This is currently available at Nieuwezijds Voorburgwal 104-108 in Amsterdam Centre
How many square meters of office space do I need?
Media
Get a good impression of this office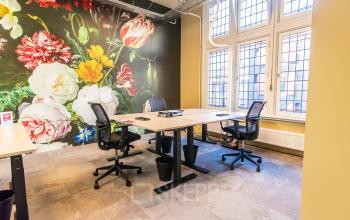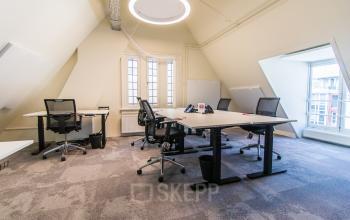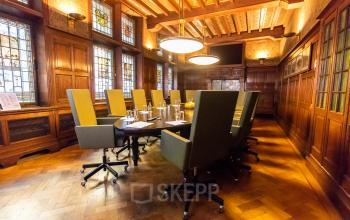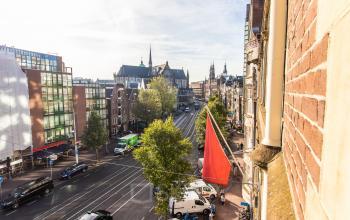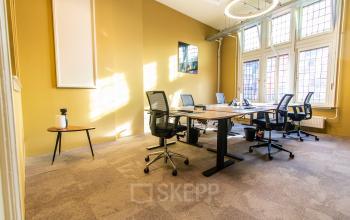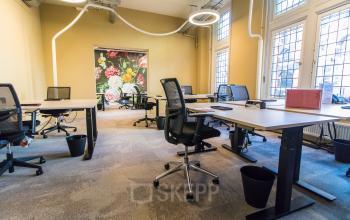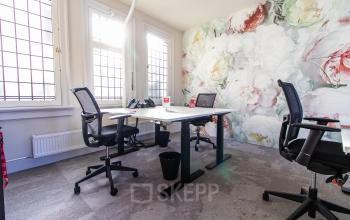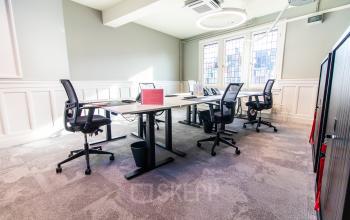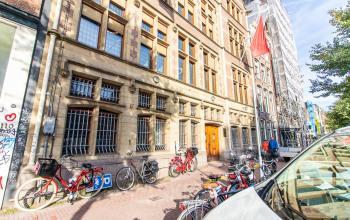 Reviews
Find out what other people said about this location
G
Germaine
Ontzettend mooie kantoorruimtes, wauw!
L
Lieke
In het kantoor hangt een gemoedelijke sfeer en het personeel van de receptie is heel vriendelijk
M
Mariska
Het pand is echt uniek.
Blij dat ik hier mijn werk uit kan voeren, ik zit op mijn plek hier.
Thanks for your review!
We really appreciate that you have taken the time to share your opinion with us and other customers! That is why you get from us!
Office interior design with Officeplanner
Request a free customised interior design proposal for your office space at Nieuwezijds Voorburgwal 104-108
With Officeplanner you can rent, lease or buy a flexible interior design package based on your preferences and requirements for the interior of your office space. Your order will be delivered at your desired location within 1 week.
More about Officeplanner