Rent office space Utrecht West, Niasstraat 1
Facilities
Desk
Internet
Coffee/tea
Printer
Meeting space
KVK-registration
Postal address
Kitchen
Parking
Accessibility
Bus stop Utrecht, Van Koetsveldstraat

1 min walk (0.1 km)

Railway station Utrecht Zuilen

18 mins walk (1.5 km)

Park

4 mins walk (0.3 km)

Gym

2 mins walk (0.1 km)
Rent at this location?
This is currently available at Niasstraat 1 in Utrecht West
How many square meters of office space do I need?
About this office
Volledig verzorgde kantoorruimte huren in Utrecht Centrum?
Dit kantoorgebouw is gelegen midden in het centrum van Utrecht, in de wijk Lombok. Dit kantoorpand is gebouwd in een u-vorm. Er zijn reeds meer dan 30 bedrijven van groot tot klein gevestigd in dit kantoorgebouw.
Flexplekken, kantoorkamers en kantoorruimte te huur
U huurt hier een flexplek; een eigen afgesloten kantoorkamer vanaf 20 m2 of een complete kantoorruimte op maat vanaf 100 m2, die u naar eigen wens en smaak inricht.
Hartelijke ontvangst binnen uw nieuwe kantoor
Hier wordt u hartelijk ontvangen door de dames in de rode jurkjes (u ziet meteen wat we bedoelen als u hier langs gaat). Zij staan altijd voor u klaar, ook wanneer u iets thuis hebt laten liggen of snel een taxi nodig hebt. U hoeft nooit op zoek naar een parkeerplaats, want bij dit kantoorgebouw zijn voldoende parkeerfaciliteiten. De on-site carwash is trouwens ook erg handig!
Kies voor een korte of lange huurperiode
Of u nu kortere of langere tijd kantoorruimte wilt huren. Hier is beide mogelijk. U huurt hier al vanaf €260,- per maand een werkplek. Een kantoorkamer voor 4 personen huurt u op deze manier al voor circa €1000,- per maand, inclusief gas/water/elektriciteit/internet en schoonmaak. Huurt u hier kantoorruimte? Dan maakt u automatisch gebruik van de vergaderruimtes en spreekkamers in dit kantoor.
Diverse ondersteunende services in dit business center in Utrecht
Het business center levert ook ondersteunende services zoals postverwerking, administratieve handelingen en telefoonaanname. Kortom, op zoek naar een passende werkplek, kantoorkamer vanaf 20 m2 of kantoorruimte op maat vanaf 100 m2 in het centrum van Utrecht? Wacht niet langer en plan uw rondleiding in bij SKEPP!
Media
Get a good impression of this office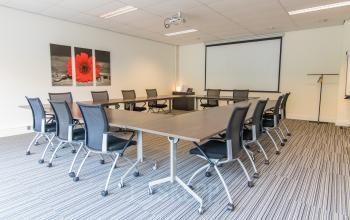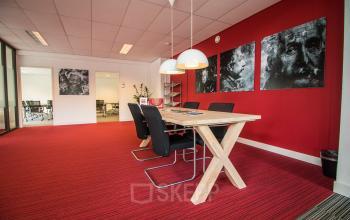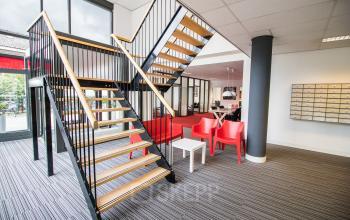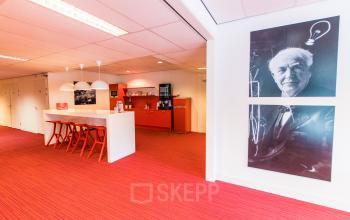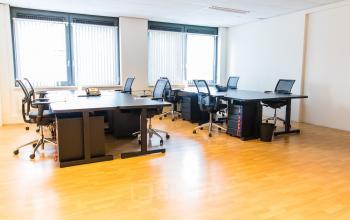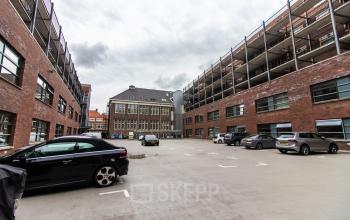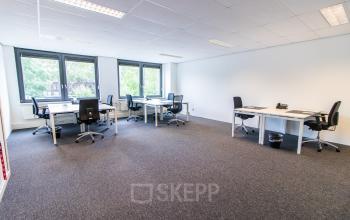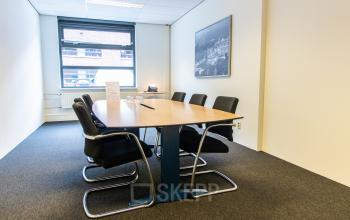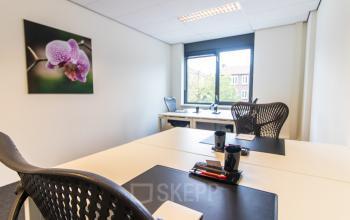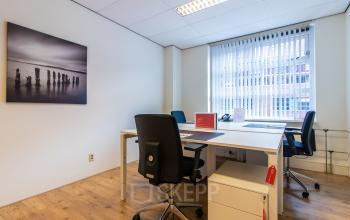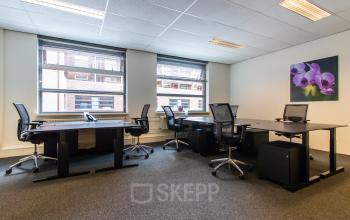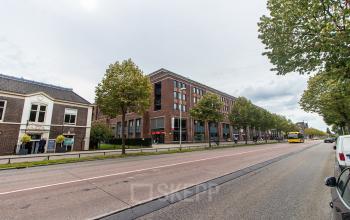 Reviews
Find out what other people said about this location
S
Saskia
Betaalbare werkplekken in hartje Utrecht
J
Jorit
Vrij standaard kantoorruimtes maar alles wat je nodig hebt is aanwezig.
En het pand is goed te bereiken.
T
Trine
Ben zelf niet zo weg van de vele roodtinten, maar verder is het wel echt een prima locatie om te werken
H
Hemmer B.V.
Super prettige inrichting van de kantoorruimtes, voorzien van het beste meubilair.
L
Lin
Leuk kantoor.
Goede voorzieningen, aardig personeel dat goede ondersteuning biedt.
P
Pieter
prijs kwaliteit verhouding is goed
A
A. J. Seubring
In eerste instantie standaard kantoren, maar wanneer je naar binnen loopt valt direct de stijlvolle inrichting op.
De service is meer dan prima en je voelt je hier al snel thuis. Vriendelijk personeel die graag meedenkt in mogelijkheden. Het pand wordt gerund op een kundige en professionele manier met het full-service concept als uitgangspunt. Snel schakelen is geen enkel probleem en het organiseren van events / meetings raad ik zeker aan. De service is top, koffie of thee is er voldoende en de focus voor randzaken wordt volledig uit handen genomen, waardoor je volledig de focus op zaken die er toe doen houdt. Parkeren kan op de binnenplaats en al met al kan ik alleen maar zeggen dat ik positief verbaasd ben. Je krijgt waarvoor je tekent. Waarna je echt ontdekt wat een full service concept inhoudt. Misschien in eerste instantie een standaard locatie, maar ik raadt elke ondernemer die zichzelf serieus neemt het volgende aan: je kunt volledig focussen op het ondernemen dus het huren van een pand gaat meer opleveren dan een kantoorruimte!
Thanks for your review!
We really appreciate that you have taken the time to share your opinion with us and other customers! That is why you get from us!
Office interior design with Officeplanner
Request a free customised interior design proposal for your office space at Niasstraat 1
With Officeplanner you can rent, lease or buy a flexible interior design package based on your preferences and requirements for the interior of your office space. Your order will be delivered at your desired location within 1 week.
More about Officeplanner