Rent office space Amsterdam Zuid-Oost, Herikerbergweg 292
Facilities
Desk
Internet
Coffee/tea
Printer
Meeting space
Cabinet
KVK-registration
Postal address
Kitchen
Parking
Accessibility
Bus stop Amsterdam, Gebouw Atlas

4 mins walk (0.3 km)

Railway station Amsterdam Bijlmer Arena

14 mins walk (1.1 km)

Subway station Bullewijk

8 mins walk (0.7 km)

Park

5 mins walk (0.4 km)

Gym

2 mins walk (0.1 km)
Rent at this location?
This is currently available at Herikerbergweg 292 in Amsterdam Zuid-Oost
Available office rooms
Rental price:

€446 €379 /mo.

Rental price:

€892 €758 /mo.

Rental price:

€1,338 €1,137 /mo.

Rental price:

€1,784 €1,516 /mo.

Rental price:

€2,229 €1,895 /mo.

Rental price:

€2,675 €2,274 /mo.
Available office spaces
Space description:

185 m2

Rental price:

€4,500 /mo.
How many square meters of office space do I need?
About this office
Volledig verzorgde werkplek of kantoorruimte huren op een prominente kantoorlocatie in Amsterdam Zuid-Oost
Dit moderne kantoorgebouw ligt op een uitstekende locatie in het ArenA Business Park, een prominente kantoorlocatie in Amsterdam Zuid-Oost. U huurt hier flexibel een kantoorruimte en maakt gebruik van uiteenlopende services. Van de telefoonaanname en het verwerken van uw post door een receptioniste tot het aanzetten van een knoop of het boeken van een vlucht. Dat wilt u toch ook?
Flexwerkplek, ingerichte kantoorkamer of een kantoorruimte op maat
Of u nu op zoek bent naar een flexwerkplek, een (ingerichte) kantoorkamer vanaf 15 m2 of een nog in te richten kantoorruimte op maat vanaf 100 m2, binnen dit kantoorgebouw vindt u dé kantoorruimte die bij u en uw onderneming past in Amsterdam Zuid-Oost. Bovendien is er een archiefruimte en zijn er vergaderruimten. Een extra voordeel, mocht u regelmatig een bespreking of een presentatie houden. 
Huurprijzen vanaf slechts €320,- per maand in dit kantoor
U had ongetwijfeld zeer hoge huurkosten verwacht, gezien het hoge serviceniveau en de prominente locatie. Dit is echter niet het geval: u huurt namelijk al een werkplek vanaf €320,- per maand. Een kantoorkamer voor 2 personen is te huur voor €640,- per maand, terwijl u een kantoorruimte op maat huurt voor maar €155,- per m2 per jaar. 
Restaurant? Check! Koffiebar? Check! Fitnessruimte? Check!
Heerlijk lunchen of dineren op het werk? Het kan in het restaurant van dit kantoorpand in Amsterdam Zuid-Oost. Of even een heerlijke kop koffie drinken tussen de drukke werkzaamheden door? Bezoek dan de koffiebar. Heeft u tussen de afspraken door een uurtje over of wilt u na uw werk nog even sportief bezig zijn? Neem dan een kijkje in de fitnessruimte. Kortom, u huurt hier meer dan alleen een kantoorruimte in Amsterdam Zuid-Oost!
Bekijk uw nieuwe kantoorruimte op deze goed bereikbare locatie!
Op een locatie nabij meerdere snelwegen, op loopafstand van diverse OV-punten, waaronder treinstation Amsterdam Bijlmer ArenA en op een kwartiertje rijden van Schiphol Airport ligt dit kantoorgebouw in Amsterdam Zuid-Oost. Bent u inmiddels overtuigd van de mogelijkheden of twijfelt u nog tussen het uitgebreide kantorenaanbod? Hoe dan ook, neem een kijkje in dit kantoor, door een gratis en geheel vrijblijvende (!) rondleiding te plannnen bij SKEPP!
Media
Get a good impression of this office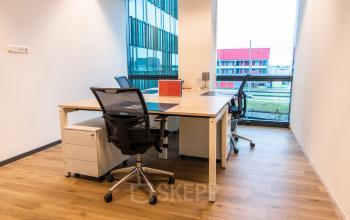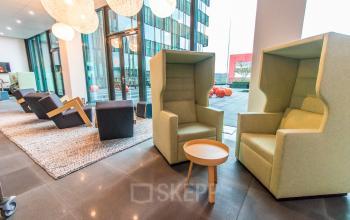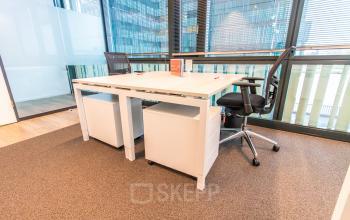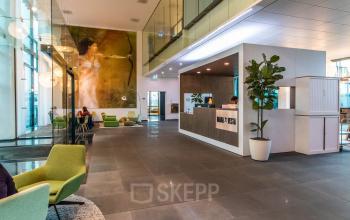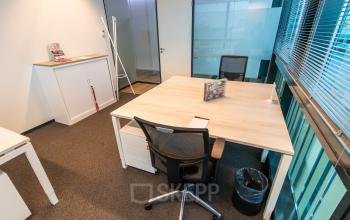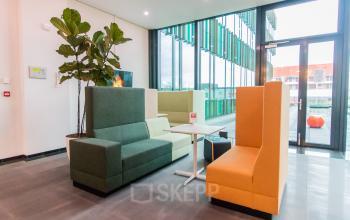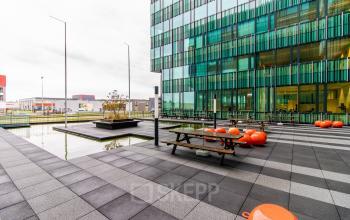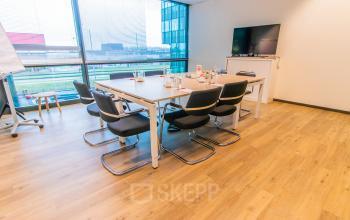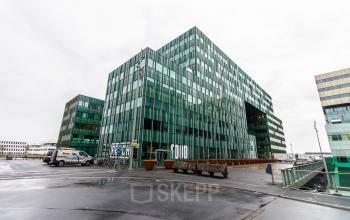 Reviews
Find out what other people said about this location
D
DPK Architecten
Dit kantoorgebouw sluit goed aan bij onze uitstraling en ambitie.
De ligging in Amsterdam is een vereiste, evenals de bereikbaarheid per auto. Wij zijn een architectenbureau dus zoeken een ruimte met uitstraling. Dat hebben wij hier zeker gevonden!
D
Dirk Geus
Zeer mooie kantoorruimten met een moderne uitstraling en veel glas.
Daarnaast wordt er een hoog servicelevel aangeboden en is het personeel zeer vriendelijk. Absoluut een aanrader!
Thanks for your review!
We really appreciate that you have taken the time to share your opinion with us and other customers! That is why you get from us!
Office interior design with Officeplanner
Request a free customised interior design proposal for your office space at Herikerbergweg 292
With Officeplanner you can rent, lease or buy a flexible interior design package based on your preferences and requirements for the interior of your office space. Your order will be delivered at your desired location within 1 week.
More about Officeplanner