Rent office space Brussels Elsene, Louizalaan / Avenue Louise 65
Facilities
Desk
Internet
Coffee/tea
Printer
Meeting space
Cabinet
Postal address
Kitchen
Parking
Accessibility
Bus stop Stefania

1 min walk (7 m)

Subway station Stefania

1 min walk (17 m)

Railway station gare du congres

13 mins walk (1.0 km)

Subway station Louise

4 mins walk (0.3 km)

Park

8 mins walk (0.6 km)

Gym

1 min walk (45 m)
Rent at this location?
This is currently available at Louizalaan / Avenue Louise 65 in Brussels Elsene
How many square meters of office space do I need?
About this office
Kantoorruimte huren in Brussel aan de Louizalaan 65 (Elsene)
Denk je er over om kantoorruimte te huren in Brussel aan de Louizalaan, maar weet je niet waar je moet beginnen? Daar kunnen wij je heel gemakkelijk antwoord op geven. Neem telefonisch, via de chat of de mail contact op met SKEPP en wij helpen je verder. Of je nu een kantoorvloer, kantoorruimte of coworking werkplek wilt huren, je vindt het bij SKEPP.
Huurprijzen
Kantoorruimten zijn in dit kantoorpand te huur in verschillende formaten en voor het aantal personen dat jij nodig hebt. Zo huur je een kantoor voor 2 personen al voor een prijs vanaf €714,- per maand. Voor een private office voor 8 personen betaal een prijs vanaf €2856,- per maand. Gemiddeld betaal je een huurprijs vanaf €357,- per persoon per maand. Wil je liever klein beginnen? De coworking biedt werkplekken voor kleine ondernemers die graag naast gelijkgestemden werken. Je huurt al een werkplek vanaf €258,- per maand.
Genoeg parkeerruimte, supersnel internet en een exclusieve locatie
Aan de Louizalaan in Brussel zitten een groot aantal voordelen verbonden aan het huren van kantoorruimte. Wanneer je met de wagen naar het werk reist dan hoef je niet bang te zijn dat je hem nergens kan parkeren. Er zijn namelijk meer dan genoeg parkeerplekken beschikbaar die je voor een meerprijs kunt huren. Tegenwoordig kan je zonder supersnel internet niets meer, daarom geniet je hier van onbeperkt highspeed internet. Het kantoorgebouw staat op het Stefaniaplein en rondom zijn veel exclusieve bars, restaurants en boetiekjes. Een uniek stukje Brussel.
Locatie en bereikbaarheid
Het Stefaniaplein ligt tegen het centrum van Brussel aan in het stadsdeel Elsene. Het verkeer loopt hier door een tunnel waardoor dit gedeelte van de stad rustiger is qua verkeer. Het kantoorpand is uitstekend bereikbaar met de bus en de metro, maar met de wagen is het ook nog goed bereikbaar. Er zijn restaurants in de omgeving en voor iedere smaak is er wel wat te vinden. Rondom het pand vind je ook hotels, zo zit NH Hotels op nog geen 100 meter afstand. Dat is toch ideaal?
Huur jij binnenkort kantoorruimte aan de Louizalaan?
Ben je enthousiast en wil je kantoorruimte huren aan de Louizalaan in Brussel? Neem dan contact op met onze vastgoedconsultants en plan een gratis rondleiding in. Wij helpen je gratis en geheel vrijblijvend met de zoektocht naar kantoorruimte. SKEPP is thuis op kantoor!
Media
Get a good impression of this office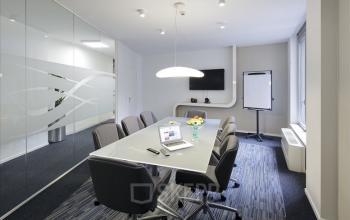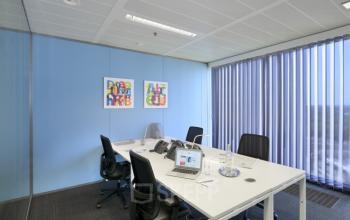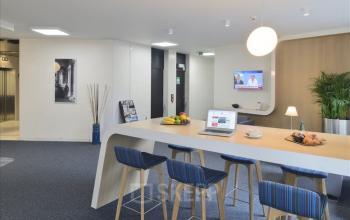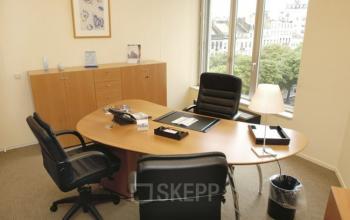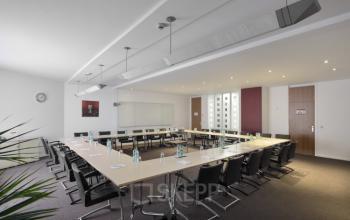 Reviews
Find out what other people said about this location
T
T. W.
Indrukwekkend kantoorpand op een toplocatie.
Thanks for your review!
We really appreciate that you have taken the time to share your opinion with us and other customers! That is why you get from us!
Office interior design with Officeplanner
Request a free customised interior design proposal for your office space at Louizalaan / Avenue Louise 65
With Officeplanner you can rent, lease or buy a flexible interior design package based on your preferences and requirements for the interior of your office space. Your order will be delivered at your desired location within 1 week.
More about Officeplanner