Rent office space Ghent, Gebr. Vandeveldestraat 68
Facilities
Desk
Internet
Coffee/tea
Printer
Meeting space
Cabinet
KVK-registration
Postal address
Kitchen
Parking
Accessibility
Bus stop Gent Onderbergen

3 mins walk (0.2 km)

Subway station Gent Oude Houtlei

1 min walk (33 m)

Railway station Gent-Sint-Pieters

26 mins walk (2.0 km)

Park

6 mins walk (0.4 km)

Gym

7 mins walk (0.6 km)
Rent at this location?
This is currently available at Gebr. Vandeveldestraat 68 in Ghent
How many square meters of office space do I need?
About this office
Kantoor te huur in de Gebroeders Vandeveldestraat in Gent
Met een kantoor te huur in de Gebroeders Vandeveldestraat in Gent bevindt je je in het hart van de bruisende stad Gent. Je komt terecht in een omgeving waar groei centraal staat. Het business center vindt het belangrijk dat jij je volledig kan concentreren op je core business. Zij doen als de rest. Van onderhoud tot installatie tot de bemeubeling van je kantoor te huur. Vooral voor start-ups en eenmanszaken is dit heel interessant. Ook uitbreiden met je onderneming gaat heel gemakkelijk in het business center. Met een kantoor te huur in de Gebroeders Vandeveldestraat ben je dus zeker van enerzijds standvastigheid en anderzijds diverse doorgroeimogelijkheden.
Huurprijzen
Het business center voorziet in kantoorruimtes en werkplekken. Er zijn kantoorruimtes van 21 m2, 27 m2 en 33 m2 voor respectievelijk €800, €900 en €1000 per maand, inclusief alle servicekosten. De huurprijs van een werkplek is afhankelijk van hoeveel dagen per maand je de werkplek wilt gebruiken. Je huurt een werkplek voor €130, €280 of €380 per maand als je de werkplek voor respectievelijk 4, 8 of 12 dagen per maand wilt gebruiken.
Een goede start met koffie en vers fruit, een goed ontvangst door de receptie en 24/7 toegang
Het kantoor te huur in de Gebroeders Vandeveldestraat in Gent biedt alle voorzieningen om het jou als ondernemer zo gemakkelijk mogelijk te maken. Je kunt de dag al goed beginnen met een heerlijke kop koffie en een vers stuk fruit. Helemaal gratis voorzien door het bedrijvencentrum. Je kunt er bovendien volledig op vertrouwen dat klanten en zakenpartners goed worden ontvangen door de aanwezige receptie. Een echte workaholic? Geen probleem! Je hebt 24/7 toegang tot jouw kantoor te huur.
Locatie en bereikbaarheid
Met een kantoor te huur in de Gebroeders Vandeveldestraat in Gent ben je goed bereikbaar. Het bedrijvencentrum ligt in het hartje van Gent. Het business center bevindt zich nabij het oude gerechtsgebouw, de Korenmarkt met alle gezellige terrasjes, de Kouter en de Veldstraat, dé bekende winkelstraat van Gent. Aangezien het bedrijvencentrum centraal in Gent gelegen is, kun je jouw kantoor te huur vlot bereiken via het openbaar vervoer. Tramlijn 1, 2 en 4 hebben hun halte vlakbij. Deze tramlijnen staan bovendien in verbinding met het station Gent-Sint-Pieters. Met de auto bereik je jouw kantoor te huur via de R40, R4, E18 en E40. Het business center heeft voorzien in 3 parkeerplaatsen aan de achterzijde van het kantoorgebouw waar je veilig én gratis je auto kwijt kan.
Huur je binnenkort ook een kantoorruimte in de Gebroeders Vandeveldestraat in Gent?
Wil jij ook je kantoor te huur vestigen in de Gebroeders Vandeveldestraat in Gent? Neem dan nu contact op met SKEPP en wees zeker van jouw kantoor te huur in hartje Gent. Met al jouw vragen kun je terecht bij een van onze vastgoedconsultants voor gratis en snel advies. Wil je graag het kantoor te huur bezichtigen? Plan dan nu een gratis rondleiding in. Wacht niet langer en ga voor een kantoor te huur in de Gebroeders Vandeveldestraat.
Media
Get a good impression of this office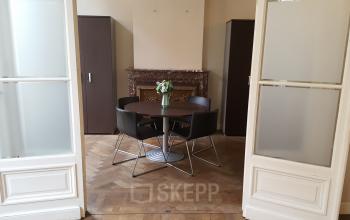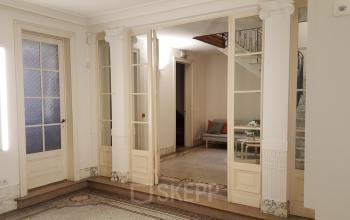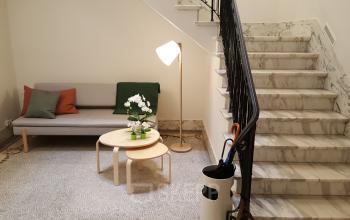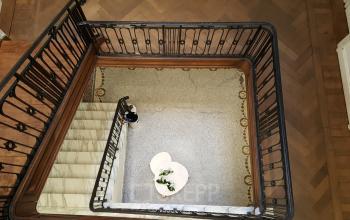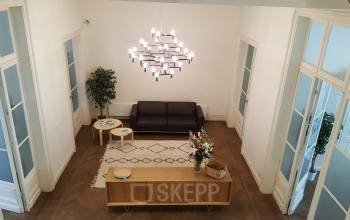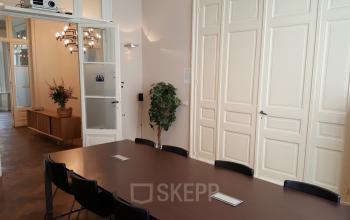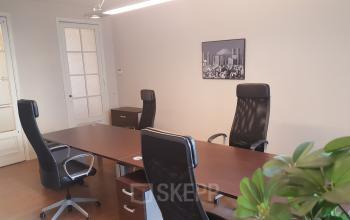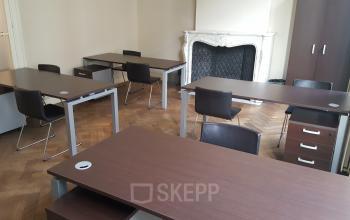 Reviews
Find out what other people said about this location
D
Danielle
Vlot te bereiken met de tram!
M
Marc. V.
De gratis parking is zeker handig
M
Michael P.
Ik hou van de klassieke uitstraling.
Thanks for your review!
We really appreciate that you have taken the time to share your opinion with us and other customers! That is why you get from us!
Office interior design with Officeplanner
Request a free customised interior design proposal for your office space at Gebr. Vandeveldestraat 68
With Officeplanner you can rent, lease or buy a flexible interior design package based on your preferences and requirements for the interior of your office space. Your order will be delivered at your desired location within 1 week.
More about Officeplanner