Rent office space Ghent, kerkstraat 108
Facilities
Desk
Internet
Coffee/tea
Meeting space
KVK-registration
Postal address
Kitchen
Parking
Accessibility
Bus stop Gentbrugge Tweekapellenstraat

4 mins walk (0.3 km)

Railway station Gentbrugge

9 mins walk (0.8 km)

Park

3 mins walk (0.3 km)

Gym

9 mins walk (0.7 km)
Rent at this location?
This is currently available at kerkstraat 108 in Ghent
How many square meters of office space do I need?
About this office
Kantoor te huur in de Kerkstraat in Gent
Op zoek naar een kantoor te huur in Gent? Dan is het kantoor te huur in de Kerkstraat in Gent misschien wel iets voor jou. Gentbrugge is een van de 25 stadswijken van Gent. De Gentse deelgemeente ligt ten zuidoosten van het stadscentrum aan de Schelde. Gentbrugge is een toffe buurt met nog veel historische bezienswaardigheden. Toch zit je zo weer in het bruisende stadsleven van Gent zelf. Ideaal om dus je kantoor te huur in de Kerkstraat te vestigen en te genieten van the best of both worlds.
Huurprijzen
Het business center biedt zowel kantoorruimtes als werkplekken. In het bedrijvencentrum vind je diverse kantoorruimtes in verschillende maten. Zo variëren de groottes van de kantoorkamers van 38 m2 tot 110 m2 met daartussen nog verschillende mogelijkheden. Dat allemaal aan een goede huurprijs. De huurprijzen variëren van €1336,- tot €3080,- per maand. In de prijs is een uitgebreid dienstenpakket volledig inbegrepen. Ben je op zoek naar een werkplek om te huren? Het bedrijvencentrum biedt werkplekken via diverse abonnementen. Een abonnement voor een werkplek voor 1,5 dag per week bedraagt €100,- per maand, voor 3 dagen per week €170 per maand en voor €290 per maand heb je onbeperkt een werkplek ter beschikking. Ideaal voor coworking en om te netwerken.
Een gemeenschappelijke receptie, 24/7 toegang en fiets- en wandelpaden in de buurt
Op het kantoor te huur in de Kerkstraat is er een gemeenschappelijke receptie aanwezig wat toch een professionele indruk geeft aan jouw onderneming. Bovendien is postverwerking en telefoonbeantwoording in de maandelijkse huurprijs inbegrepen. Een echte workaholic? In dit bedrijvencentrum heb je 24/7 toegang tot jouw kantoor te huur. Natuurlijk is af en toe ontspannen ook noodzakelijk, het bedrijvencentrum is gelegen in de buurt van een park en talrijke fiets- en wandelpanden. Ideaal om tijdens de middag of op een moment dat je het nodig hebt de benen eens te strekken en een frisse neus te gaan halen. Het bedrijvencentrum speelt er echt op in aangezien ze ook 80 fietsplaatsen, waarvan 20 binnenshuis, ter beschikking stelt.
Locatie en bereikbaarheid
Het kantoor te huur in de Kerkstraat heeft een goede ligging. Dankzij de verschillende vervoersmogelijkheden is het het kantoor te huur in de Kerkstraat goed bereikbaar. De E17 loopt zo dwars door Gentbrugge heen. Parkeren kun je dan weer op het eigen terrein van het bedrijvencentrum. De deelgemeente van Gent heeft ook zijn eigen station, het station Gentbrugge. Bovendien wordt Gentbrugge door talrijke Gentse tram- en buslijnen bediend.
Huur je binnenkort een kantoorruimte in de Kerkstraat in Gent Gentbrugge?
Overtuigd van een kantoor te huur in de Kerkstraat? Neem snel contact op met SKEPP en vestig vandaag nog jouw kantoor te huur in de Kerkstraat in Gent. Met al je vragen kun je bovendien terecht bij een van onze vastgoedconsultants. Wil je graag een rondleiding? Plan dan nu gratis een rondleiding in. Wacht niet langer en ga voor een kantoor te huur in de Kerkstraat.
Media
Get a good impression of this office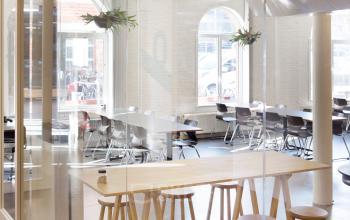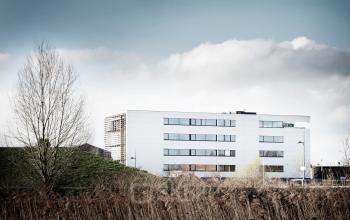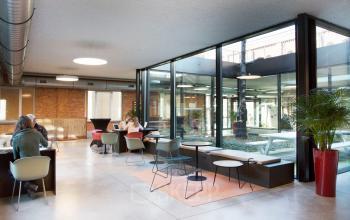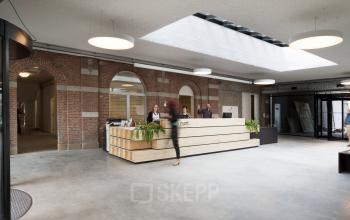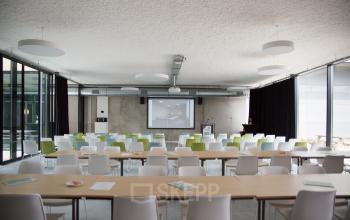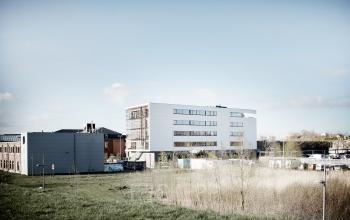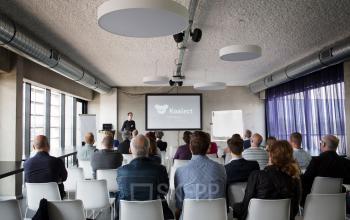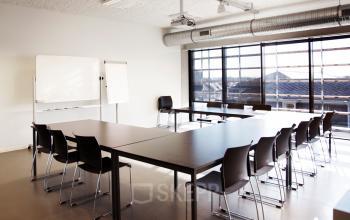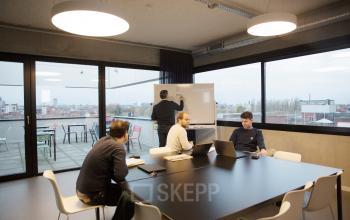 Reviews
Find out what other people said about this location
A
Arthur
Geen probleem om mijn fiets te stallen.
Thanks for your review!
We really appreciate that you have taken the time to share your opinion with us and other customers! That is why you get from us!
Office interior design with Officeplanner
Request a free customised interior design proposal for your office space at kerkstraat 108
With Officeplanner you can rent, lease or buy a flexible interior design package based on your preferences and requirements for the interior of your office space. Your order will be delivered at your desired location within 1 week.
More about Officeplanner