Rent office space Hilversum, Olympia 1
Facilities
Accessibility
Bus stop Hilversum, Arenapark

1 min walk (17 m)

Railway station Hilversum Sportpark

9 mins walk (0.8 km)

Gym

7 mins walk (0.6 km)
Availability
Check below which office types are available at Olympia 1
About this office
Do you want to rent an office space in the media city of the Netherlands?
Hilversum is the answer for you. This office building is situated on the Olympia busniness districht in Hilversum. The office building is surrounded by companies both operating nationally and internationally, examples are NCOI, Oxxio and Nike. Multiple office spaces are currently for rent in this building. Situated at a well known business district with a view on the beautiful Smithuyserbos. This makes everything about this building a good working location.
Create your own working environment
This office building at the Olypmia is close the Arena Park in Hilversum. When you enter the building, you directly get to know the quality and the furnishing in this building. The way you want to furnish the office space is entirely up to you. Use your imagination and create your own ideal workspot.
Rent your office space for only €110,- per m2 per year
In this office building you can rent a costumized office space from 100 m2. You will only pay for the surface you acctually use, the costs are €110,- per m2 per year. The area that is for rent has big windows and this helps to let daylight in. The entree makes it so the offices are accessible trough the stairs as well as trough an elevator. The offices are reachable for everyone.
More than enough parking space at this office building at the Olympia in Hilversum
When you decide that this is the place for you, here at the Olympia in Hilversum, you will have 24/7 access to the building. Besides that, this building has a pantry where you can ready your lunch and get some coffee. You do not have to worry about cleaning, because this is included in the price. To close things off, you can just rent your own parking space. A parking garage is close to the building and also the deck offers you spots.
Favorable location
The building is reachable very good by car, given the fact that its situated alongside the highway (A27). Do you prefer travelling by public transport? No problem, Hilversum Sportpark trainstation is within a couple of minutes walking distance. Are you curious about the possibilities in this building? Come to this building and take look in Hilversum. You do this by contacting us and we will arrange a tour for free!
Rent at this location?
This is currently available at Olympia 1 in Hilversum
How many square meters of office space do I need?
Media
Get a good impression of this office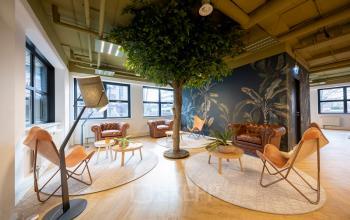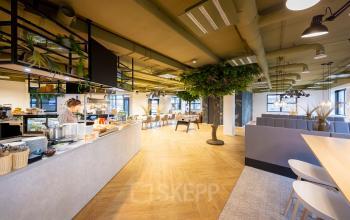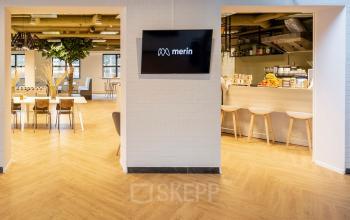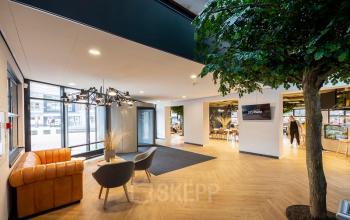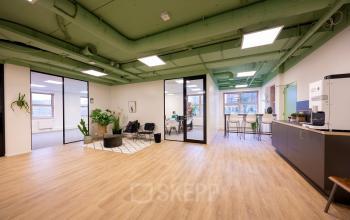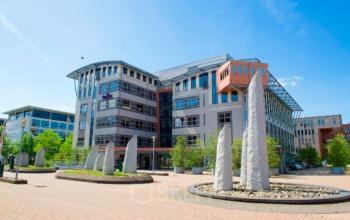 Reviews
Find out what other people said about this location
B
Bart
Erg fijn dat je hier voor de deur kunt parkeren en werken op ieder gewenst tijdstip!
M
Maud P.
Grote kale kantoorruimtes die je volledig naar eigen style en smaak kunt inrichten, super!
B
Ben Roord
een zakelijk business center waar alles goed is geregeld, hier huur je zorgeloos een kantoorruimte
Thanks for your review!
We really appreciate that you have taken the time to share your opinion with us and other customers! That is why you get from us!
Office interior design with Officeplanner
Request a free customised interior design proposal for your office space at Olympia 1
With Officeplanner you can rent, lease or buy a flexible interior design package based on your preferences and requirements for the interior of your office space. Your order will be delivered at your desired location within 1 week.
More about Officeplanner