Rent office space Rotterdam Centrum, Schiedamse Vest 154
Facilities
Desk
Internet
Coffee/tea
Meeting space
Cabinet
KVK-registration
Postal address
Kitchen
Parking
Accessibility
Bus stop Rotterdam, Westblaak

3 mins walk (0.3 km)

Subway station Rotterdam, Beurs

4 mins walk (0.3 km)

Railway station Rotterdam Blaak

12 mins walk (0.9 km)

Subway station Beurs

4 mins walk (0.3 km)

Park

9 mins walk (0.7 km)

Gym

2 mins walk (0.2 km)
Rent at this location?
This is currently available at Schiedamse Vest 154 in Rotterdam Centrum
Available office rooms
Rental price:

1.100 € /mo.

Rental price:

1.650 € /mo.
How many square meters of office space do I need?
About this office
Office space for rent at the Schiedamse Vest (Centrum)
Have you been looking for office space in Rotterdam for a while now? Then stop searching! At the Schiedamse Vest are various workplaces and office spaces available. You rent here in the cosy neighbourhood of "de Cool". A neighbourhood full of nice restaurants and cafés, including Bar Restaurant Dertien. Because this office building is in the centre of the city, there are many shops in the immediate area. Examples of tenants of office space in this building are companies focused on the technical and digital industry.
Prices
You can rent here in an office building that was built in 1954. In total, the office building has a surface area of 2597 m2. An office space of 8 m2 can be rented for €525,- per month. Do you prefer a larger office space? Then choose the 25 m2 office space. These are for rent for a monthly fee of €1875,-. In addition to office space, it is also possible to rent flexible working spaces in this beautiful office building. For a flexible working space, you pay €99,- per month. Not that bad for such location. These prices also include the cleaning that has to be done.
Fast internet, coffee/tea and a gym
In this office building, not only the standard facilities are available. Also, the atmosphere is quite unique because it is located in a former bank where its beautiful details have been preserved. Second, there is a fast internet connection, which is preferable when you work a lot at your office. In addition, the consumption of delicious coffee and tea is included in the rental price. On the rooftop terrace, you can enjoy a freshly prepared lunch. The staffed reception desk will take care of your guests, and they will help you with all your questions.
Location and reachability
This office building is easily accessible by public transport. The nearest metro station is 'Beurs', one of the main metro stations in Rotterdam. This station is a 5-minute walk away. Coming from the A16, you are in a 10-minute distance from the office building. The fact that the office building is so well reachable, means that it is an ideal location to work with business partners.
Will you soon be renting an office space at the Schiedamse Vest?
As stated above, there are various companies that rent office space in this fancy office building at the Schiedamse Vest in Rotterdam. Do you want to be the next one? Then please contact us, so together we can schedule a free tour.
Media
Get a good impression of this office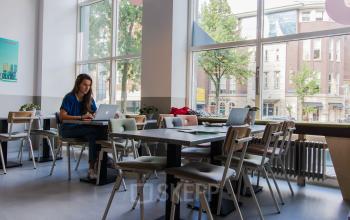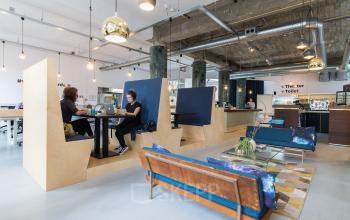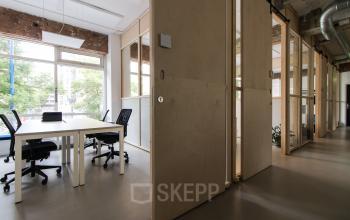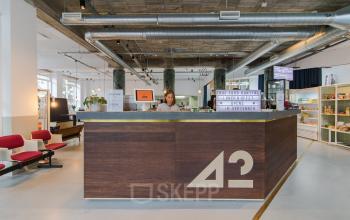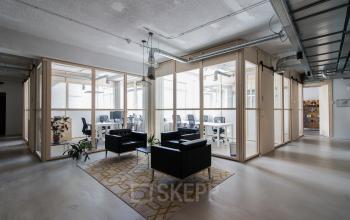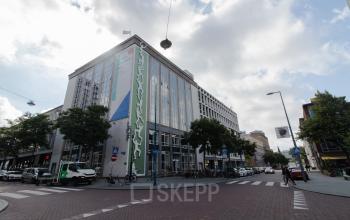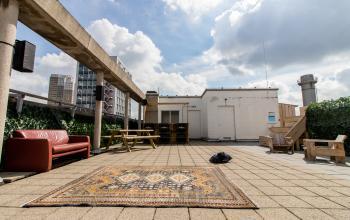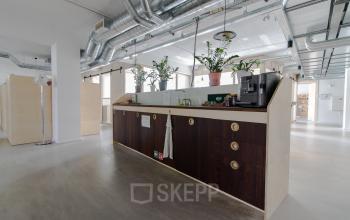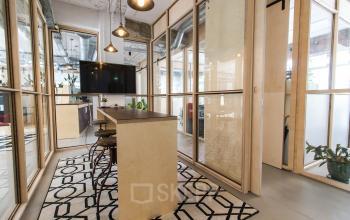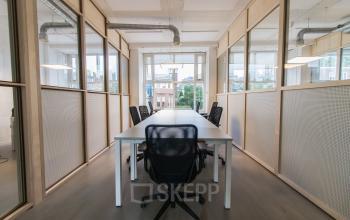 Reviews
Find out what other people said about this location
C
Claudy
super leuk kantoor.
mooi gedaan met die glazen wanden :)
G
Gill
Ziet er tof uit!
Goede voorzieningen aanwezig en voldoende keuze uit kantoorruimten.
W
Willemijn
Leuke groep huurders in dit kantoor~!
Ook een goede buitenruimte om lekker even uit te rusten.
Thanks for your review!
We really appreciate that you have taken the time to share your opinion with us and other customers! That is why you get from us!
Office interior design with Officeplanner
Request a free customised interior design proposal for your office space at Schiedamse Vest 154
With Officeplanner you can rent, lease or buy a flexible interior design package based on your preferences and requirements for the interior of your office space. Your order will be delivered at your desired location within 1 week.
More about Officeplanner