Rent office space Mechelen, Schaliënhoevedreef 20A
Facilities
Desk
Internet
Coffee/tea
Printer
Meeting space
Cabinet
Postal address
Kitchen
Parking
Accessibility
Bus stop Mechelen Campus I

1 min walk (69 m)

Railway station Station Sint - Katelijne - Waver

45 mins walk (3.7 km)
Rent at this location?
This is currently available at Schaliënhoevedreef 20A in Mechelen
How many square meters of office space do I need?
About this office
Renting office space on the Schaliënhoevedreef (North)
Rent office space at this campus on Schaliënhoevedreef in Mechelen now. These landlords still have modern office units available for you to establish your business. Do you also want to establish your business in the heart of Belgium and in your own private office? Then quickly continue to look at what this campus has to offer! In total there is over 50,000 m2 available at the campus in Mechelen.
Prices
In these office premises on Schaliënhoevedreef in Mechelen you can now rent a private office space. You will enjoy a professional environment where you can focus completely on the growth of your company. Office space in this tower is available starting at 235 m2 and up to a size of even 1000 m2. Shared renting of these large areas is possible; contact our real estate consultants for more information, also about rent prices.
Ironing service, a café and daycare
Renting office space on Schaliënhoevedreef in Mechelen comes with the advantage that you can enjoy the high-quality services offered to you. There is a café on site where you can enjoy a good drink, an ironing service that makes sure that your dress shirts have been pressed seamlessly smooth again, and a daycare where the children have a fun day.
Location and reachability
These office premises on Schaliënhoevedreef in Mechelen have a great location because the connection to the E19 is good. By using this freeway you are in Antwerp and Brussels within 20 minutes. The city itself has a McGregor and Vero moda, numerous restaurants and large hotel chains such as Best Western and Mercure. The Mechelen station also has good connections to, for example, Antwerp, Brussels and Charleroi. So whether you come by car or use public transportation, you can easily get to the office.
Will you be renting office space on Schaliënhoevedreef soon?
Are you enthusiastic and do you want to rent an office unit on Schaliënhoevedreef in Mechelen? Then schedule a free tour at SKEPP or call our real estate consultants for more information. We would like to continue to help you!
Media
Get a good impression of this office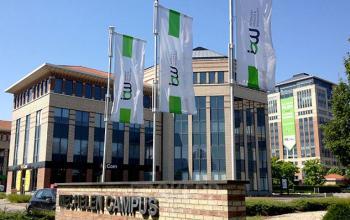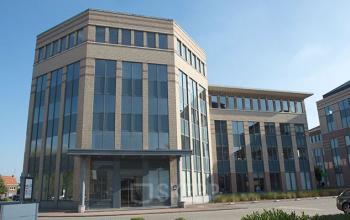 Reviews
Find out what other people said about this location
F
Fons S.
Prachtig pand MET crèche!
A
Annie
Leuk zo een kinderopvang
I
Igor S.
Ik moet nooit meer strijken, geweldig!
Thanks for your review!
We really appreciate that you have taken the time to share your opinion with us and other customers! That is why you get from us!
Office interior design with Officeplanner
Request a free customised interior design proposal for your office space at Schaliënhoevedreef 20A
With Officeplanner you can rent, lease or buy a flexible interior design package based on your preferences and requirements for the interior of your office space. Your order will be delivered at your desired location within 1 week.
More about Officeplanner