Rent office space Rotterdam Brainpark, Bahialaan 100
Facilities
Desk
Internet
Coffee/tea
Printer
Meeting space
KVK-registration
Postal address
Kitchen
Parking
Accessibility
Bus stop Capelle a/d IJssel, Fascinatio

12 mins walk (1.0 km)

Railway station Rotterdam Zuid

42 mins walk (3.6 km)

Subway station Kralingse Zoom

6 mins walk (0.5 km)

Gym

3 mins walk (0.2 km)
Rent at this location?
This is currently available at Bahialaan 100 in Rotterdam Brainpark
Available office rooms
Rental price:

€1,149 /mo.

Rental price:

€1,245 /mo.
How many square meters of office space do I need?
About this office
Werkplek of kantoorruimte te huur in modern ingericht kantoorgebouw in Rotterdam!
U zoekt een gunstige en goed bereikbare kantoorlocatie in Rotterdam Brainpark? Stop uw zoektocht: u heeft het namelijk gevonden. In dit modern ingerichte business center werkt u direct aan de snelweg A16. Bovendien zijn er mogelijkheden om per openbaar vervoer te reizen. Twijfels over de juiste kantoorruimte? In dit kantoor aan de Bahialaan vindt u de kantoorruimte die aansluit bij uw wensen!
Flexwerkplek met fraai uitzicht voor slechts €215,- per maand.
Op de 2e verdieping van dit eigentijdse kantoor zijn 6 flexwerkplekken beschikbaar, verdeeld over een moderne grote ruimte. Je hoeft alleen maar je iPad of laptop te openen en u kunt aan de slag in dit kantoor op de rand van Rotterdam en Capelle aan den IJssel. Een groot pluspunt: het fraaie uitzicht op de groene omgeving met water vanuit de kantoorruimte. En wellicht een nog groter pluspunt: u betaalt hiervoor slechts €215,- per maand.
Liever een kantoorkamer vanaf 10 m2 of kantoorruimte op maat vanaf 100 m2? Vanaf slechts €280,- per maand te huur!
U huurt hier al een kantoorkamer vanaf 10 m2 t/m 71 m2. Minimaal 1 jaar te huren? Dan is de huurprijs slechts €280,- per maand. Een kortere huurperiode zorgt voor een hogere huurprijs. Een ideale kans voor starters, zelfstandigen of freelancers. Ook is er kantoorruimte op maat vanaf 100 m2 te huur en is de 4e verdieping (687 m2) in zijn geheel beschikbaar. Deze verdieping voor de helft huren is ook een mogelijkheid.
Vergaderruimte, lunchruimte en bemande receptie
Wanneer u besluit een kantoorruimte te huren in dit kantoor in Rotterdam belegt u vergaderingen in de vergaderruimten, eet u een hapje in de sfeervolle lunchruimte en maakt u gebruik van de ondersteuning van de receptionisten. Bovendien heeft u 24/7 toegang tot uw kantoorruimte, is er een pantry en parkeert u gratis. Er is ook een terras, aan het water: een prachtige plek om te lunchen of om informeel te vergaderen!
Gratis (!) een rondleiding door dit moderne business center?
Overtuigd van de mogelijkheden om hier een flexwerkplek of kantoorruimte te huren? Of kunt u niet kiezen tussen het kantorenaanbod in Rotterdam? Hoe dan ook, het is verstandig om een kijkje te nemen in dit kantoor aan de Bahialaan. Bij SKEPP plant u gratis een rondleiding in door dit business center. Dit doet u zelf, via het menu rechts op deze pagina of door contact op te nemen met SKEPP!
Media
Get a good impression of this office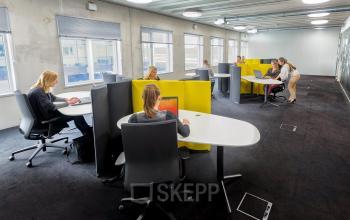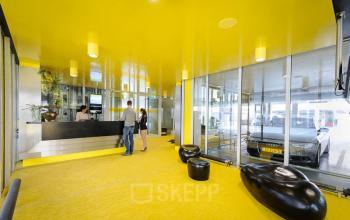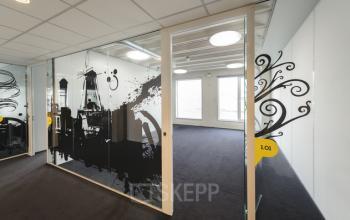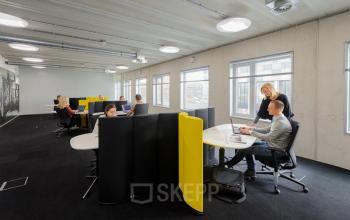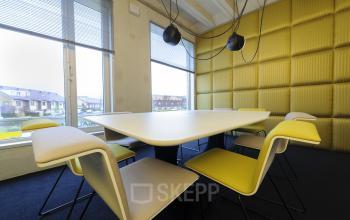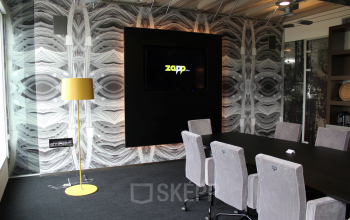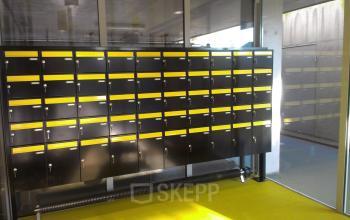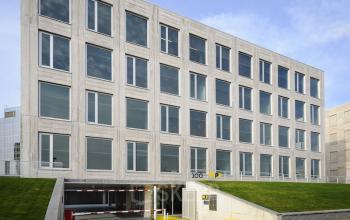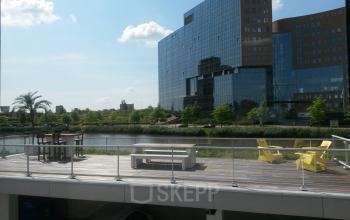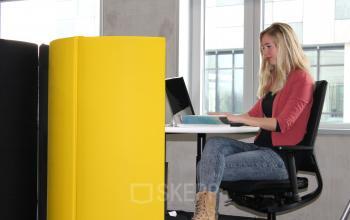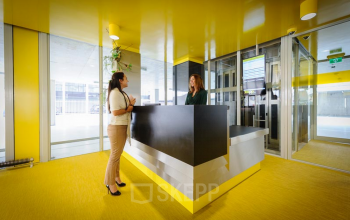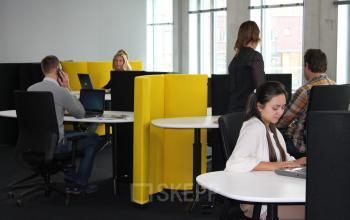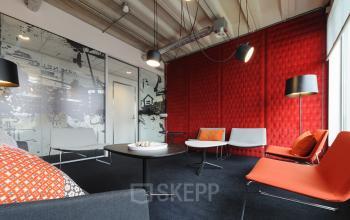 Reviews
Find out what other people said about this location
B
Bram van Mieghem
Ik vond het een mooi pand, met een gaaf sociaal hart en het hippe gebruik van de kleur geel.
Omdat ik zelf in een rolstoel zit, vond ik het ook fijn dat de rolstoeltoeltoegankelijkheid goed is.
T
Thomas te Wierik
Niet al ons personeel woont in Rotterdam waardoor de goede ligging aan de A16 en de bereikbaarheid met het OV ideaal werken voor ons.
D
De Jong Restaurateurs
De voorzieningen zijn prima geregeld, een keurig kantoorpand voor een goede prijs!
J
Janiek
Moderne inrichting, erg mooi!
moet alleen wel echt wennen aan het vele gebruik van de kleur geel...
K
Kyne
Prettig om 24 uur toegang te hebben.
Pand is geheel van deze tijd.
J
Jim
Tof pand!
Leuk interieur.
Y
Yermien
Prachtige plek aan het water en lekker opvallend kantoorgebouw.
I
Inge
Flexplekken zijn leuk opgezet in de gezamenlijke ruimte.
Je houdt toch je privacy door de goede afscherming.
L
Lieke de Witte
Leuk gebruik gemaakt van kleuren, dit spreekt ons erg aan!
H
Henrieke Rorink
Geel is niet helemaal de kleur binnen onze onderneming, minpunt!
Voor de rest ziet het er wel prima uit
C
Chantal
Heerlijk werken, heb in tijden niet zoveel gedaan.
Geel is alleen in de algemene ruimtes, in de eigen ruimtes niet, die kun je ook helemaal zelf inrichten. Echt top!
Thanks for your review!
We really appreciate that you have taken the time to share your opinion with us and other customers! That is why you get from us!
Office interior design with Officeplanner
Request a free customised interior design proposal for your office space at Bahialaan 100
With Officeplanner you can rent, lease or buy a flexible interior design package based on your preferences and requirements for the interior of your office space. Your order will be delivered at your desired location within 1 week.
More about Officeplanner