Industrial office
An industrial office has been popular in the Netherlands since the year of 2014. A cast concrete floor and the removal of suspended ceilings combined with vintage office items are perfect examples of an industrial office. Do you want to know more about an industrial office or just need some inspiration? Read this article for tips and tricks!

---
Are you looking for an industrial office space? Excellent choice! In recent years, industrial office furnishing has become a hot topic. On this page we will give you some inspiration by handing you existing examples in practice, that are easily applicable for your company and your office space.
An industrial base in the office
In the image below you do not see an industrial office design, but the base of this office building makes it industrial. Look at the cast concrete floor, see the robust overhead door (which is also great in summer by the way) and notice that the suspended ceiling has been removed. By bringing the pipes back into view, the office gets an industrial look. An industrial base is very easy to combine with, for example, a Scandinavian office design or modern office design.
Tip: ask the landlord if you can remove the suspended ceiling.
Furniture that create an industrial office
In contrast to the first image, this is a fairly standard office. As in almost every office building, the office space contains white walls and a suspended ceiling. Unlike the office space in the first example, here it is the furniture that gives an industrial look to this space. Pay particular attention to the lamp and the table that give this office space a trendy and industrial look.
An industrial establishment in combination with an industrial base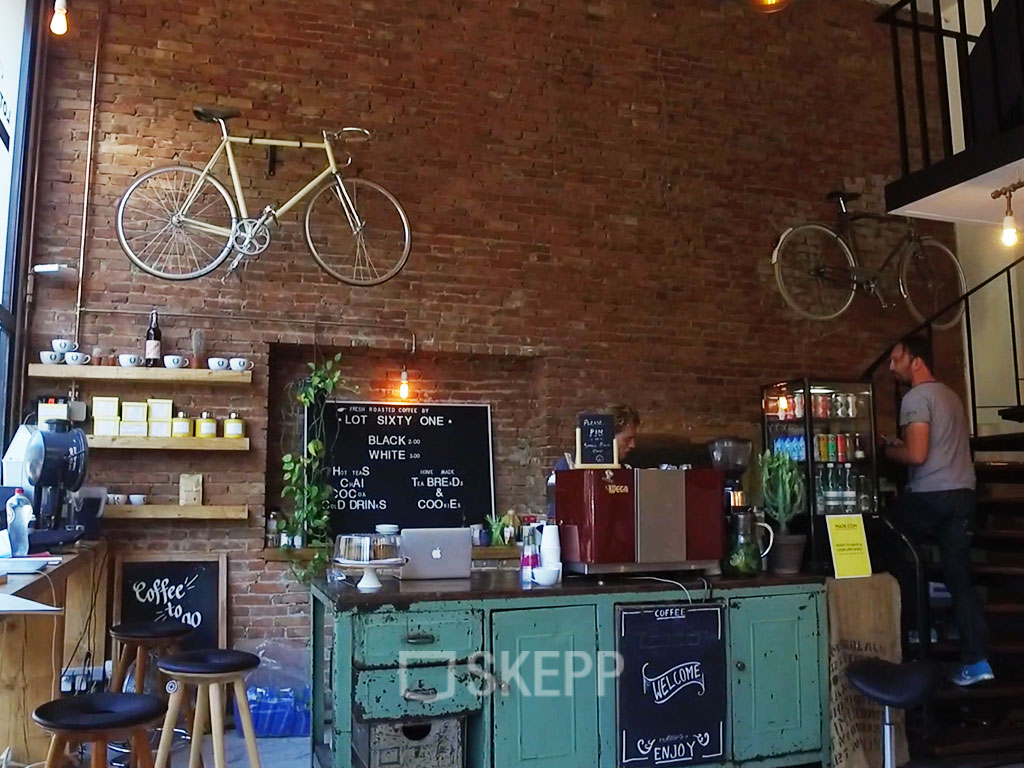 Have you looked at the 2 previous office spaces? This office building in Amsterdam has both an industrial look and an industrial layout with office furniture. The in-house barista serves you a traditionally made coffee and the hair barber cuts you while you're at work. In this case, there are no visible pipes, but you will see an untreated wall and a lot of steel in the stairs and bar of the barista.
An office building with an industrial framework
Finally, we are showing you a building with characteristic industrial facades. The outside of the office complex consists of a lot of glass, steel beams and concrete. These are typical industrial materials that give the building a robust character. The building is located on business park Utrecht Papendorp. Incidentally, the interior of this building is not industrially decorated, but it contains modern furnishing.
Go for an industrial office space
An industrial look or vintage office design; for many companies a wish and for some companies a must. But how do you create an industrial office space? Very tricky of course! Therefore, decorate your office space in the URBAN style with Officeplanner. We can help you with a flexible, stylish and industrial furnishing of your office building and creating the industrial office of your dreams!